Two Duke Faculty Elected to National Academy of Sciences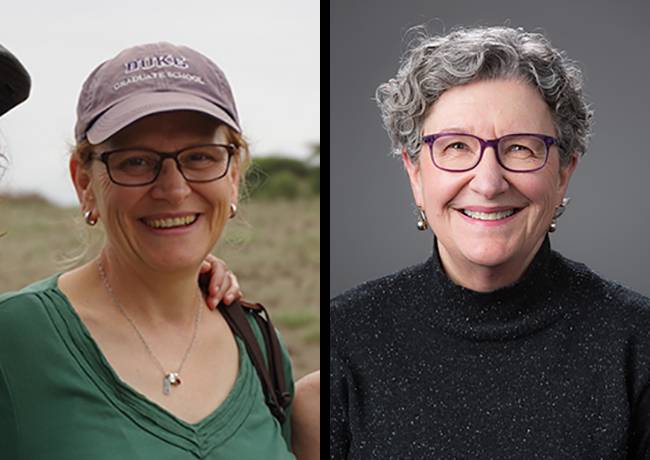 Duke professors Susan Alberts and Sue Jinks-Robertson have been elected to the U.S. National Academy of Sciences, which is widely considered one of the highest honors a scientist can receive.
They are among 100 newly elected members and 25 foreign associates who are recognized for their achievements in original research -- 40 percent of whom are women, the most ever elected in any one year to date.
Alberts studies how animal behavior evolved in mammals, with a focus on the social behavior, demography and genetics of the yellow baboon.
Alberts joined the Duke faculty in 1998 after earning her Ph.D. at the University of Chicago. Since that time she has published more than 100 peer-reviewed articles in the fields of anthropology, genetics, endocrinology, biology and primatology.
She was elected a fellow of the American Academy of Arts and Sciences in 2014 and won the Cozzarelli Prize of the National Academy of Sciences in 2017.
Alberts co-directs the Amboseli Baboon Research Project, one of the longest-running studies of wild primates in the world. She has also served as an editor for the American Journal of Primatology, Behavioral Ecology, and PeerJ, among other publications.
She is the current chair of the Department of Evolutionary Anthropology at Duke.
Jinks-Robertson studies DNA repair and surveillance mechanisms, using yeast as a model genetic system. Current studies are focused on elucidating molecular mechanisms of homologous recombination and on understanding how transcription destabilizes the underlying DNA template.
She joined the Duke School of Medicine in 2006 after a 20-year career at Emory University.
Jinks-Robertson earned her Ph.D. in genetics in 1983 from the University of Wisconsin at Madison.
She was elected as a Fellow of the American Academy of Microbiology in 2010 and of the American Association for the Advancement of Science in 2011.
She also serves as Treasurer of the Genetic Society of America and as an Editor for the journals DNA Repair and PLoS Genetics.
She currently directs the Duke Cell and Molecular Biology Program.
Duke now has 32 faculty who are members of the National Academy of Sciences. See the full list of inductees at http://www.nasonline.org/news-and-multimedia/news/2019-nas-election.html.