A New Faculty-in-Residence Moves Into Southgate Residence Hall
Gabriel Rosenberg brings advice on academics and dance music to dorm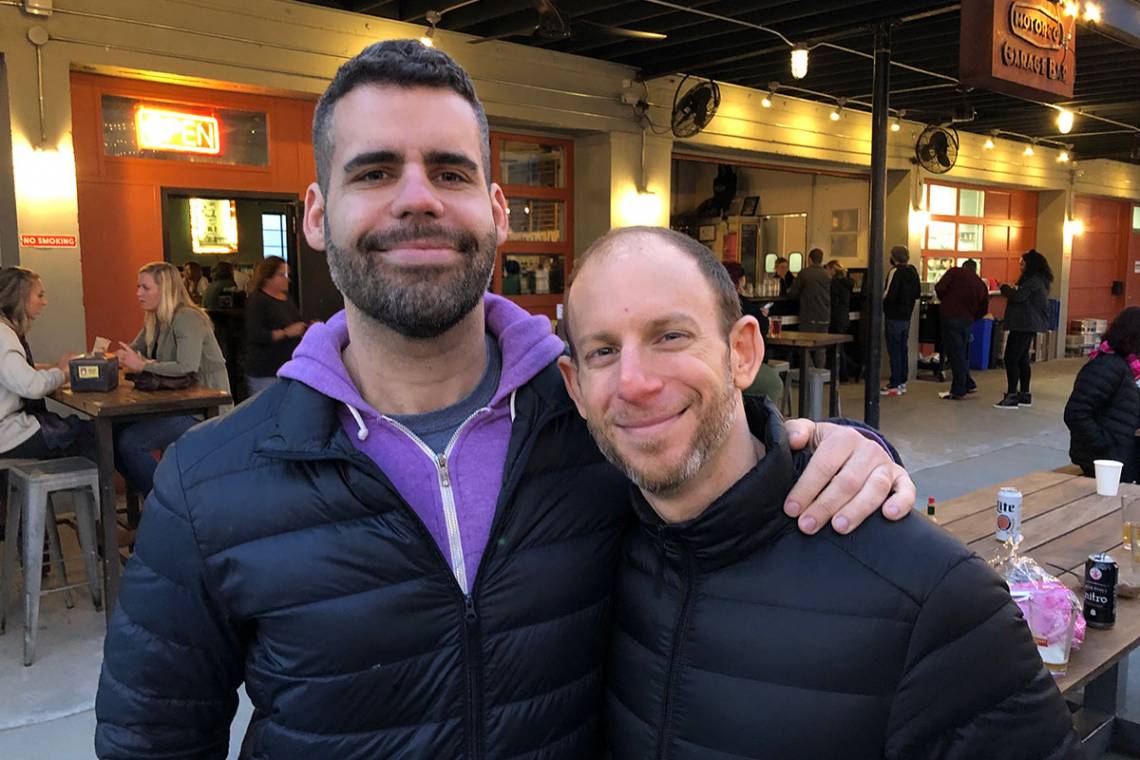 An historian who studies the influence of U.S. food production on gender roles, sports a literary tattoo and loves dance music has been selected to be the next Faculty in Residence on East Campus.
Gabriel Rosenberg, an associate professor of gender, sexuality and feminist studies and history, will move this fall into an apartment in Southgate residence hall with his partner Harris Solomon, an associate professor of cultural anthropology and global health.
The Faculty-in-Residence program, managed by the Office of Undergraduate Education, is one way that Duke seeks to connect faculty members and undergraduate students beyond the classroom. Currently, faculty and their families live in 11 first-year student residence halls.
"We are so pleased to have Gabe – and Harris – joining our community as faculty in residence," said Gary Bennett, vice provost for undergraduate education. "It feels as if our students are getting a 'two-fer' – two tenured profs who care deeply for the undergraduate experience and who excel at integrating intellectual activities into their daily lives."
Rosenberg is a native of Indianapolis who graduated from Grinnell, a liberal arts college in Iowa, with a degree in history. He later obtained a doctorate in history from Brown University.
He wears his philosophy of life on his left arm: "Axiom 1: People are different." Rosenberg pulls out a copy of a seminal book by former Duke professor Eve Sedgwick, a founder of queer theory, and points to the phrase he paraphrased to fit. It serves to remind him daily that "people are different from each other," he said. "And the world's better for it."
Rosenberg's office in East Duke Building is a short walk from Southgate on East Campus, where he serves as his department's director of undergraduate studies. He also teaches an introductory course on sexuality studies that attracts first-year students, including some he mentors in the Rubenstein Scholars Program, Duke's merit scholar program for first-generation, low-income students. "I find them pretty inspirational people and very intellectually curious," he said.
"In my class, we discuss a lot of hot-button national issues and talk about how they play out on the Duke campus," said Rosenberg, who also works with Blue Devils United, a student group for LGBTQ undergraduates, allies and friends. "When we talk about campus climate, though, I found out I don't know much about students' daily life. Hopefully, this new level of insight will make me a more effective teacher, mentor and adviser. "
Living in a first-year dorm may also help keep him more up-to-date about music trends. Four years ago, at the suggestion of undergrads, Rosenberg started DJ-ing a radio show called "Bear Dance Party" on WXDU, the student-run campus radio station.
"I try to keep it upbeat," said Rosenberg, who likes electronic, house, disco, soul, punk, Afrobeat and Latin dance music. "Anything you can dance to, I want to play on my show."
It's unclear yet whether evening study breaks might turn into dance parties. One thing's for sure, though: Students can expect a regular supply of homemade sweets. Solomon apparently makes delicious sugar cookies and is excited about sharing with students.
"I'm a bit of a carbophobe," Rosenberg said. "I'm always asking Harris, 'Who's going to eat all this?' He will be happy to have a massive group of hungry mouths ready to eat yummy baked goods."