Larry Moneta Looks Toward Retirement
Over 18 years, Student Affairs vice president has helped shape campus life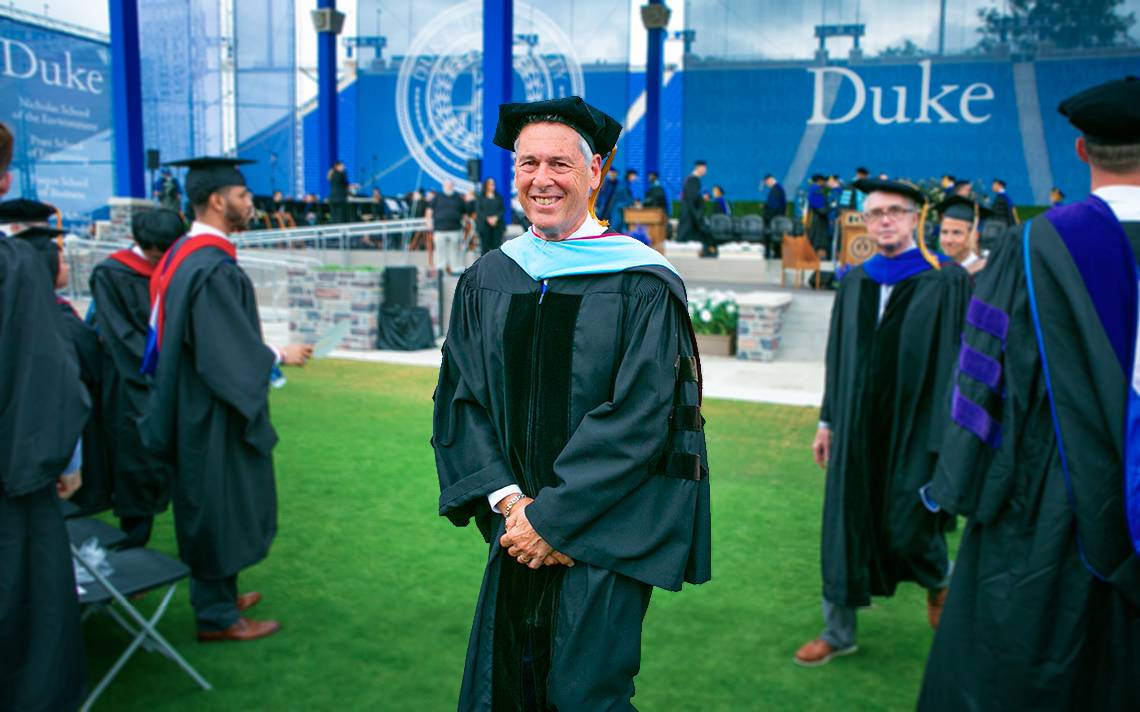 Shortly after becoming Duke's new president in 2004, Richard Brodhead learned that the university had agreed to host a Palestinian Solidarity Movement student conference.
Brodhead immediately recognized the potential for controversy, which meant the event would need to be planned and overseen with great care. That responsibility — including working with organizers, students, faculty and staff on issues ranging from safety to free speech — fell to Vice President for Student Affairs Larry Moneta.
"When an outsider arrives at a new institution as president, he or she quickly meets the many members of a new team, but it takes the pressure of events to reveal their core strengths," Brodhead says. "It did not take me long to take the measure of Larry Moneta. 
"When the conference finally took place, it was a model of how highly charged conflicts can be aired on campus, with people from all positions taking responsibility for assuring a respectful hearing for those they disagreed with."
During his 46-year career in student affairs roles, including the last 18 at Duke, Moneta has ably managed all types of responsibilities — from how students live to what they eat to where they go for medical or emotional help. It hasn't always made him popular, and he's taken occasional missteps, but that's to be expected from someone who readily admits "I have a reputation as a disrupter and reconstructer."
When Moneta retires at the end of this school year, he will leave an impressive legacy.
That includes major improvements to Duke's food services, residence halls, student services and student spaces. He's hired and mentored many young professionals who've gone on to leadership positions at other prestigious schools. And in his field he is a recognized leader; he's served in leadership roles for professional organizations, been honored by his peers as a "Pillar of the Profession," teaches a class for aspiring student life leaders and is a sought-after consultant.
"Simply put, the profession of student affairs will not be the same without Larry," says Ryan Lombardi, who served several years under Moneta at Duke before becoming vice president for student and campus life at Cornell. "Sure, he says things that get him in trouble … but he cares deeply about students, about his staff, and about the work we do in student affairs."
Moneta didn't set out to be a school administrator. His parents, both Holocaust survivors, wanted him to be a lawyer. But growing up in Boston during the turbulent 60s — at the height of the Civil Rights and anti-busing movements — kindled a social consciousness that only grew after he enrolled at the University of Massachusetts Amherst, a hotbed for Vietnam War protests. At UMass, Moneta studied math and science and was active in student government — "a real pain-in-the-ass student," he says, who issued an assortment of demands to school administrators.
But that activism also introduced him to a number of forward-thinking faculty and administrators who were dealing with issues of race, gender and sexual orientation, among other things.
He says the pivotal moment for him came in May 1970, when the Ohio National Guard fatally shot four Kent State students during an anti-war rally. "I was angry and wanted to do something meaningful. Law school, math and physics no longer mattered."
Seeing that college campuses were where most social changes were taking place, Moneta knew where he wanted to be an agent of change.
In the 46 years that followed — "a career bookended by Nixon and Trump," he jokes — Moneta has always been willing to try new ways to improve the student experience. 
"In the years we worked together, Larry exerted a transformational impact on many critical dimensions of student experience," such as dining, Brodhead says. "Over several years, move by move, Larry helped envision a food service that made eating a real vehicle for community, anchored in a student center that has won national awards." 
Another of Moneta's areas of responsibilities — housing — had traditionally been the most complained-of feature at Duke, Brodhead notes. But with many new residential facilities now on board or near completion, plus renovations and upgrades to existing facilities, "Duke will have quality community-centered housing for all students," Brodhead adds.
"But perhaps Larry's largest impact has been in the area of student health, including mental health," Brodhead says. "Larry cares passionately about student well-being and he understands in detail the often-hidden burdens that students bear. I know many students who have received a crucial jolt of encouragement and warmth from their personal dealings with Larry."
So have many of his colleagues. Zoila Airall, Duke's associate vice president of student affairs for campus life, remembers her first "real" conversation with Moneta, when they both worked at the University of Pennsylvania.
"We had lunch together and I shared with him my first position working in a college in 1981 was in Bethany, West Virginia, and I was the first person of color to ever work at the institution," Airall recalls. "We talked about the ways in which it was a challenge and an opportunity and the personal sacrifices I made. Larry immediately told me he understood because he made a decision not to accept a job at a school in Iowa because the nearest temple was more than 50 miles away.
"We connected that day. This was a white man who really understood what I gave up in accepting that West Virginia college position. And I understood why he could not accept the Iowa college position. That was our first of many conversations." 
One of Moneta's particular loves is construction and design, says Sue Wasiolek, associate vice president for student affairs and dean of students, who has worked alongside Moneta since he arrived at Duke. "He can look at blueprints and provide feedback before most people can figure out where the doors are.
"Part of his legacy at Duke is certainly related to new/renovated buildings — the BC (Bryan Center) Plaza would not exist, but for Larry's insistence," Wasiolek continues. "Larry made the Student Wellness Center happen. He is responsible for making the BC more pleasant and usable. He conceptualized the original and current use of Penn Pavilion. And he oversaw the design of Trinity, the Hollows and Keohane Quad."
Moneta is also open to others' ideas.
"I remember the evening that I sent him the initial proposal for the Duke Summer Reading program," Lombardi recalls. "Of course he was in his office reading email and he responded to me within minutes saying, 'Go for it.' Here I was as a 20-something putting one of my first really big ideas out there and the VP says 'go for it' within minutes. There was no way I was going to let it fail."   
In 2006, Moneta went so far as to take a sabbatical from Duke to spend time at the University of Zagreb "explicitly to expand my international horizons and perspectives. Not until I had my own international experience living in Zagreb under the auspices of the Fulbright program did I fully come to realize the authentic value of international exchanges and study programs."
Former Duke President Nannerl Keohane says Duke hired Moneta away from Penn, in part, because he had the right experience, temperament and outlook.
"Larry was a wonderful colleague, bringing his wit and wisdom to bear on all kinds of topics that came before the senior leadership," she says. "His work at Penn had made him especially attentive to building a community that is welcoming to all students, including first-generation and students from minority backgrounds."
"There are few people who have transformed our campus in such a meaningful way," adds President Vincent Price. "Larry has helped thousands students lead healthier, happier and more fulfilling lives at Duke. But I know from working with him that his most valuable contributions often don't get as much notice: caring for undergraduates in crisis; reassuring anxious parents; advocating for all voices to be heard; promoting a more inclusive Duke community; and challenging students to lead and serve communities around the world.
"It is clear to everyone at Duke that Larry loves this place and cares deeply about our students and his colleagues. He demonstrates his commitment to Duke every day — through gestures both large and small — and this campus will forever be a better place thanks to his leadership," Price says.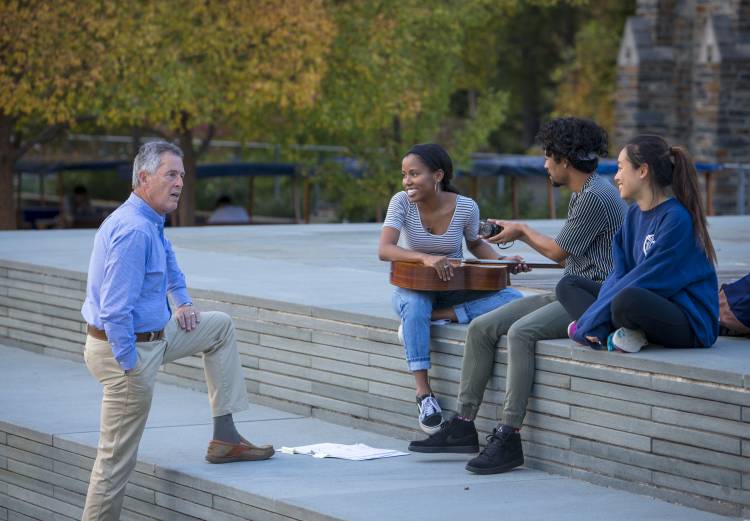 Moneta is a constant presence on the Duke campus. He can often be seen talking with students on the Plaza, picking up a meal at the Brodhead Center — "he's an obnoxious vegan and proud of it," says Wasiolek — or joking with colleagues during the day and attending a student meeting or sporting event at night.
"Larry has been on call 24/7 in the service of Duke students for many years," says Provost Sally Kornbluth. "He is the first person to jump in to help in any student crisis and also the first one to celebrate great student achievements. He has led every aspect of student life at Duke with enthusiasm and good humor."
In retirement, Moneta looks forward to traveling with his wife Judy, visiting their five grandchildren in Nashville and Denver, and continuing to teach the next generation of student affairs leaders in a longstanding instructional arrangement he maintains with Penn.
But he admits he will "miss the action. I get great pleasure strolling the plaza, watching the interactions, seeing the students tabling."
Brodhead says beyond Moneta's professional skills, "Larry has a shining personal decency and genuine concern for each student that he carries into each encounter every day. Because of his personal qualities, I was confident that any issue that came before him would be handled with a problem-solver's imagination. In more ways than I can enumerate, Duke is a better place because of the work of Larry Moneta."