Duke in Pics: Veterans Bring Spirit of Competition to Campus
Wounded veterans stoke competitive fires, have fun at Valor Games Southeast
During his 18 years in the military, James Brown was a part of two strong teams.
He first did a six-year hitch with the U.S. Marine Corps. Then, after that ended, he joined the Army, where he served for another 12 years.
On Wednesday, during the wheelchair basketball competition of Valor Games Southeast in Cameron Indoor Stadium, Brown was relishing another chance to enjoy teamwork.
"We haven't lost a game yet," Brown said as he and his teammates – all clad in blue jerseys – got ready to play again.
Valor Games Southeast came to Duke's West Campus on Wednesday, bringing athletes, volunteers and visitors together to support wounded veterans who were able to compete in a range of sports.
The event is organized by Bridge II Sports, a non-profit that creates opportunities for youth and adults with physical disabilities to build confidence and character through sports.
While the playing floor of Cameron Indoor Stadium was the hub of Wednesday's action, there was plenty going on nearby. As power lifting competitions unfolded in Wilson Recreation Center and table tennis was contested in Cameron Indoor Stadium's Hall of Honor, the lawn of Krzyzewskiville was home to the Valor Games Southeast's archery competition.
In all, around 125 veterans and soldiers competed in 11 sports during the three-day event, which also took place at the University of North Carolina's Dean E. Smith Center on Tuesday and Lake Crabtree County Park on Thursday.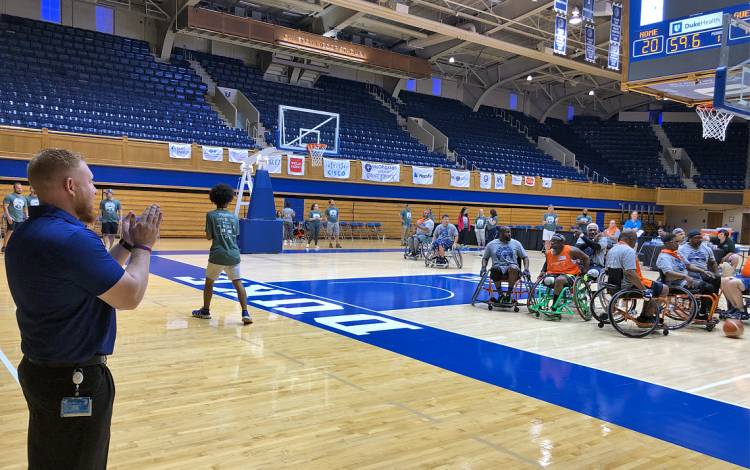 In addition to competitors, Valor Games Southeast draws around 450 volunteers, who help run the events and encourage athletes.
Among those volunteers is Jonathan Braswell, who retired from the Army in 2015 after 12 years of service. Braswell has a unique perspective on the benefits of veteran-focused events such as Valor Games Southeast.
For the final three years of his time in the Army, Braswell worked with the Wounded Warrior Transition Program at Fort Bragg, helping disabled soldiers rehabilitate their bodies and minds for a return to service or a life outside of the military. He said a major part of that work was reconstructing the soldiers' belief in themselves.
"Building up confidence is a big component of them being able to go out and say, 'Hey, I may not be what I once was, but this is what I am today and it's still very useful,'" Braswell said.
Braswell, a Network Consulting Engineer with Cisco Systems, one of the sponsors of Valor Games Southeast, said the event plays an important role in helping wounded veterans heal.
"I see the value of what it does for the veterans' confidence and what it does for them to understand that, although they're not the same physical person they were before, they still have a lot to give," Braswell said. "That's what I enjoy about volunteering here."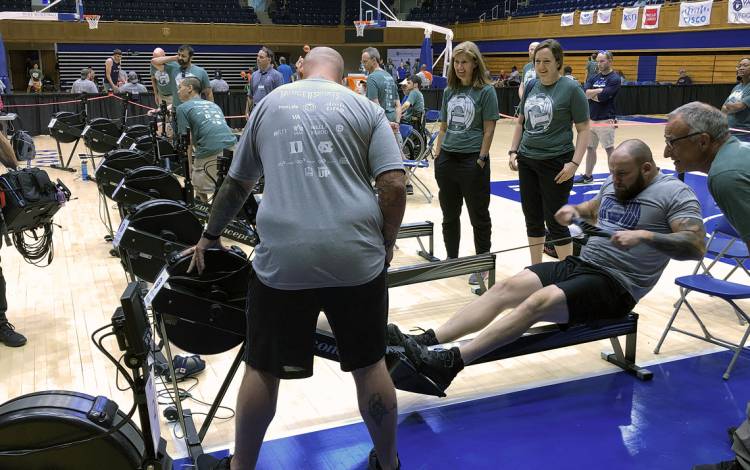 Off to one side of Cameron Indoor Stadium's playing floor, competitors tested themselves on rowing machines, each explosive pull on the machine moving them further down a virtual racecourse.
Alewine Ross, who retired from the Army, had already finished competing for the day but opted to get more practice in during a late race.
"This one was just for fun," Ross said.
James Brown had a busy few days at Valor Games Southeast. The 55-year old from Kinston competed in table tennis, air rifle, cycling and, in his final event of Wednesday's action, wheelchair basketball.
"Well, I'd say I'm average," Brown said when asked to grade his wheelchair basketball ability.
But for Brown, who served in the Army and Marine Corps, even if all of his shots don't fall, events such as the Valor Games Southeast provide a valuable boost of confidence.
"It gives you a sense that you still have that ability to compete," Brown said. "That's what it does. … We're just playing."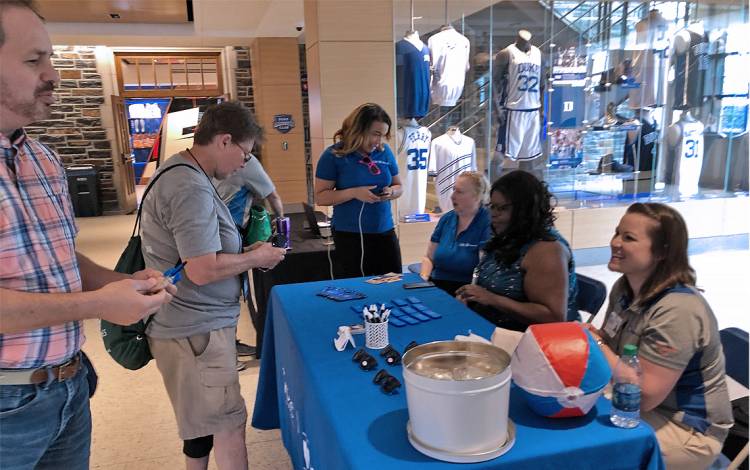 As competitors, volunteers and guests walked through Cameron Indoor Stadium's Rubenstein Pavilion, they were greeted by representatives from Duke Disability Management System, Duke Nurse Recruitment and Duke Central Human Resources Recruitment.
The visitors learned about resources available to them during their time on campus and how to take advantage of employment opportunities at Duke.
"We are thankful for them," said George Premkumar, a talent acquisition consultant with Duke University Hospital. "We are all in a better shape because of the sacrifices they make. If there is any way that we can help them get back into business at either Duke Health or Duke University, we would be so happy to do that. We're so thankful for what they've done for this country."
Have a story idea or news to share? Share it with Working@Duke.