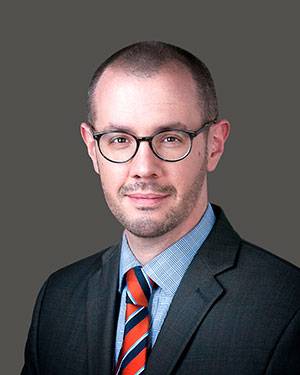 Zebulon M. Highben, an accomplished church musician and scholar, will serve as the next director of chapel music at Duke University Chapel.
Highben is currently an associate professor of music and director of choral activities at Muskingum University in New Concord, Ohio, and is also director of music at Trinity United Methodist Church in Columbus, Ohio.
A native of Ohio, Highben begins his role at Duke Chapel on July 15. He will also be involved in leadership and teaching at Duke Divinity School.
"Music nurtures the soul of a community, and Zeb is someone who has the musical ability, liturgical creativity, theological sensibility, and pastoral heart to be an amazing musical leader at the chapel, at Duke, in Durham and beyond," said the Rev. Luke A. Powery, dean of Duke Chapel. "He brings with him gifts that are musical and scholarly as well as creative and compassionate."
As the head of the chapel's music program, Highben will provide leadership for a program of sacred music in worship and in concert, which comprises students, volunteer singers, staff choral singers, instrumentalists, and professional colleagues. He will be the primary conductor of the Duke Chapel Choir, which sings regularly in the chapel's Sunday morning worship services and also presents annual performances of Handel's "Messiah" and other major choral works.
"I see at Duke Chapel, and the Duke campus more broadly, an exciting combination -- a deep appreciation for excellence in worship and sacred music embedded in a robust intellectual environment," Highben said. "A diverse community such as the ones at Duke and in Durham are fertile grounds for artistic performance and collaboration."
As a choral director, Highben has conducted choirs in worship services, hymn festivals, and concerts for more than two decades. At Muskingum, he led choirs on international tours and at choral music conferences. At Trinity United Methodist, he helped plan the worship services for the 1,500-member congregation, conducted the church's Chancel Choir and managed a staff of instrumentalists and professional singers. In 2015, he won The American Prize in Choral Conducting in the College/University Chorus Division. In 2016, he was selected as the Central Division Fellow for the American Choral Directors Association's International Conductors Exchange Program with South Korea.
As a professor of music, Highben has taught courses, at both introductory and advanced levels, on topics such as choral methods, conducting and the musical heritage of the Reformation. His work as a scholar includes the publication of sacred choral anthologies and dozens of sacred choral compositions essays on the practice of church music, as well as lectures on rehearsal techniques, choral literature, choral composition and related topics. He earned an undergraduate degree in music education from Ohio State University, a master of sacred music degree from Luther Seminary with St. Olaf College, and a doctor of musical arts from Michigan State University.
Highben serves on the board of the Ohio Choral Directors Association and the Advisory Council for the Institute of Liturgical Studies at Valparaiso University. He is a deacon in the Evangelical Lutheran Church in America. His wife Amanda is a pastor in the Evangelical Lutheran Church in America, and together they have a daughter.
The search committee for the director of music position was co-chaired by Zoila Airall, associate vice president of student affairs for campus life at Duke, and Walker Robinson, a pediatrician who holds medical, graduate, and undergraduate degrees from Duke and is also a member of the Duke Chapel Choir and Duke Evensong Singers. The committee comprised 13 people -- including students, staff, faculty, and community members -- with extensive experience with sacred music.