Blue Devils of the Week: Teaming Up to Look After Patients
Teunille Irons and Mary Beth Fry at Brier Creek clinics come through for patients
Name: Teunille Irons and Mary Beth Fry
Title: Irons is the service access manager and Fry is a financial care counselor at Duke Specialty Clinics at Brier Creek.
Years at Duke: Irons has been at Duke for 11 years while Fry has been at Duke for eight.
What they do: While Irons and Fry encounter patients in different ways, their jobs are, at the core, the same. In short, it's up to them to make sure the roughly 200 patients that come through the clinics they serve daily have a pleasant and productive experience.
Irons oversees the front desk and many patient-facing services for the endoscopy, infusion, rheumatology, gastrointestinal, endocrinology and nephrology clinics in Duke Health's Brier Creek facility.
"Helping patients has always been my passion," Irons said. "I've been in health care for over 20 years and I just enjoy helping people. I try to look at every patient as if they were a member of my family."
Fry helps patients in the gastroenterology and rheumatology clinics navigate the potentially complicated financial questions that can accompany their visits. She'll help patients figure out their insurance coverage and break down financial responsibilities for procedures.
"Even if I don't know the answer or can't tell them what they want to hear, I try to be empathetic and explain things as best I can," Fry said.
What they love about Duke: Fry recalls being apprehensive the first time she considered working for Duke. Duke Health System is a large enterprise and she worried that she would have a hard time feeling connected to an organization with that scale.
But Fry, like Irons, has found a circle of co-workers she trusts and enjoys.
"When I got here and saw that it was about team and family," Fry said. "We have a great team that works well together. I just like being a part of this team."
Memorable day at work: Fry left for lunch and noticed a patient and loved one waiting for a ride. Hours later, she noticed them still waiting.
Fry stopped and asked if things were OK, and learned they needed assistance. She called Irons, and the pair got help.
"I just think about all of the people who walked past and didn't stop, but I'm thankful that she did," Irons said of Fry.
Irons called a non-Duke affiliated transportation service while Fry got dinner to share.
"I was glad to help," Irons said. "I felt like it was our responsibility and duty."
First jobs: Both Fry and Irons worked in nursing homes as teenagers.
Irons prepared food for residents of a facility in Syracuse, New York while Fry helped the nursing staff at a facility in Westerville, Ohio. Both said that the experiences showed them how satisfying working in a health care field can be.
"Caring for people has always been in my blood," Fry said. "Helping people has always been something I've been driven to."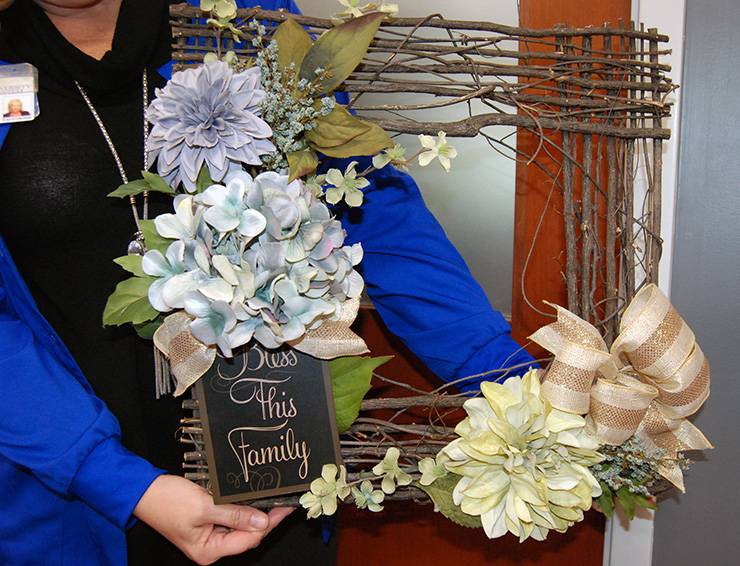 Meaningful items in their workspaces: Irons draws peace of mind from the copy of the Serenity Prayer she has taped to her computer monitor. The short prayer serves as a reminder that hardships will eventually pass.
"No matter what you're going through, it's a temporary situation that's subject to change," Irons said.
Meanwhile, Fry gets enjoyment from some of the homemade wreaths that often decorate the clinics. She creates the colorful wreaths with soft fabric, mesh frames and floral decorations.
"I like having things around that make it feel homey," Fry said.
Something that most people don't know about them: When she's at work, Irons is a personable presence, greeting patients and checking in on the 11 staff members who keep the front-end workings of the clinics humming. But at home, the mother of three enjoys quiet moments.
Meanwhile, when she's away from work, Fry enjoys going out with her tight circle of friends for occasional girls' weekends or lively nights of music and dancing.
"We live vicariously through her," Irons joked. "We'll come in on Monday and say 'Hey, MB, what did you do this weekend?' We love it."
Is there a colleague at Duke who has an intriguing job or goes above and beyond to make a difference? Nominate that person for Blue Devil of the Week.