On the Trail of the Shining Path
Three decades after first encountering the violent leftist terrorist group, Duke's Orin Starn returns to Peru to tell the Shining Path's story.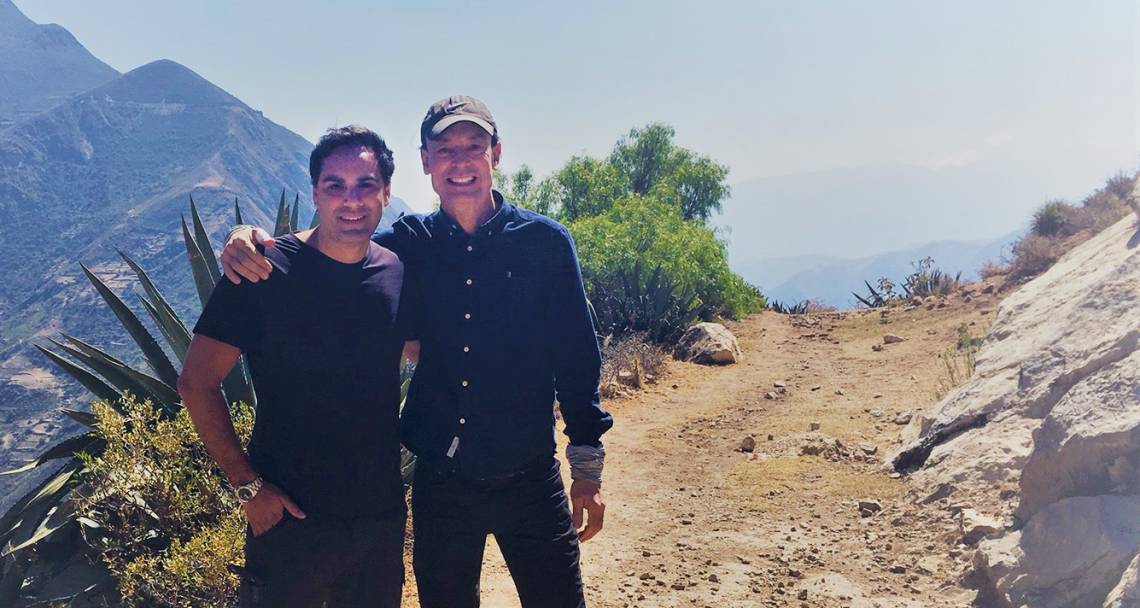 Orin Starn was a young anthropologist in the mid-1980s doing research in Peru when, one day, the small town where he was staying was suddenly plunged into darkness.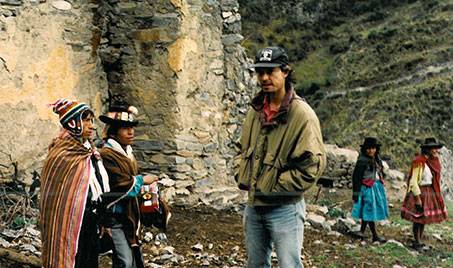 The blackout was the result of an explosion at a power plant just up the hill. Starn went outside and saw a series of torches lit in the shape of a hammer and sickle – the ominous symbol of communism.
"It was performance art," Starn recalled. "I remember being kind of scared and disoriented."
He was scared because the explosion was no accident. It was a bomb detonated by members of Shining Path, a group of leftist rebels that terrorized Peru for more than a decade, engaging in violence across the country. 
Starn was in Peru at a dangerous time; Shining Path was beginning to intimidate through unexpected waves of violence – announcing itself at first by hanging dead dogs on lampposts and burning ballot boxes to protest democratic processes. 
Starn went on to focus on other subjects over a long career at Duke – writing seven books on topics ranging from the golfer Tiger Woods to Ishi, the last member of a Native American tribe in California. 
But Shining Path's violent ways and its leader's cultish, dedicated following was never too far from his mind. So four years ago, Starn revisited the revolutionary group's story, long after its fall from power. (Its leader, philosopher-turned-terrorist Abimael Guzman, was arrested in 1992 and his subsequent imprisonment spelled the end for the group.)
Working with Miguel La Serna, a historian at UNC Chapel Hill, Starn returned to Peru many times to dig up more information about Shining Path. The duo read old documents, interviewed antiterrorism police officials and managed to score a series of jailhouse meetings with Elena Iparraguirre, Shining Path's second-in-command. 
The result of their research is "The Shining Path: Love, Madness and Revolution in the Andes," which comes out in late April. It is a scholarly work that reads like a thriller.
To write this book, Starn and La Serna relied in large part on their vast networks in Peru built over decades doing research. They squeezed in trips between teaching duties, using grant funds provided by the American Council of Learned Societies.
Important parts of the book are based on interviews with Iparraguirre, the wife of Shining Path leader Guzman. The revolutionary tandem live in separate prisons now, with Guzman isolated and unreachable in a military prison. Starn and La Serna thought Iparraguirre was an unlikely interview as well, but they reached out anyway, using Guzman's attorney as a go-between. Through the attorney, the duo got Guzman's unexpected blessing, which led his wife to allow them to visit.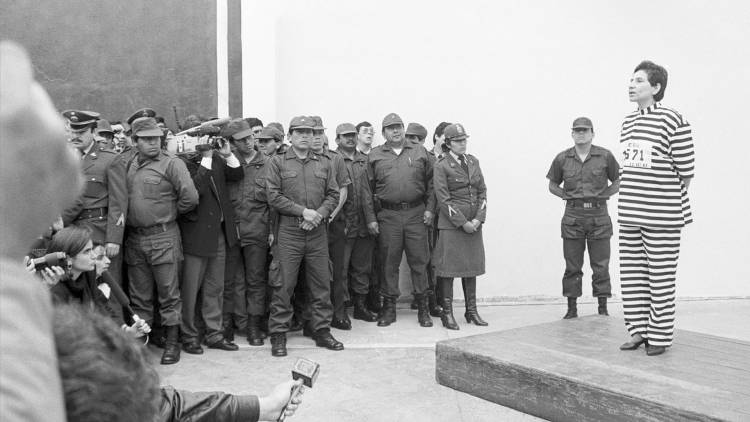 This stroke of luck was at least in part due to Starn's prior work in Peru. Guzman was a philosophy professor at a Peruvian university prior to turning terrorist, and he was aware of Starn's early work in his country.
"He was a bookish guy, as it turned out," Starn recalled recently. "He knew the work I had done on the Andes as an anthropologist way back in the 1990s."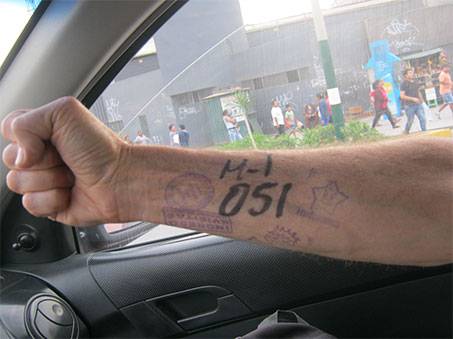 That opened the door for the prison visits with Iparraguirre, but there was another snag. The subject of intense interest from scholars and journalists, the famous prisoner wasn't supposed to be interviewed. In fact, Starn and La Serna said simply that they were friends of Iparraguirre.
"The interviews had to be conversations," La Serna said. "They couldn't be recorded. We both could take notes, but prisoners aren't allowed to give formal interviews. So somewhere on the official record I'm listed as a friend of the second most wanted terrorist in Peru, which is crazy since I was 12 when she was captured."
Starn and La Serna visited Iparraguirre several times, each time following strict prison rules. They'd arrive early in the morning to wait in long visitor lines. They'd remove their belts, shoelaces and jewelry; they couldn't wear black because that's what prison guards wore. They couldn't wear red because of its communist symbolism. But gifts were allowed so they brought chocolates and news magazines along. And they brought pens and paper to take notes.
Visits to Iparraguirre reminded La Serna of a prison scene in the movie Goodfellas. In the movie scene, a handful of mafia members are all in prison together, but they don't appear to be suffering too much. They have a comfortable compound to live in, cooking tools to use and wine to drink. 
The scene Starn and La Serna witnessed in the Peruvian prison was similar.
"You go in there and there are these female prisoners cooking meals inside the prison and bringing it over to Iparraguirre, their leader," La Serna recalled. "These women could be so sweet. They'd offer you flan they made by hand there, and tea or coffee. It was a bizarro world."
Iparraguirre was largely calm, composed and self-aware in these interviews, Starn said. She asked Starn and La Serna about their families and life in the United States and expressed no regret at having led a bloody rebellion, believing it to have been a just fight. She seemed an optimist at heart, Starn said, though had no delusions about her fate; she knows she'll die in that prison.
"She decided to talk to us because she wants her version of the history of the war told, even though she knew that we were not going to be writing an apologia for their revolution," Starn said.  "'All I ask,' she said at the start, 'is for you to report accurately whatever I tell you.'  We tried to do that."
Another key source for Starn and La Serna was the counter-terrorism police unit that eventually brought down Shining Path. They befriended the head of that unit, who eventually provided a trove of captured Shining Path documents that no other researcher had ever seen. 
The duo also got a glimpse of a private museum of sorts that the police maintain at their headquarters. It's a collection of Shining Path propaganda, artifacts and other pieces collected during police raids – like Guzman's reading chair and eyeglasses. 
"It's private," La Serna said. "They're leery of opening that up to the broader public, since it could be interpreted as a shrine to the Shining Path. So they stored it in their own police headquarters."
The 1992 capture of Guzman and other key group members – in an apartment above a dance studio in Lima — spelled the end for Shining Path, but not until it had haunted Peru for more than a decade and killed tens of thousands in the name of its leftist revolution.  
Since that time, there has been plenty of scholarly work and mass media coverage of the group. But Starn and La Serna saw a need for a comprehensive English-language history that traces the group's reign of terror from beginning to end. 
"The material can be complicated, but we tried to craft it into a story that had characters the reader might care about," Starn said. "It was a challenge to weave this plot together. It has a Greek tragic arc. High hopes for revolution. The blood of war and then destruction and loss, with nothing achieved at all."
"The Shining Path: Love, Madness and Revolution in the Andes"
Orin Starn and Miguel La Serna's book will be widely available at the end of the month but the authors will be at The Regulator Bookshop for a reading and signing on April 18.