TechExpo Builds Relationships and Inspires Teamwork
About 600 IT staff from across Duke will convene April 12 for annual event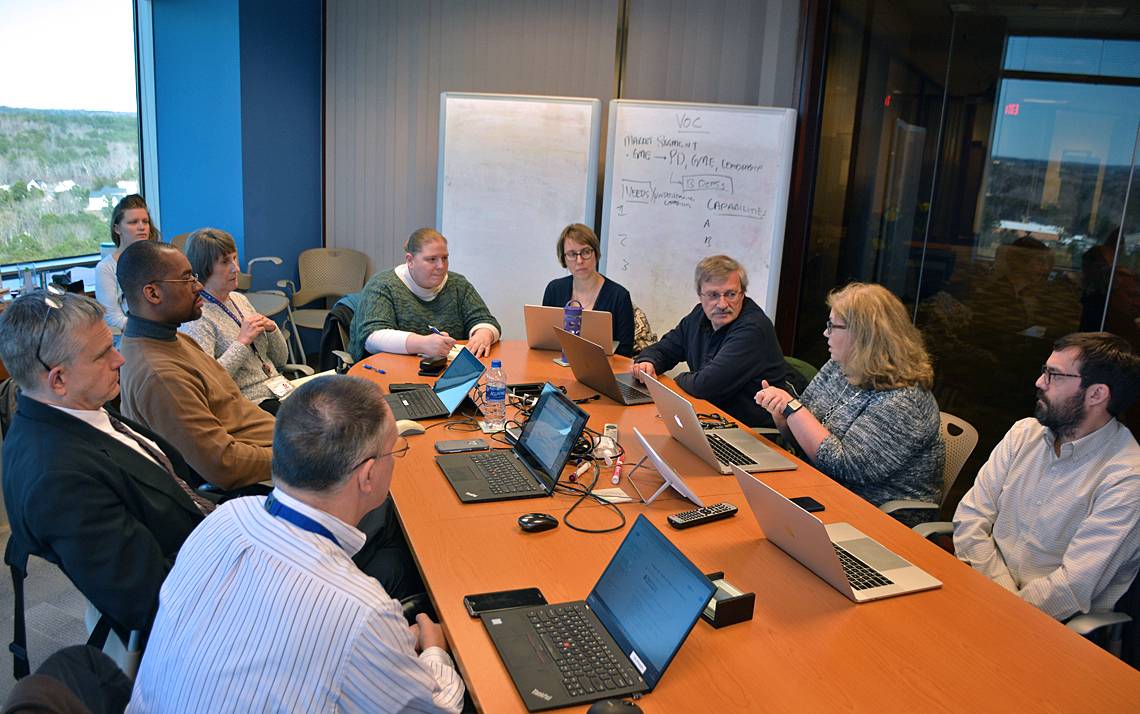 About a dozen members of the Duke University and Health System IT community gathered in a conference room in March to discuss the upcoming TechExpo. 
They were discussing whether to provide print schedules for the April 12 event when Jack D'Ardenne, IT analyst for Duke's Office of Information Technology, suggested they put QR codes on nametags to link to the day's events. 
The committee agreed with the idea, illustrating the collaboration across Duke IT teams to bring this year's TechExpo to life. 
The annual day-long conference is sponsored and jointly coordinated by the University's Office of Information Technology (OIT) and Duke Health Technology Solutions (DHTS). The conference provides a venue for professional development with Duke teams showcasing innovative accomplishments, networking to discover collaborative opportunities, keynotes from industry experts and more. 
"We get to learn from colleagues who we would never have a chance to interact with if it wasn't for the TechExpo," said Christine Vucinich, IT education and training practitioner for OIT.  "The event brings people together beyond the organizational chart."
About 600 IT professionals from across Duke are expected to attend this year's event at the Washington Duke Inn. This year's keynote speakers are Nita A. Farahany, professor of Law and Philosophy at Duke Law School, and Larry Carin, the James L. Meriam Professor of Electrical and Computer Engineering at Duke. Sessions range from exploring augmented reality to securing cloud storage. 
Lisa Smith, an IT analyst for DHTS, and Bendte Fagge, IT analyst for OIT, have been in charge of organizing about 80 volunteers who will introduce presenters, take photographs and manage giveaways during the day.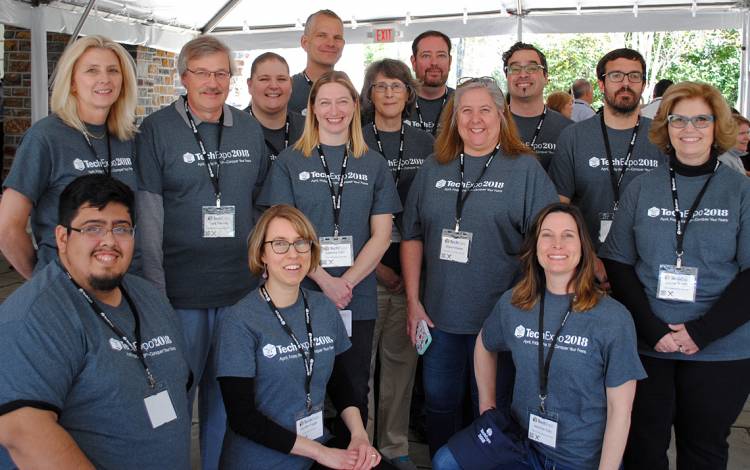 Smith's involvement offers a chance for her to do something new and meet other IT professionals at Duke. The colleagues planning TechExpo helped her learn how to use Microsoft Teams and design materials using Duke's branding guides.
"In my normal role at Duke, I don't get to work with many of the people I collaborate with for the TechExpo," said Smith, co-chair of the TechExpo volunteer committee. "It's fun to meet new people. It keeps your job feeling fresh." 
Quincy Garbutt, who is this year's audio/visual co-chair, will ensure equipment for keynote and event presenters works smoothly. Garbutt has found the people he meets through the TechExpo often end up helping him at work. 
Just a month after meeting Jen Vizas at the TechExpo in 2014, Garbutt found himself partnering with her on a week-long project to install Microsoft cloud services for the Office of the Provost. He found the work easier since he and Vizas, director of projects, services adoption and communications engagement for OIT, had already met. 
"It's easy in OIT to just communicate with someone in an email thread and never put a face to the name," he said. "Jen and I understood each other a little bit more having seen what one another's personality is like. Building that personal connection is important in collaboration."
Have a story idea or news to share? Share it with Working@Duke.