Reconciling the Past for a More Inclusive Future
Nancy Kelly, a Duke employee and LBGTQ advocate, squares history with alma mater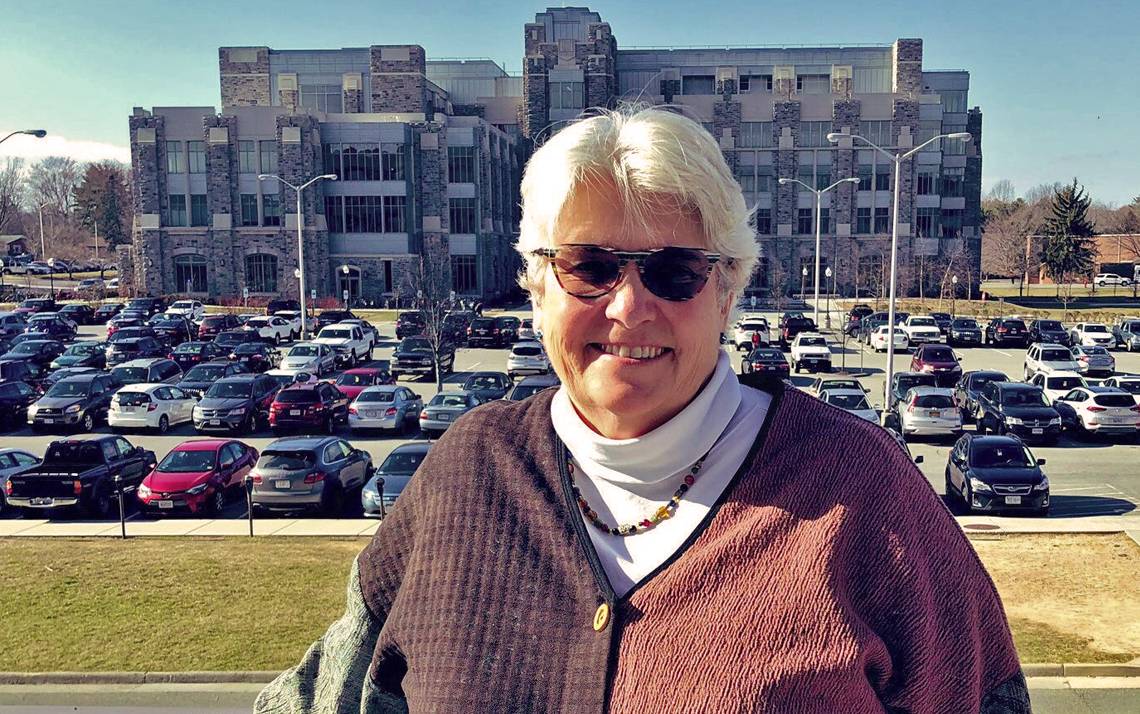 Ask most members of the Nicholas School of the Environment's community and they'll tell you that the school has a climate of inclusiveness.
While many have a hand in creating that environment, Nancy Kelly, the school's director of community engagement and events and an advocate for gay, lesbian and transgender students, has played a large role.
Kelly, who is a lesbian, is the staff advisor for Duke's chapter of oSTEM, an LGBTQIA+ group for students in science, technology, engineering and math fields. She also leads the Nicholas School's Diversity & Inclusion Actionators, an advocacy group that earned Duke's 2019 Equity, Diversity and Inclusion Award.
But in recent years, memories of something that happened far from Duke's campus have been eating at her. This week, she's trying to make it right.
On Friday, Kelly will be one of many Virginia Tech alumni joining students in the #VTDenimDayDoOver, which will commemorate the 40th anniversary of Denim Day, one of that school's early steps toward inclusiveness. For Kelly, it's a chance to rebuild the bonds with her alma mater that were severed 40 years ago.
In 1979, Kelly was a sophomore at Virginia Tech and co-president of the university's Gay Student Alliance. A major initiative of the alliance that year was organizing Gay Awareness Week in January. The high point of the week was Wednesday's Denim Day, a day that everyone on campus was encouraged to support gay rights and wear blue jeans.
Kelly, who wore denim bib overalls that day, was the only person wearing denim in her classes. Meanwhile, campus was flooded in khakis and corduroy. Even some gay classmates opted not to wear denim for fear of being harassed.
"It was about awareness," Kelly said. "Up until that time, everyone thought that gay people only lived in New York and San Francisco. They didn't realize that we were classmates and brothers and sisters and professors. We knew we were not accepted. We had no delusions that everyone would be wearing denim. … But we had no idea of the backlash."
Following the event, Virginia Tech's vice president of student affairs said his office received 25,000 pieces of mail from people denouncing it.
"We never thought our entire campus would support us, we knew it wouldn't," Kelly said. "We just didn't get that it would be such a volatile reaction."
The following year, the Gay Student Alliance's request to hold a second Denim Day was rejected by Virginia Tech's Commission for Student Affairs.
Kelly graduated in 1981 and vowed to never return to Virginia Tech.
"I literally shut the door," she said.
In the decades since, as Kelly embraced her roles as a parent, a lesbian and a member of the Duke and Durham communities, Kelly has seen the value of creating environments that are welcoming to all. And since arriving at Duke 15 years ago, Kelly has worked to create an atmosphere of inclusivity at the Nicholas School.
Over time, the desire to have a hand in something similar for LGBTQ students at Virginia Tech grew. So as January 17 – the 40th anniversary of Denim Day neared – she reached out to the school to see about being involved in the commemoration.
Kelly said she's been encouraged by Virginia Tech's openness in remembering the complexity of Denim Day and the experience of former LGBTQ students. For the past few years, Virginia Tech and the Ex Lapide Alumni Society, which is made up of LGBTQ alumni and allies, have organized an oral history project capturing memories of LGBTQ students from that era. And the Denim Day commemoration includes a week of activities such as a welcome reception and the preview of a documentary about Denim Day.
Along with Kelly, around 20 of her contemporaries from the Gay Student Alliance are expected to return to Blacksburg this week, some coming as far away as Europe and Hawaii and most returning to campus for the first time in decades. The highlight of the week will be a gathering featuring alumni and current students on Virginia Tech's drill field at the heart of campus.
"It's not only an opportunity to show how much we've changed, but it's also an opportunity to connect with these alums and let them know that we do care about their experiences and their stories and we do want them to know what is going on now," said Latanya Walker, Virginia Tech's director of Alumni Relations for Diversity and Inclusion.
At Duke, Kelly has shared some of her Denim Day experiences in conversations with LGBTQ students from the Nicholas School.
Her hope is that her story, of both the difficult moments from 40 years ago and her equally difficult process of reconciling them, will provide perspective and inspire others to continue to pushing Duke toward inclusiveness.
"While we don't have 100 percent equality, the basic right of being able to marry who you want to marry has, for all intents and purposes, existed since I have been affected by it," said Morgan Browning, a gay student in the Nicholas School's Master's program. "So having the ability to pay homage to those that were fighting before I came along and had this easier life is a good reminder."
Have a story idea or news to share? Share it with Working@Duke.