Protecting the Pages
How Duke keeps millions of books safe and available for use
Marvin Tillman, manager of the Library Service Center, said it's not uncommon for patrons in urgent need of a book to swing by the off-site storage facility for Duke University Libraries to pick it up.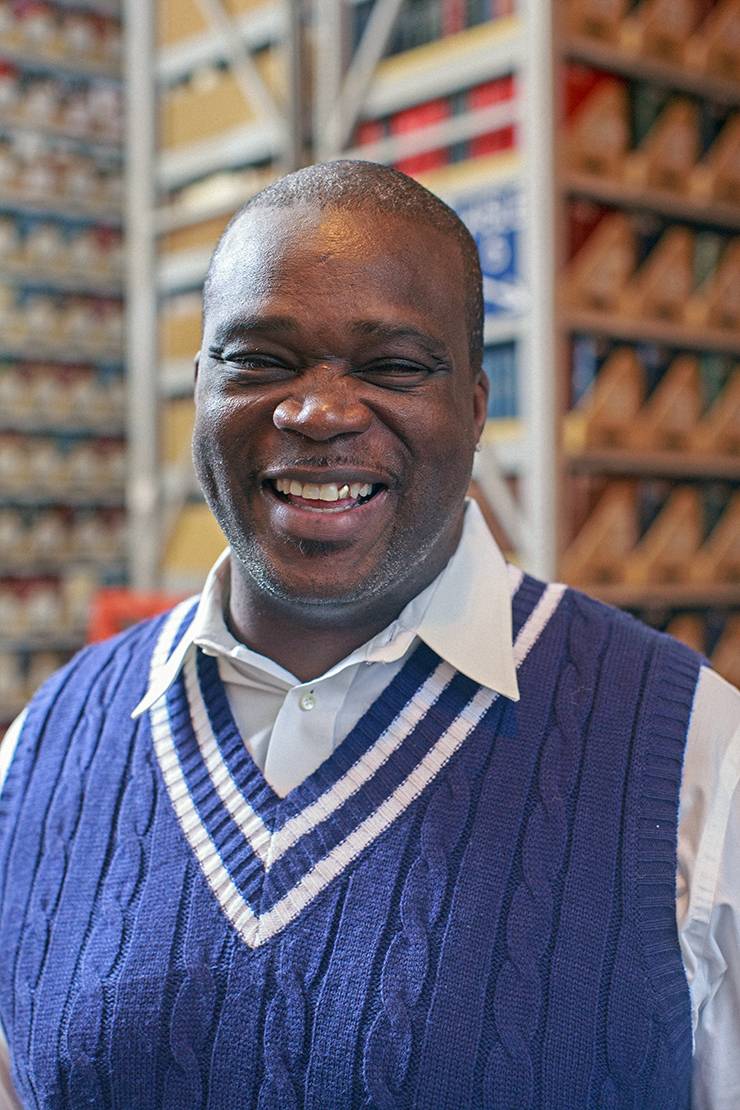 Tillman mentioned a recent instance when a scholar dropped by and brought his son.
"He wanted his son to see this place," Tillman said. "People don't realize that we store these many books and the way we do it. It just blows them away."
From the outside, the Library Service Center looks like a simple, boxy warehouse in a non-descript Durham industrial park. But inside, the 52,000-square foot building is something to behold. Shelves filled with boxes of books, film reels and newspapers soar 30-feet in the air, creating long aisles as deep as canyons.
Around 5.6 million items reside in the warehouse, allowing the Duke Libraries collection to grow beyond the constraints of on-campus facilities. And with a sophisticated inventory and retrieval system, a library customer can likely get any item in their hands within a day of requesting it.
"People are amazed that they can request something first thing in the morning and have it in the afternoon," said Naomi Nelson, associate university librarian and director of the Rubenstein Rare Book and Manuscript Library. "It's really an amazing service for the university. People expect it to feel like things at the Library Service Center are far away, but it really feels like they're in the next room."
The cavernous facility is one of Duke's off-the-beaten-path wonders.
Among the Aisles
The Library Service Center's front entrance leads to a small workroom where carts filled with thick tomes, slender periodicals and books with Chinese characters running down their spines wait to be sorted. Nearby, staff members study computer screens and printouts telling them what items are coming in and which ones need to be gathered and sent to campus.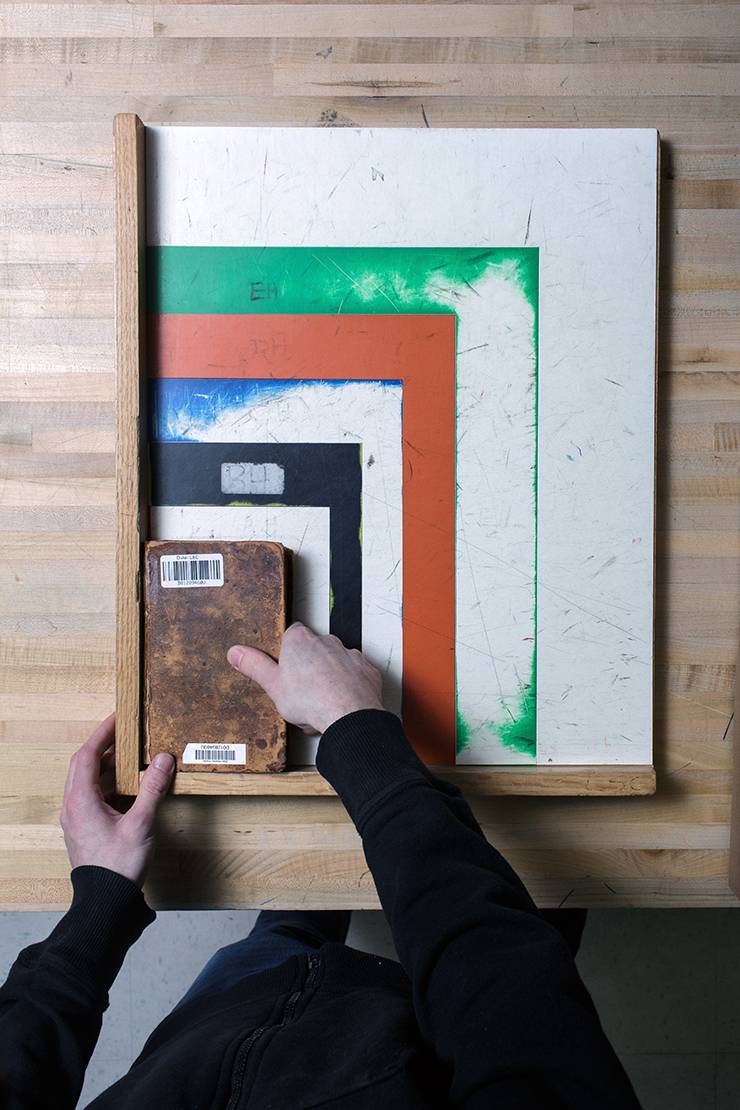 On the other side of a thick, sliding metal door is the warehouse space that awes visitors.
In here, the air is perpetually 50 degrees with 30 percent humidity, perfect for books but slightly less so for staff members who make fleeces and knits caps part of the year-round work attire.
"It feels good in the summer," Tillman said.
Tillman has been at Library Service Center since it opened in 2000. Coming to Duke from Yale University, where he helped launch its off-site library storage facility, Tillman trained the first Duke staff members, helped organize the shelving system and has seen the center more than double in size after renovations in 2009 and 2012.
The boxes on shelves that tower above him hold a vast array of materials – from prints of rare movies to century-old newspapers – but to Tillman and his staff, they're only known by the details that spit out when a box barcode is scanned.
"Truthfully, I couldn't tell you," Tillman said when asked what was in a set of nearby boxes. "All we go by is the barcode."
At the root of operations is a software system that keeps close watch on each item. Using hand-held scanners to note barcodes on every book, box and shelf, staff members can record an item's exact location – it's as precise as aisle, shelf, box and location in the box – at every moment.
This allows staff members to quickly retrieve an item requested online by a library patron and have it to them usually within 24 hours.
"We can probably pull 20 items in this facility in the same amount of time it would take someone to pull five items in a regular library," Tillman said.
Other Ways to Deliver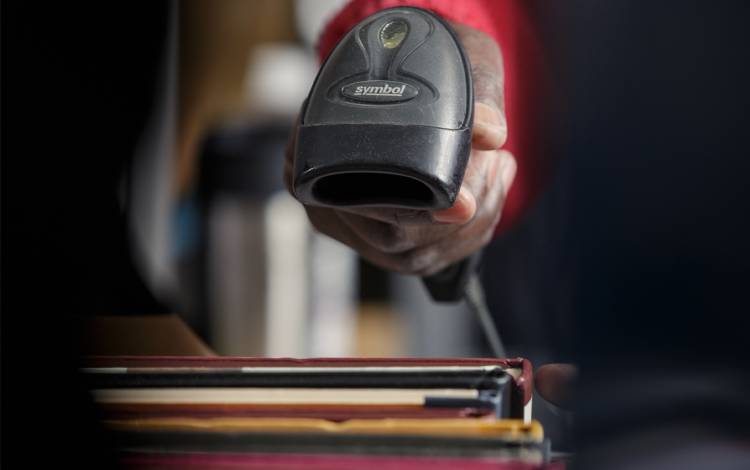 Not every book has to leave the facility to be used.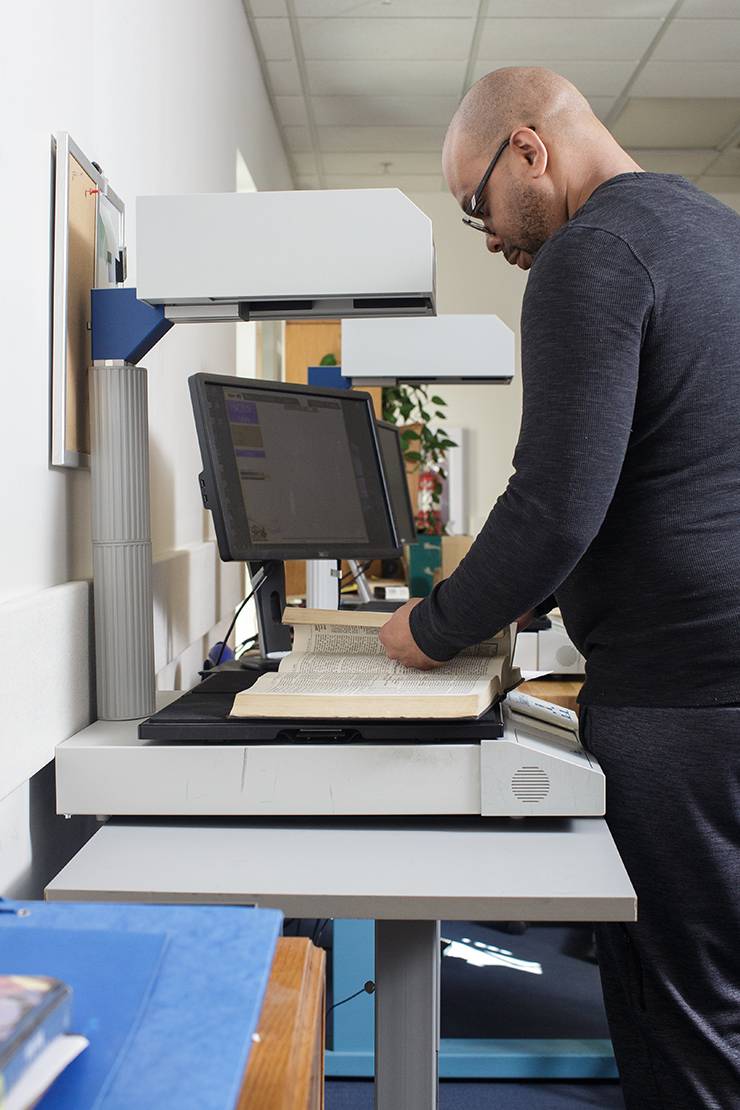 Researchers can request segments of books – up to 150 pages – to be scanned and emailed to them as PDF files. The service is popular with users, who get to read materials in a quick and easy-to-use format, and it's easier on the books, which don't have to travel or be touched by untrained hands.
On this day, Earl Alston hovers over a scanner, lining up a large, open book with the view of the machine's high-resolution camera.
This task is a quick one. Alston only has to scan two pages of an essay from a collection of early 20th-century religious writings. But bigger jobs aren't too time consuming. Alston estimates he can knock out a 150-page scan in less than 20 minutes.
"The more you do it, the faster you become," Alston said.
Library for All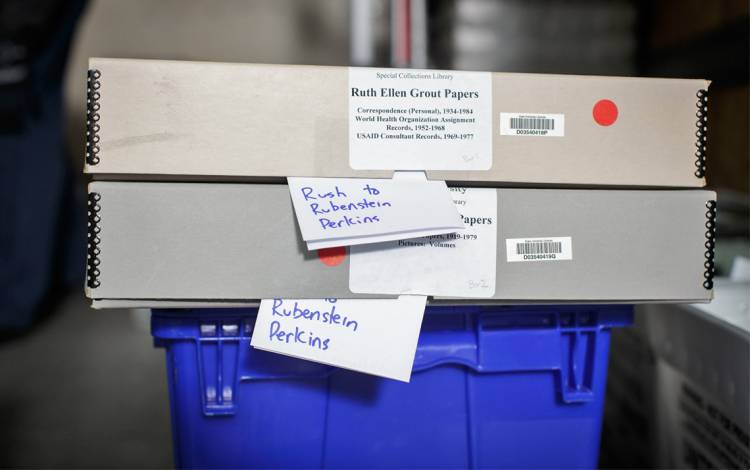 Twice a day, Senior Mail Clerk Joe Rhodes backs his 24-foot truck up to the Library Service Center's loading dock.
"It's real light today," Rhodes said before he empties his truck of returned books to make room for the ones bound for campus.
Once books leave the facility, they can end up in the hands of customers at any of Duke's on-campus libraries or libraries of fellow Triangle Research Libraries Network members North Carolina Central University, North Carolina State University and the University of North Carolina. Books can also head to any one of 12 other Ivy Plus institutions through the BorrowDirect library sharing program.
While Duke benefits from the Library Service Center, it's not the only institution that does so. Materials from the Durham Public Library, North Carolina Central University and the University of North Carolina are all stored on the center's shelves. The items bound for Chapel Hill are transported on a fleet of powder blue carts.
As Rhodes begins to load his truck with items requested since his last visit, he rattles off his remaining itinerary.
Lilly Library, Perkins Library, the Goodson Law School Library and the Divinity School Library are his next stops. At each one, he'll drop off items for customers who likely have no idea of the massive, state-of-the-art facility behind the book in their hands.
Have a story idea or news to share? Share it with Working@Duke.