Playing Tour Guide? Visit These Duke Stops
Check out the recommendations to build your route for showing off Duke
As a New York native who's called Duke home for nearly 12 years, Debbe Geiger occasionally has curious family and friends visit from out of town.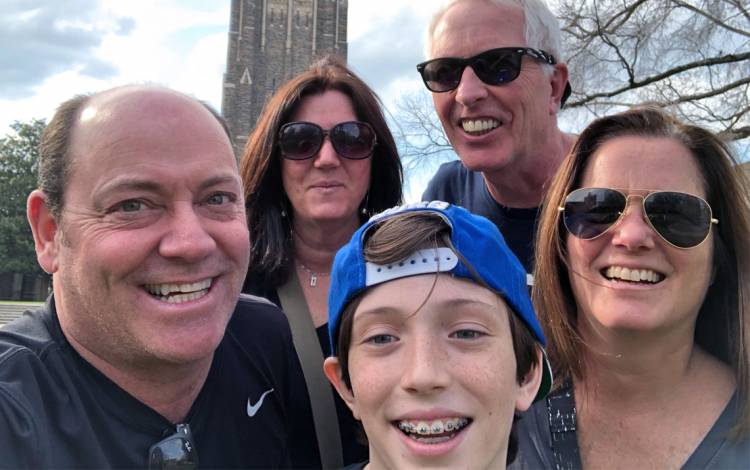 It's not uncommon for Geiger, director of content strategy for Duke Health Marketing and Communications, to play the role of campus tour guide.
"I love taking relatives to the Lemur Center and the Brodhead Center," she said. "We've been to the Gardens several times, sometimes we'll just drive around. It's just a really special place."
When it comes to showing off Duke, few people are better equipped than the people who work here every day. We asked staff and faculty to suggest their favorite campus tour stops, and here are a few answers.
Duke University Chapel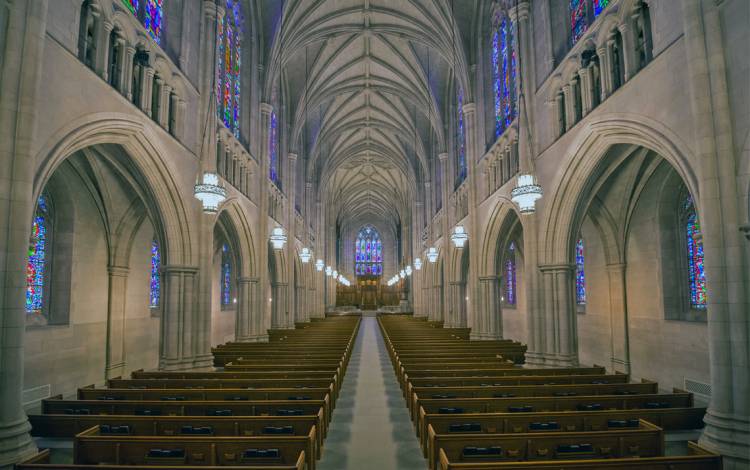 Hilary Bouton-Verville has a few must-visit spots for friends and family. Sarah P. Duke Gardens is an easy choice with lush lawns and vibrant flowers that astonish visitors year-round. When possible, a trip to the Duke Lemur Center provides a chance for guests to meet campus' most adorable residents.
But Bouton-Verville, associate director for program management at the Duke Human Vaccine Institute, said that there's something special about a visit to Duke University Chapel.
"When you walk up to it, everybody kind of goes quiet," Bouton-Verville said. "They're just taking it in. You can see their eyes are really big."
Aside from the grandeur of the stained glass, elegant stonework and stunning scale of the building, Bouton-Verville appreciates that the religious meaning of the space shows visitors how life at Duke has many sides.
"It kind of reminds them that there's more than just science here, there's more than just sports," Bouton-Verville said.
Cameron Indoor Stadium
Last spring, a good friend of Debbe Geiger's came down from New York with her family. The friend's 13-year old son was a basketball fan, so when Geiger showed the family around campus, Cameron Indoor Stadium was a must-see sight.
As luck would have it, on the day they visited, Cameron was open, and Geiger and her guests tagged along with a group taking a tour. The tour included a chance to walk on the court and ended with a stroll through the nearby Duke Basketball Museum and the Duke Athletics Hall of Fame.
"They loved it," Geiger said. "It was great. And I'm a big Duke basketball fan, so any opportunity I have to feel the vibe in that building, I will take."
A few weeks ago, Geiger was able to attend a Duke basketball game.
"I was at a game and I posted a photo and said we were at a game," Geiger said. "And then my friend responded saying 'I WAS ON THAT FLOOR!!!' It definitely resonated with them."
Duke Children's Health Center
With sunshine streaming through windows, bubbling fish tanks and a brightly-colored mobile featuring rings of turkey feathers floating in the center of a multi-story lobby, the atrium of Duke Children's Health Center is an inviting, cheerful space in the middle of a bustling medical complex.
The beauty of the space is one of the reasons Marti Brauer, an information security analyst for Duke Health Technology Solutions, is so fond of showing off the lobby to visitors.
"They love it," Brauer said. "They think it's cool."
Brauer, who previously worked with Duke Health's Office of Development and Alumni Affairs, helped raise money for the facility, which was opened in 2000. Her work in that capacity gives her another reason to show the space off.
"A lot of people don't know that this came from personal donations," Brauer said. "This was built with the generosity of a lot of individual people."
Goodson Chapel
Ashley Lunn, program coordinator for disability services and project management with Duke Divinity School, often takes guests to Duke University Chapel to soak in the gothic revival majesty. But she'll follow it up with a trip to the Duke Divinity School's Goodson Chapel, which is just a few steps away. 
"Most people don't know we have a chapel in the Divinity School," Lunn said. "They're so amazed at how different it is. They don't expect it to be this beautiful."
Opened in 2006, the 300-seat chapel features soaring glass windows that look out onto the trees of Chapel Woods. With bright wood and an airy layout, it's a modern counterpoint to its ornate, iconic neighbor.
"When you're in Goodson Chapel, you don't feel like you're right there in the heart of campus, there's this forest around you," Lunn said. "It's so open. It's almost like you're worshipping outside."
Brodhead Center
Recently, Cat De Montjoye, marketing manager for Duke Integrative Medicine, brought several relatives to campus for a look around.  
While hitting many of the popular spots on campus, it became time for lunch. Trying to find a spot to please an array of tastes wasn't difficult. De Montjoye brought her group to the Brodhead Center, where they got to explore the sleek, modern facility and choose from a wide selection of food vendors.
"The ability for people to just float around and explore was really nice," De Montjoye said. "The space is beautiful and the quality of the food is wonderful. This was something we had a lot of fun with."
De Montjoye said her guest dined on rice bowls, Indian food and paella. For dessert, they shared a flourless chocolate cake.
"It was so rich and delicious," De Montjoye said. "It was a great experience for everyone."
Gothic Reading Room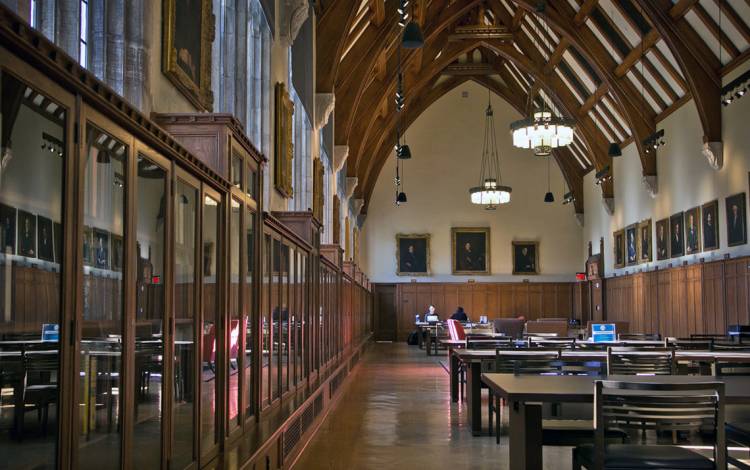 As a tour guide coordinator for the Office of Undergraduate Admissions, which provides tours for around 50,000 visitors annually, Ilana Weisman knows plenty about what spots on campus leave guests impressed.
The Gothic Reading Room, on the second floor of Rubenstein Library, is one such spot. With wood paneled walls, portraits of past presidents, ornate chandeliers and towering windows, it's a quiet, grand space for study.
"There's a little bit of that awestruck feeling," said Weisman, Admissions Officer. "For a school that's so young and energetic, to see something that seems so rooted and so historic in a space that's so modern and collaborative is really cool."
Join the conversation. Share your favorite campus tour stop here.