Blue Devil of the Week: Harnessing the Power of Scholarship
Don Taylor, Academic Council Chair and Sanford Professor, embodies the spirit of ambition and collaboration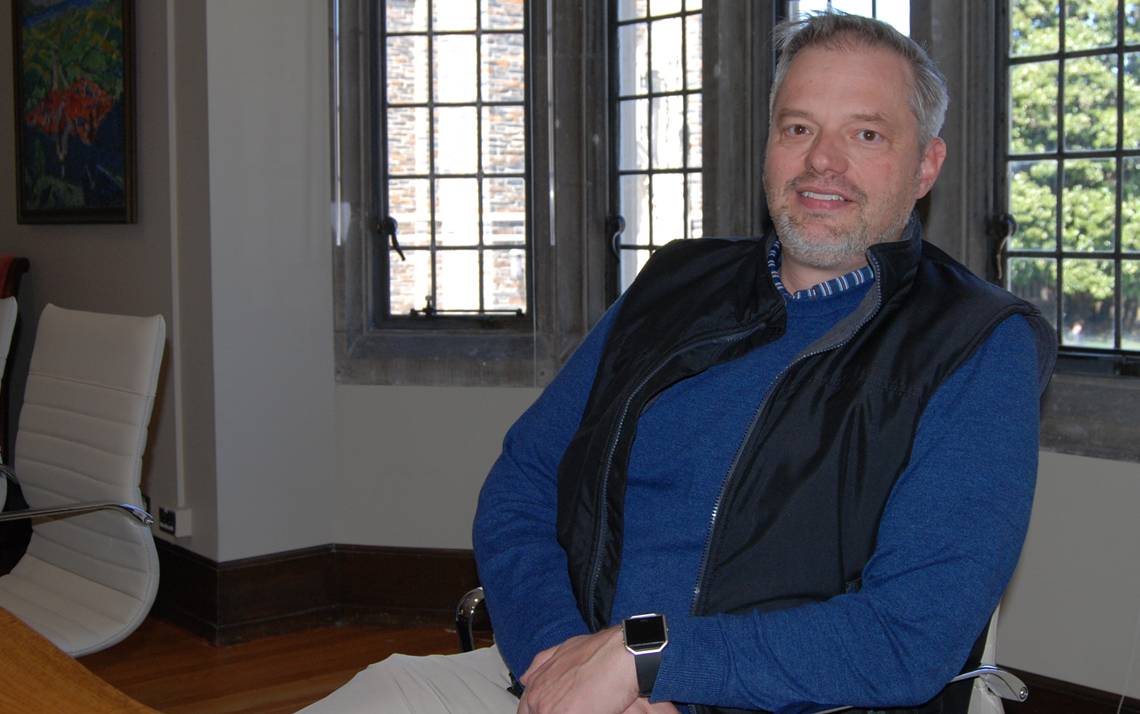 Name: Don Taylor
Position: Professor in the Sanford School of Public Policy, Chair of the Academic Council 2017-19 and, starting July 1, Director of Social Science Research Institute.
Years at Duke: 22
What he does at Duke: Taylor is an influential scholar in the study of health care for older Americans and finishing his term as the chair of Duke's Academic Council, where he's been a vital link between Duke leadership and faculty.
In July, he'll become the director of the Social Science Research Institute, a hub of interdisciplinary collaboration that uses data to explore societal issues.
Taylor's scholarly path started taking shape around the time he arrived at Duke on a one-year teaching contract in 1997. That was when his wife's aunt asked for help making decisions during her cancer treatments. Despite an academic background in health policy, Taylor was troubled by the complexity of the issues facing older patients and their caregivers.
He vividly recalls an appointment discussing an experimental therapy where questions about costs and efficacy went unanswered by doctors.
"What I came to realize is that the doctor didn't know the answers because these answers are really hard to know," Taylor said. "There was a lot more uncertainty than I understood."
Since then, Taylor has devoted his research to looking for ways to improve care for older Americans and how government policies affect these vulnerable populations.
He aims to keep exploring that area and others – including how to better understand the factors behind health care disparities and the deep racial wounds that continue to shape life in the American South – while helming the Social Science Research Institute.
In 2017, Taylor became chair of the Academic Council, which allows him to help shape the conversation Duke's faculty has around university issues. It's also shown him how passionate and diverse Duke's scholars are.
"There are so many scholars who are trained in so many different ways," Taylor said. "But the common thread is that they're all very passionate about what they do and believe that pushing the bounds of knowledge in their field is important."
What he loves about Duke: Taylor appreciates how Duke embraces and nurtures innovative ideas that may be complicated to execute.
"If you can dream an idea and put together the right team, you can actually go do something," Taylor said. "There's not as many barriers to new or unusual ways of looking at things."
For proof, Taylor points to a collaboration with former Duke oncologist Amy Abernethy studying how insurance benefits packages matched up with the real world needs of sick patients and their families.
"Somebody could have said 'You can't do that stuff. How can you have a research team with people scattered across so many parts of campus?'" Taylor said. "But nobody stopped us."
A memorable day at work: On October 5, 2017, Vincent E. Price was inaugurated as the 10th president of Duke University. And as the new president strode onto Abele Quad to begin the ceremony, Taylor led the way, carrying the sterling-silver university mace. As the chair of the Academic Council, this was part of his duties.
"It was really cool," Taylor said. "I just remember a feeling of honor. It's not just the individual carrying the mace, you're representing the faculty."
Special object in his workspace: Taylor's favorite thing about his workspace is the workspace itself. On the second floor of the Flowers Building, the office of the Academic Council chair has a window-lined conference room that looks out onto Abele Quad.
Taylor, whose tenure as Academic Council chair coincided with a break in major research projects, found himself inspired by the space.
"I found myself writing more here," Taylor said. "This space has been really important in me, sort of, resetting my brain. This is a beautiful place."
First ever job: Growing up, the Goldsboro native harvested tobacco on his grandfather's farm.
While the work was hard, Taylor said he recalls a satisfying sense of camaraderie among the fellow teens working in the summer heat.
"Almost every day after we'd finish harvesting tobacco, we'd eat a watermelon together," Taylor said. "There was something about it that gave you a sense of accomplishment."
Best advice received: Taylor learned a lot from his grandfather, P.L. Barrow. He said Barrow didn't say much, but his sense of fairness, especially when it came to race, stuck with Taylor.
In the 1970s, Barrow served as the sheriff of Greene County and hired an African-American deputy, a rarity at the time. Years later, Taylor asked him about the decision.
"He said that about half of the people in Greene County are black, so it made sense," Taylor said. "I was waiting for some kind of flowery civil rights manifesto, but that's not who he was."
Something most people don't know about him: In 1989, Taylor, then a student at the University of North Carolina, spent a summer in Pakistan studying water and sanitation.
"I traveled up and down Pakistan by myself, by bus, which would be unimaginable today" Taylor said.
As one of the first times in his life when he was an outsider, Taylor said the experience taught him plenty about kindness.
"The main thing I remember was how hospitable everybody was and how well I was treated," he said.
Is there a colleague at Duke who has an intriguing job or goes above and beyond to make a difference? Nominate that person for Blue Devil of the Week.