Meet the Women Behind the Building Names
Across Duke, buildings bear the names of important women
From the forest-lined fringes of West Campus to the orderly quads of East Campus, it's hard to go far on Duke's campus without running into a building that's named after one of the women who shaped the institution's story.
Around a dozen buildings at Duke have names connected to women who played a part in Duke's history.
"Women had important roles as administrators, as faculty and as donors to the university, so the names reflect the role women have played on campus," said Duke University Archivist Valerie Gillispie.
March is Women's History Month, so enjoy a few of stories of the women whose contributions to Duke are woven into the geography of campus.
Baker House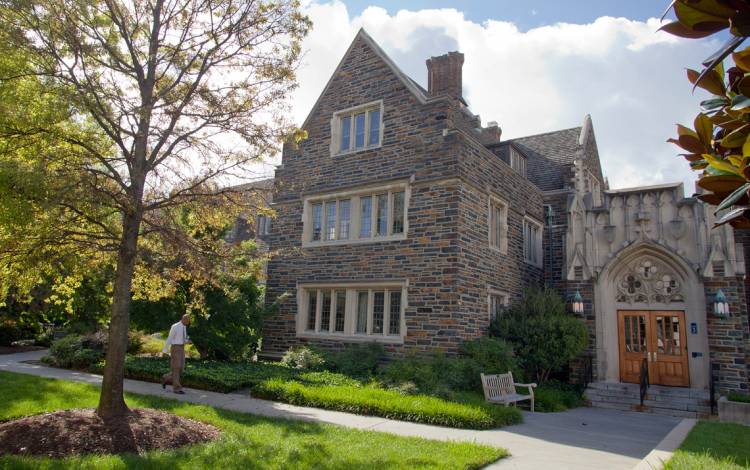 When the Duke University School of Nursing opened in 1931, it was led by Bessie Baker, the school's first dean. By the time she arrived at Duke, Baker had put together a long career in the field, dispensing care at Baltimore's Johns Hopkins Hospital and at a hospital in France during World War I. She was also a professor at the University of Minnesota.
But at Duke, Baker excelled as the steady leader of the new school, helping recruit students and serving as a liaison with Duke leadership. She retired in 1938.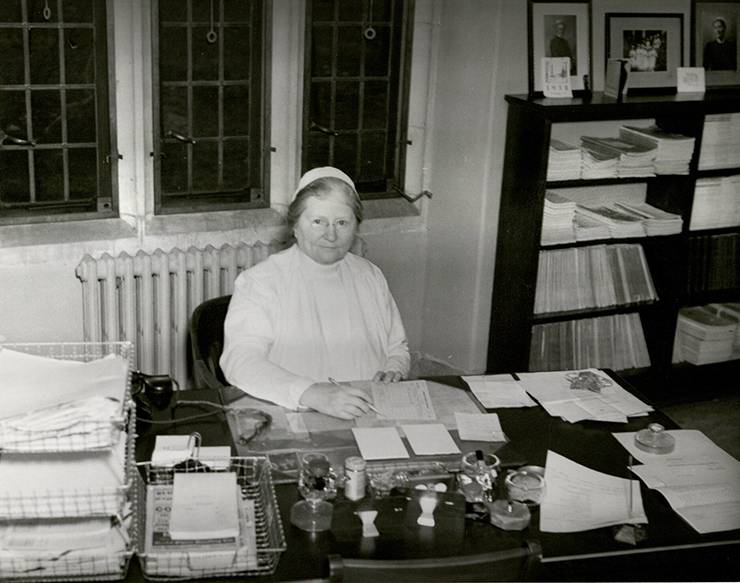 Baker House, which is now part of the sprawling Duke University Hospital complex and home to Duke's Department of Obstetrics and Gynecology, was constructed in 1930 and served as a home for Duke's nursing students. In 1943, after Baker's death, the building was named for her.
When she started at Duke in 1987, Alice Cooper, the medical director for the ambulatory clinics of Duke Obstetrics and Gynecology, also a women's health nurse practitioner, worked on the third floor of Baker House.
"It speaks to her leadership skills and the things that she was able to accomplish, back in the 30s, as a woman, and a nurse, to be influential enough to have a building named after her," Cooper said. "What a great path she laid down for the rest of us that came after her."
Other buildings named after women with ties to the Duke University School of Nursing include the Hanes House, named for former nurse and donor Elizabeth Hanes, and the Pearson Building, named after Duke graduate and donor Christine Siegler Pearson.
Keohane Quad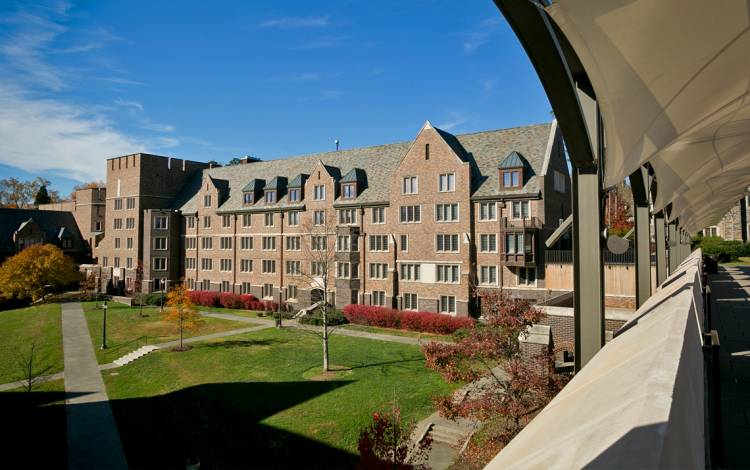 From the Brodhead Center on West Campus to the Knight House nestled in Duke Forest, Duke's campus is dotted with buildings named after former presidents of either Duke University or its precursor, Trinity College.
Nannerl Keohane served as Duke University president from 1993 to 2004. The only woman to have held the post, she oversaw a period in which Duke's international reach grew, its commitment to science and engineering blossomed and diversity and community service became more prominent university values.
After her retirement, Duke honored Keohane by naming a cluster of recently-completed residence halls in her honor. Located between Few Quad and Edens Quad on the south side of West Campus, the buildings of Keohane Quad are home to around 500 students.
"Because presidents are such significant forces for how the university develops, it's appropriate to have a building as a more permanent tribute to that individual," Gillispie said.
 Another prominent structure on West Campus with a name derived from one of Duke's accomplished women is the French Family Science Center, which was named for the family of Melinda French Gates, a Duke graduate and wife of Microsoft Founder Bill Gates.
Giles Residence Hall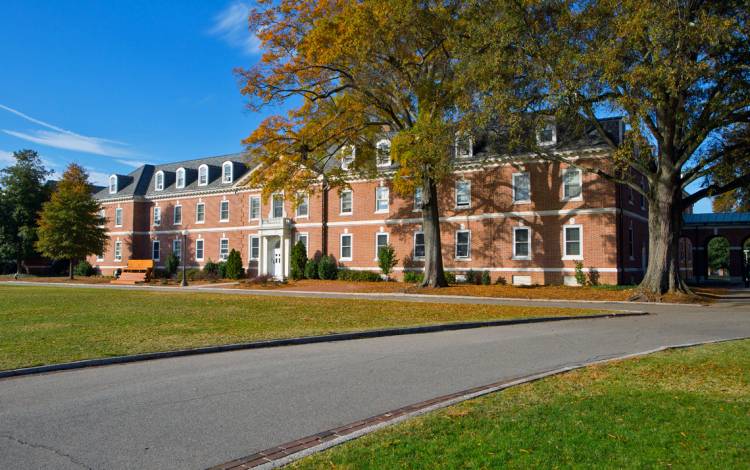 In 1878 when Trinity College was still located in Randolph County, its Board of Trustees voted to award degrees to three sisters, Mary, Persis and Theresa Giles.
The sisters' family had moved to Randolph County so their brother could attend Trinity College. While the three were not granted admittance, they were tutored by Trinity faculty, attended lectures and completed coursework. When Trinity College decided to honor their work with degrees, they became the first women to graduate from the institution.
The Giles sisters went on to found their own school in South Carolina and maintained enough of a connection with Trinity College during its move to Durham and transition into Duke University that an East Campus residence hall was named in their honor in 1930.
"We don't have records of what the conversation was or who brought it up, but clearly in 1930, they were still well-known," Gillispie said.
Given East Campus' history, it makes sense that several of its buildings are named after women. Baldwin Auditorium, the Friedl Building, Gilbert-Addoms Residence Hall, Lilly Library and Wilson Residence Hall are all named after important women in Duke's history.
Doris Duke Center
From the vision to James B. Duke to the continuing support from the Duke Endowment, the contributions of the Duke family play a central role in the university's story.
So it makes sense that members of the family, including its many women, are honored throughout campus.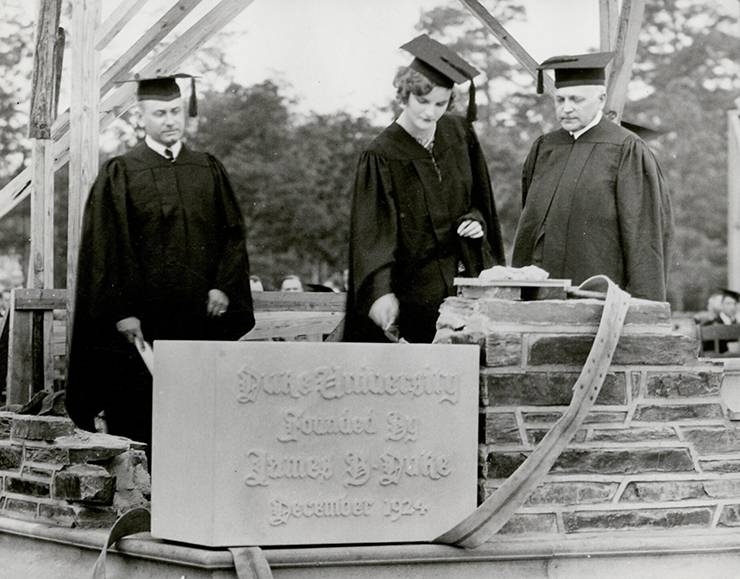 One such building is the Doris Duke Center. Completed in 2001, it's the event space and visitors center in the heart of the Sarah P. Duke Gardens.
With elegant expanses of wood and glass, the Doris Duke Center honors the only child of James B. Duke and perhaps the family's most colorful member. Among the things Doris Duke did during her 80 years, was hybridize orchids, spend time as a journalist in Europe, briefly own a record label in the 1960s, collect Southeast Asian and Islamic art and support a wide range of philanthropic causes including AIDS research, historically black colleges and universities and wildlife conservation.
"She was a very adventurous person who lived and traveled all over the world," Gillispie said. "But she remained, like her father, a philanthropist in terms of supporting a number of different charitable causes and organizations."
Elsewhere on campus, the Nanaline H. Duke Building is named after James B. Duke's widow, the Mary Duke Biddle Music Building is named after the daughter of Benjamin and Sarah P. Duke, and the Mary Duke Biddle Trent Semans Center is named in honor of Benjamin and Sarah P. Duke's granddaughter.
Have a story idea or news to share? Share it with Working@Duke.