Trinity Dean Valerie Ashby Appointed to Second Five-Year Term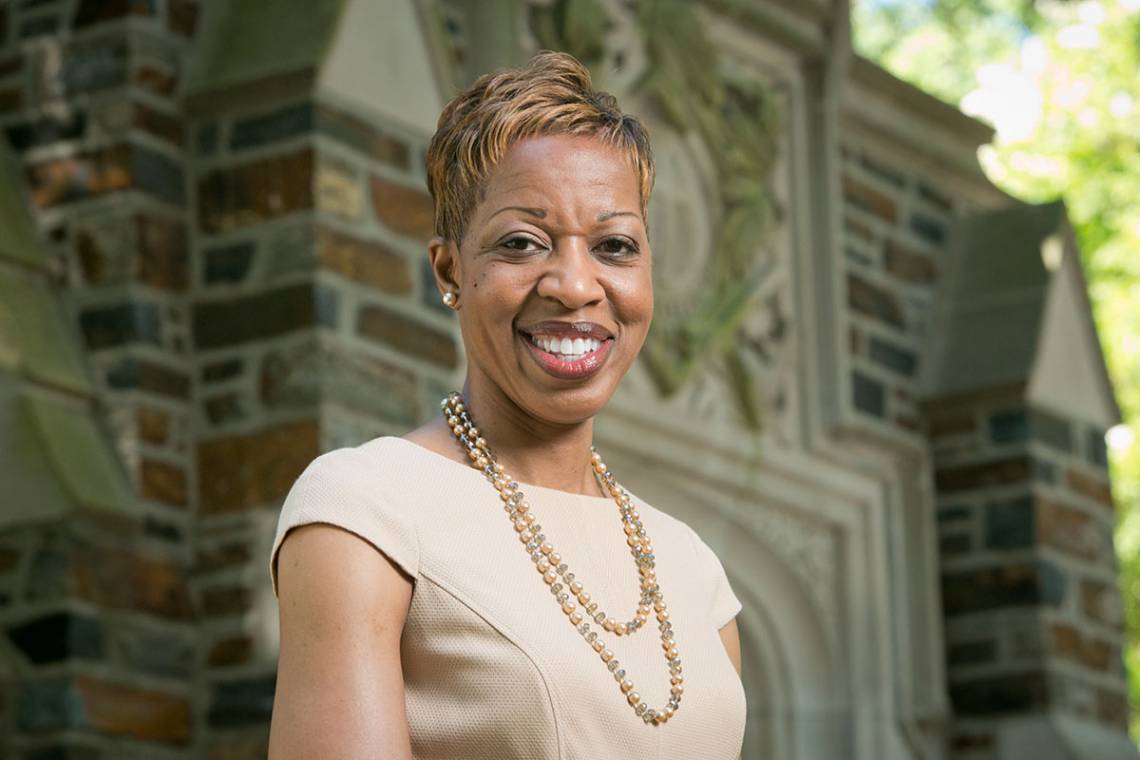 Valerie Ashby, who has served since 2015 as dean of Trinity College of Arts & Sciences, has been reappointed to another five-year term through June 30, 2025, President Vincent Price and Provost Sally Kornbluth said today.
The reappointment follows the recommendation of a review committee chaired by Georg Vanberg, chair of the Department of Political Science.
A nationally recognized chemist and teacher, Ashby has made significant contributions to arts & sciences academic life and administration. Ashby's personal leadership style, the emphasis she has placed on research and teaching excellence, her focus on faculty mentoring and leadership development, and her commitment to creating a more inclusive environment are particular strengths.
"I have been impressed by the outstanding leadership of Valerie Ashby and her team and am delighted to have the opportunity to continue to work with her as Dean of Arts & Sciences," Kornbluth said.
"Her approach to improving the introductory courses in the disciplines, expanding the role of the sciences, and her commitment to diversity and inclusion and increasing the enrollment of the under-served and under-represented in STEM fields is transformative. In addition, she has demonstrated great respect for the faculty and an ability to effectively work with them to ensure excellence in both teaching and research, in particular by providing mentorship and leadership development opportunities.
"We greatly appreciate the work of Georg Vanberg, the review committee, and all those who participated in the review process," Kornbluth added.
Price praised Ashby for her exceptional leadership that "is fostering an inclusive learning experience that adapts the great strengths of the liberal arts model for the future of teaching and learning."
"At this exciting moment in our university's history, we are thrilled that Valerie and her team will continue to lead the way for Trinity," Price said. "I am so looking forward to working alongside her on the many opportunities that lie ahead."
Ashby came to Duke following 12 years on the faculty of the University of North Carolina at Chapel Hill and eight years at Iowa State University. A North Carolina native, Ashby grew up in Clayton. She earned her bachelor of arts degree and Ph.D. in chemistry from UNC-Chapel Hill.
As a synthetic polymer chemist, she holds eight patents, has written extensively, and has received multiple awards from peers and students including the Order of the Golden Fleece (2012), the UNC General Alumni Association Faculty Service Award (2013), Carlyle Sitterson Freshman Teaching Award (2008), UNC-CH Student Undergraduate Teaching Award (2009), and the Johnston Teaching Award (2013). Ashby has long served as a mentor to graduate and undergraduate students, a role she maintains even as dean.