Saying 'I Do' to Love at Work
Some staff and faculty select Duke for their wedding venue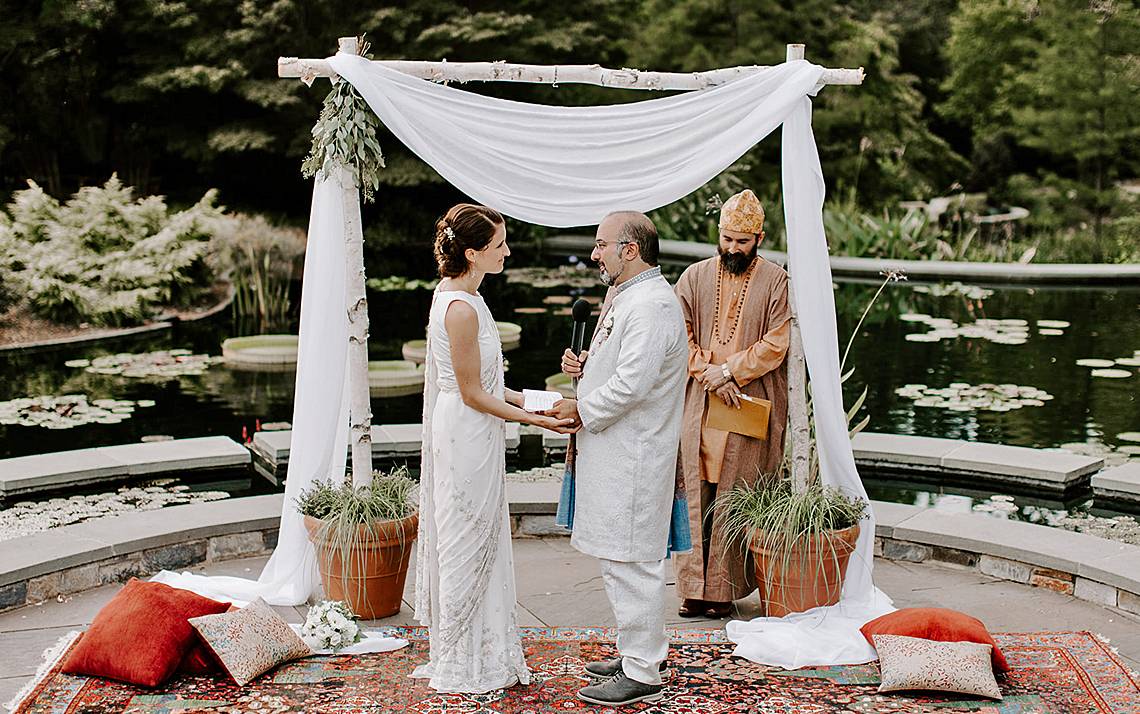 Sandy King nudged her husband, Mark, in the middle of Christmas Eve service last December in Duke University Chapel.
She was having flashbacks to the couple's wedding day 31 years ago. Sandy remembered Mark's crisp white suit and the 40 guests sitting together in the front of the Chapel.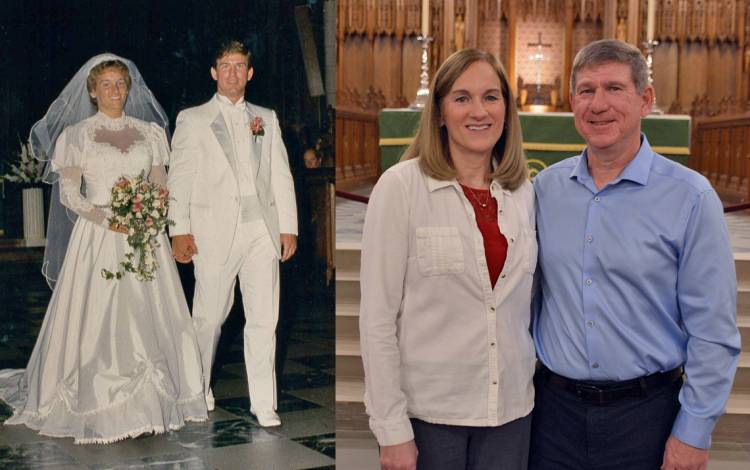 "I was so nervous before walking down the aisle," said Sandy, a clinical nurse for Duke University Hospital's cardiovascular unit. "But, the second I stepped into the sanctuary, I felt this calmness rush over me. Everything felt beautiful."
Flashbacks happen regularly for her husband Mark King, now the hospitality coordinator at the Chapel. For Mark, the long aisle brings memories of Sandy walking in her wedding dress on Sept. 26, 1987. She clutched a bouquet of pink and white roses and her train trailed a few feet behind.
"It's hard to have a bad day working at the place you were married," he said.
The Kings are among Duke staff and faculty who have vowed, "I Do," on campus. Come along for these love stories this Valentine's week.
Omid Safi
Professor in the Department of Asian and Middle Eastern Studies and Director of the Duke Islamic Studies Center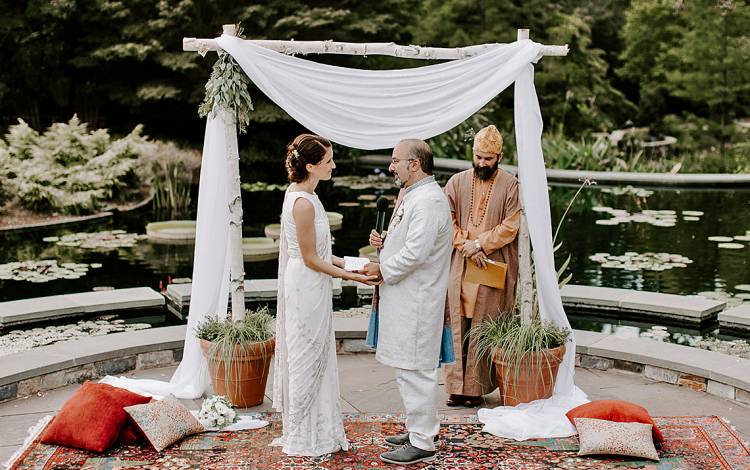 Omid Safi likes to joke that it only made sense for him to get married at Duke after achieving nearly every other milestone at the University.
Safi earned his undergraduate degree and doctorate from Duke University. Two of his children were born here and one of them is now a first-year student. On Sept. 8, 2018, Safi married Corina Safi-Fehr at Sarah P. Duke Gardens.
"I have exhausted all Duke affiliations," Safi said.
Safi met his wife three years ago in Turkey during a group tour he leads, called Illuminated Tours. She moved from Switzerland to Durham last year to be with him.
Safi and his wife never considered any venue other than Duke Gardens. They walk around the Historic Terraces regularly, and he takes his "History and Culture of Iran" class to the gardens for lectures when the weather cooperates.
Safi and Corina exchanged vows in front of the White Garden and the Peace Pond and had their reception at the Doris Duke Center.
"We knew it was the right place for us," Safi said. "It appealed to us very much in terms of being somewhere sacred, natural and beautiful. The day couldn't have been more special."
Dana Crowell
Senior Grants and Contracts Administrator for Duke's Department of Chemistry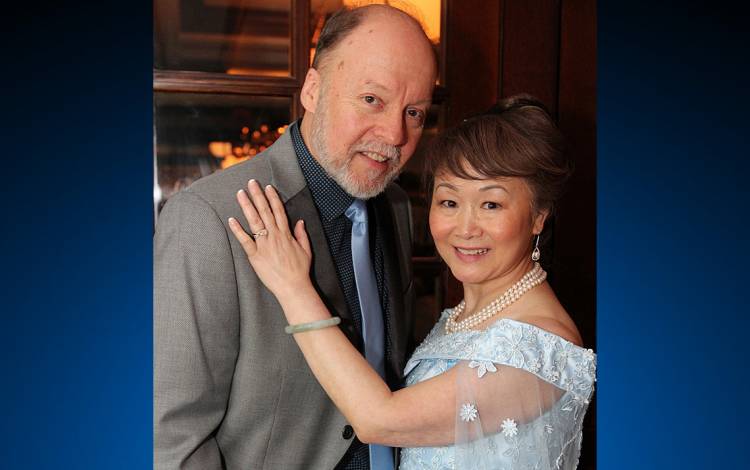 Dana and Richard Crowell find themselves at the Washington Duke Inn about once a month.
They'll enjoy a leisurely brunch at the Fairview Dining Room and listen to the live piano music, go on a walk around the grounds or rent a room on their anniversary or New Year's Eve.
"The Inn is part of our relationship," Dana said.
Dana and Richard met in 2016 and got engaged the following year. They never considered a wedding venue other than the Washington Duke Inn. The couple loves the dark wood frames around windows, the intricate designs of the Inn's rugs, and the attentive staff.
Dana remembers their wedding day – May 26, 2018 – as rainy. She did the flower arrangements herself using pink, white, orange, red and yellow roses and wore two dresses: a coral blue gown for the ceremony and a red silk dress embroidered with flowers for the reception.
They married and had their reception in the Inn's Vista Restaurant overlooking the golf course.
"I couldn't stop smiling," Dana said. "I smile when I think about the day, and I smile when I drive by the Washington Duke. Duke has become a very special place for me."
Omobonike Oloruntoba
Gastroenterologist and Assistant Professor of Medicine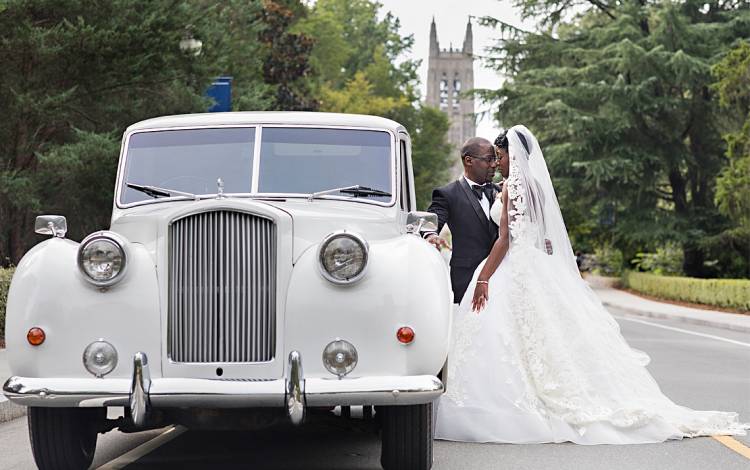 Duke University Chapel has been Omobonike Oloruntoba's refuge since arriving at Duke as an internist eight years ago.
When she felt stressed, Oloruntoba visited the Chapel, where she sat and reflected for a few minutes.
"You just walk inside and you're in awe of it," Oloruntoba said. "The moment you walk in there you feel at peace."
Oloruntoba met her future husband, Darrell Sanders, at the Barnes & Nobles at the Streets at Southpoint. He wore a T-shirt with an image from her favorite movie, "Coming to America." When he proposed two years later, the Chapel was the only venue she considered.
She booked her wedding a year in advance and organized the reception for the Washington Duke Inn. Oloruntoba fondly remembers family members and loved ones from Nigeria, London, Canada, the West Coast and Durham all dancing through the night at the reception.
"It was a gorgeous experience to see everyone come together," she said. "Everything worked out perfectly that day. Duke was already important to me, but now it holds a special place in my heart."
Have a story idea or news to share? Share it with Working@Duke.