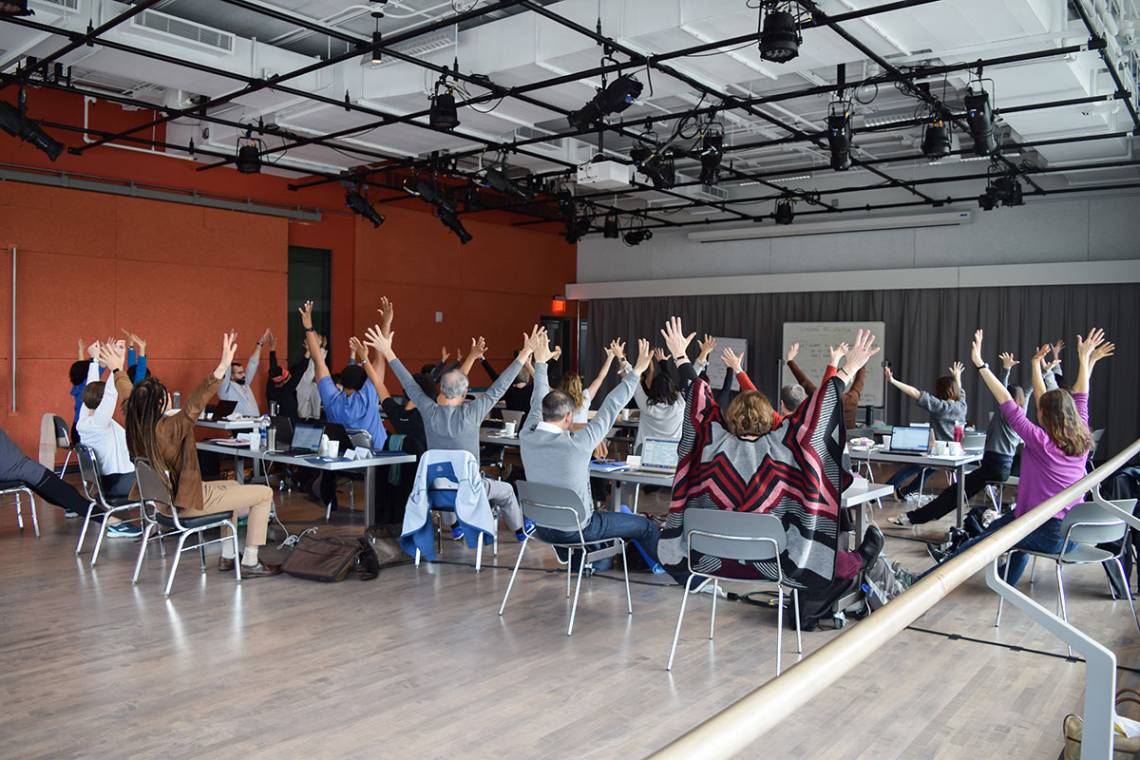 A group of Duke faculty members received a new tool last week in the fight against writer's block: dance.
A Feb. 15 writing retreat taught scholars how to get their writing moving. The retreat, a collaboration between Duke Arts and the Duke Faculty Write program mixed traditional writing tricks with embodied movement tools. It was co-taught by Jennifer Ahern-Dodson from the Thompson Writing Program and Sarah Wilbur from the Duke Dance program.
The retreat approached the act of writing as an embodied practice. Wilbur led the workshop participants in a number of movement exercises to "repattern the body and wake up parts of the brain that have been dormant," she told participants. In between writing sessions throughout the day, faculty members also participated in 3-minute movement breaks to songs including Rose Royce's "Car Wash" and Ozomatli's "Can't Stop."
The daylong retreat at Duke's Rubenstein Arts Center also included an adaptive yoga session for practitioners of all levels, to both re-center oneself and rejuvenate after a day of work. While writing is often treated as a purely cerebral activity, Ahern-Dodson and Wilbur stressed that writing is deeply connected to movement, both on the page (or screen) and through the body.
Ahern-Dodson also said a productive writing life can be fostered along three axes:
● Time: Carving out time in our busy lives to write, and then being protective of that time
● Experimentation: Trying new things to break out of old habits and find new lines of thought
● Community: Writing alongside peers and giving support to others.
More information on future retreats and other writing events is available at the Faculty Write website: https://facultywrite.duke.edu.