Lemur Center Names Greg Dye New Executive Director
Dye to Succeed Anne Yoder; Research Advisory Committee Added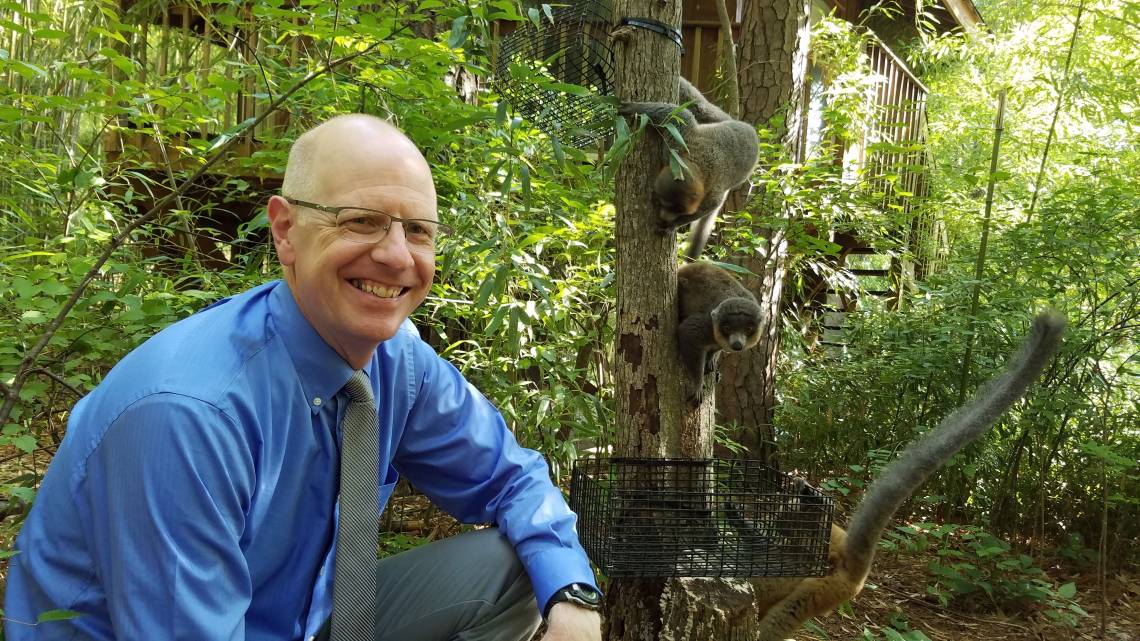 DURHAM, N.C. -- Lemurs and killer whales have more in common than you might think.
Sure, one prefers bananas and the other fish. And while lemurs are cat-sized, killer whales can grow to nearly the size of a bus. But both creatures can form friendships, solve puzzles and live for decades, says the Duke Lemur Center's Greg Dye.
He should know. Dye, who began his career as a marine mammal trainer three decades ago, will take up the role of executive director of the Duke Lemur Center in July. He will succeed biology professor Anne Yoder, who led the center for 12 years.
Dye, 52, has been serving as the center's interim director since June, when Yoder stepped down. Before that, he was the director of operations and administration, responsible for the day-to-day workings of the 85-acre, 42-employee facility that houses more than 200 rare and endangered primates.
"Leadership matters. That's what I saw with Anne," Dye said. "She's an innate leader. She knows how to pull a team together and how to move them forward. That's what I want to do."
Dye started his career in the mid-1980s at SeaWorld, where he worked his way through college training animals like killer whales, sea lions and dolphins.
He'd only been there a few weeks when he almost drowned during a "play session" with a 1200-pound walrus.
"The advice I'd gotten was, 'don't let her get you in a corner,'" Dye said. "And within 30 seconds she had me in a corner."
The walrus, named Slowpoke, plunged to the bottom of the pool with her new play thing and pinned him underwater for over a minute before someone finally managed to coax her off.
Dye not only escaped the life-threatening encounter, "I still came back to work the next day," he said.
When he wasn't training animals to flip, jump or dive during shows, Dye also spent time teaching animals to participate in non-invasive research and cooperate in their own care. Trainers might, for example, teach a walrus to waddle up to a scale to get weighed or a sea lion with cataracts to accept eye drops.
"That's when I got the bug," Dye said.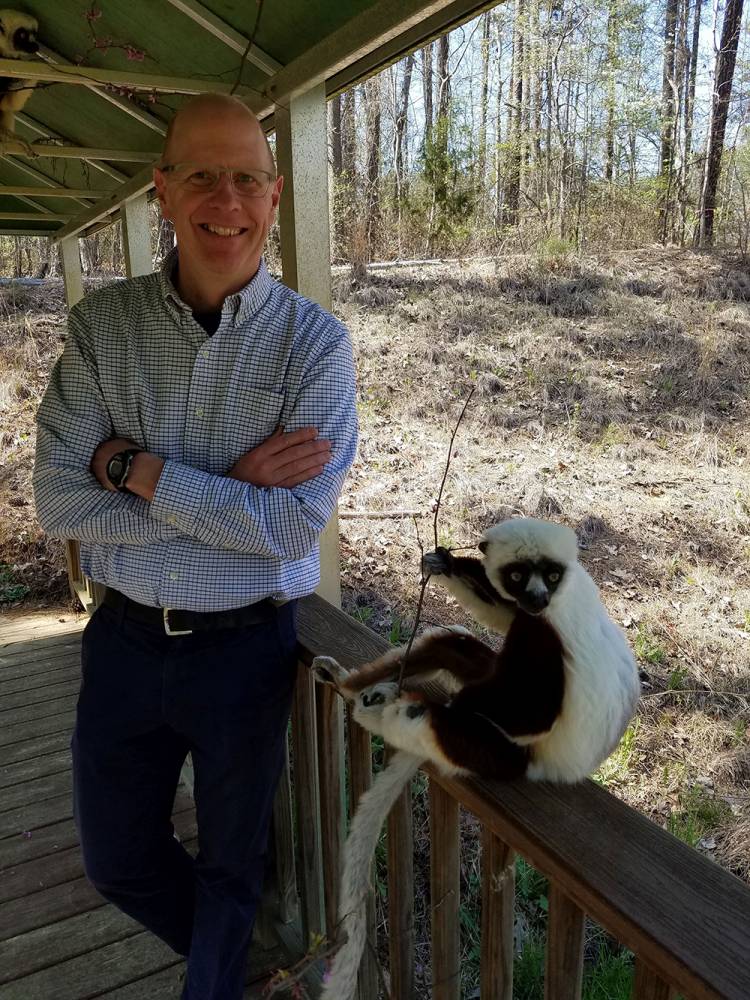 He went on to become the lead animal care specialist at Shedd Aquarium in Chicago. Along the way he also earned a master's degree studying bottlenose dolphins at Western Illinois University. Dye then moved to the Chicago Zoological Society, where he worked as the curator of marine mammals for nine years.
He and his wife had left Chicago and were busy running a consulting firm helping zoos and aquariums in countries as far away as South Africa when he learned, in 2008, that the Duke Lemur Center was looking for an operations manager.
As Yoder wrote several years ago, reflecting on her early days working with Dye, "I knew that I needed someone very special… Someone with experience in housing live animals, who also knew a thing or two about HVAC and electrical systems, and who could coax the best from each individual staff member while reshaping them as a team. And a little experience with animal training wouldn't hurt. Easy to find... right? You would think not, but then Greg Dye walked through my office door."
"It was so off my radar," Dye said. "I knew nothing about primates. But the fact that it was a noninvasive research center really struck a chord with me."
Dye rose to the challenge, and what started as a two-year commitment became a 10-year partnership. "Anne is by far the best person I've ever worked for in my life. Passionate, fun, smart," he said. "Together we brought new energy and innovation to the center and it just all clicked."
Responsible for keeping the center running smoothly day-to-day, Dye handled everything from hiring and supervising staff to managing budgets and facilities, setting goals and running meetings. He no longer wore a wetsuit at work. But waterproof boots still came in handy. In a given day he might wear a tie one moment and carry a shovel the next.
When Dye was hired in 2008, the center was undergoing a major face-lift. Yoder and Dye oversaw a $10 million project to build 35,000 square feet of new indoor and outdoor housing where lemurs could live. Their first winter, he spent countless hours at the center in the middle of the night, making sure the heat was working.
During this time the center also launched a new conservation initiative in the SAVA region in northeastern Madagascar, with programs ranging from environmental education to fish farming and family planning.
"With the programs we've developed in Madagascar we've built this virtual bridge from Durham to the SAVA region," Dye said. "Now we have DukeEngage students going out there."
And, although the Lemur Center had long given tours, it grew in that area as well, from an average of 13,000 visitors a year to more than 32,000.
Dye brings significant managerial experience and business training to the role. In addition to his previous leadership positions he is also a 2013 graduate of the Duke Leadership Academy.
One of his visions for the center is to continue to raise its profile as a leader in research. He will be supported by an advisory committee made up of four Duke researchers and four researchers outside of Duke.
He also plans to focus on increasing the diversity of students and faculty, and putting the center on more stable financial footing.
Altogether the center has an annual budget of more than $5 million, nearly half of which comes from outside grants and donations.
Ten years after he arrived, Dye says his best days at the office are still "any day that I get to spend with the animals out in the forest. It's never lost on me."