Duke Experts Talk Artificial Intelligence With Congressional Staff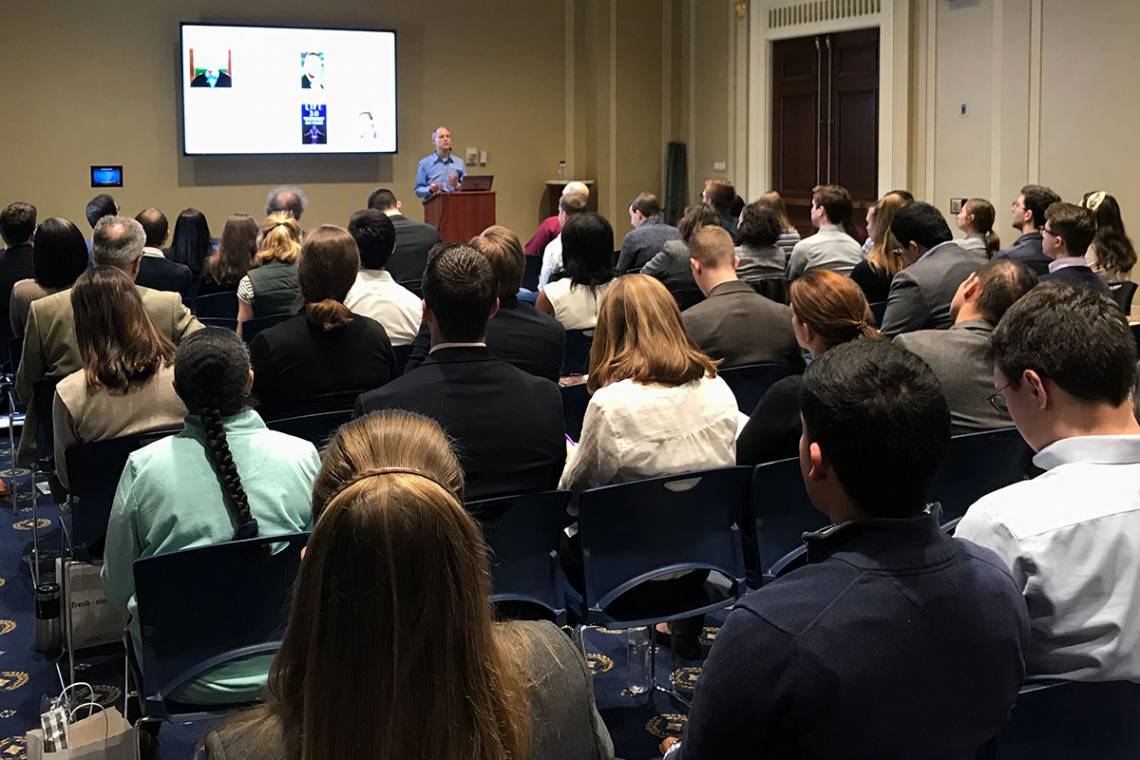 Increased federal funding and ethical inquiry are needed to best develop America's artificial intelligence capabilities, argued three Duke experts in a congressional briefing on Capitol Hill on Feb. 15.
Duke Professors Vincent Conitzer, Nita Farahany and Walter Sinnott-Armstrong spoke broadly about the ethical implications of what the advent of A.I. means for medicine, lethal weapons, automobiles and unemployment. Conitzer's presentation offered a definition of A.I., Sinnott-Armstrong explored the ethics of lethal autonomous weapons and Farahany dove into the legal questions A.I. will challenge.
Artificially intelligent systems already excel at games of probability and prediction but fail at games of context and interpretation, said Conitzer in his presentation.
This program began a three-part Duke in DC series for congressional staff exploring policy implications for human-A.I. collaboration. The second session will focus on transportation and the third will focus on health care.
Roughly 70 congressional staff joined the lunchtime presentations. Attendees asked a variety of questions on the pace of A.I. development and the importance of technological competition in the international space.
Several attendees asked about the hazards of racial bias in data analyses and some asked about the ethics of bioengineered organs.
Several questions focused on how to regulate without stanching innovation. Farahany offered the idea that regulation was not a before or after phenomenon, but rather a parallel process between innovators and the government.
Hosting a Congressional briefing today on the brave new world of human -A.I. Collaboration with Professors @conitzer, Walter Sinnott-Armstrong, and @NitaFarahany Stay tuned for updates.

— Duke in DC (@DukeinDC) February 15, 2019
Do we want lethal autonomous weapons? There are moral costs and benefits to be considered. -Walter Sinnott-Armstrong pic.twitter.com/0d5HKMtNGX

— Duke in DC (@DukeinDC) February 15, 2019
One of A.I.'s aims is to supplement, augment, and replace a lot of human functions. -@NitaFarahany pic.twitter.com/5gjUVrmyqH

— Duke in DC (@DukeinDC) February 15, 2019
Asked what areas they are most excited for regarding positive impacts of A.I. the panelists agree #heath and #diagnosis provide the most immediate and broad chances for good. pic.twitter.com/HpTgQfEBsX

— Duke in DC (@DukeinDC) February 15, 2019