Cook Society Honors Leaders Building a More Inclusive Campus
Annual ceremony pays tribute to retiring Vice President Ben Reese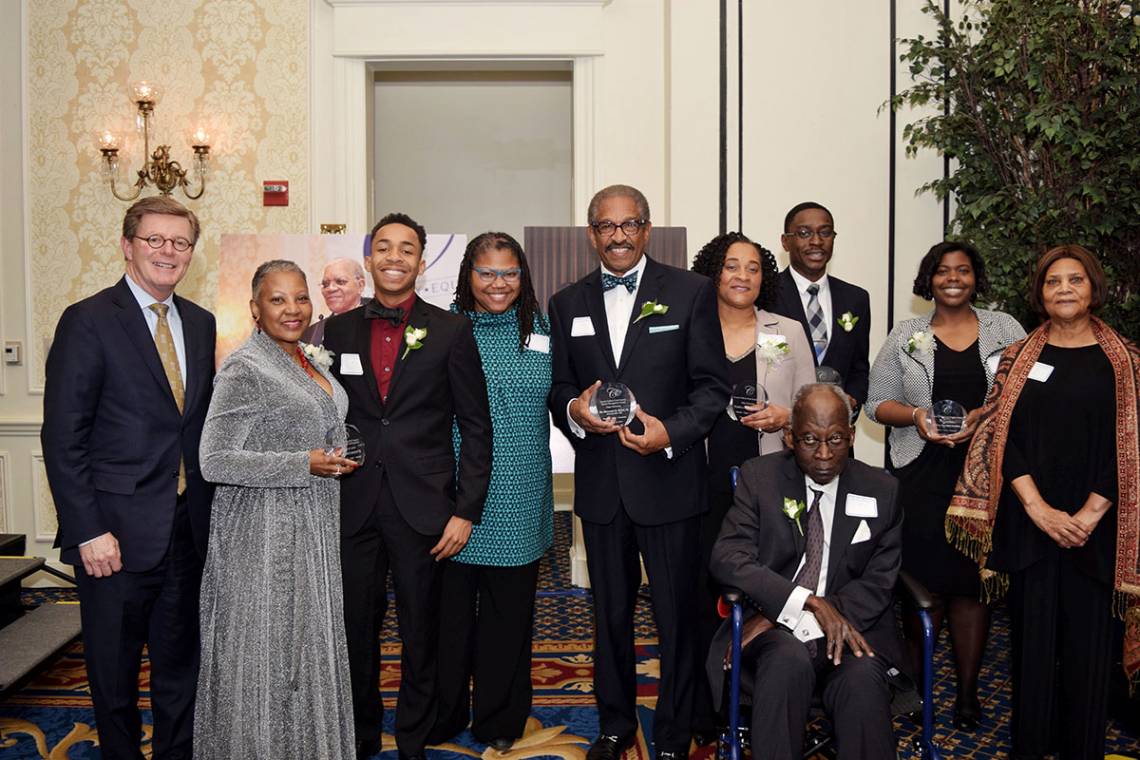 In a year of milestones, the Samuel Dubois Cook Society paid special recognition Tuesday night to Vice President Benjamin Reese for his long leadership on institutional equity, and remembered the passing of Phail Wynn and Dr. Brenda Armstrong, two campus pioneers who changed Duke and Durham for the better.
The honors came during the annual Cook Society dinner, in which seven Duke and Durham community members were honored for their service and activism. More than 420 people attended the ceremony at the Washington Duke Inn.
Reese, who spent two decades in the Office of Institutional Equity at Duke, is an internationally known leader on implicit bias, race relations, prevention of sexual harassment and other key equity issues. At the Cook Society dinner, Duke President Vince Price also praised Reese for his leadership and his work as a counselor, adviser and mentor to many in the Duke and local community.
The honor also paid tribute to Reese's long role in serving as the convener of the Cook Society since 2003. In that role, he's helped the society promote Cook's ideal of the beloved community at Duke, one that is welcoming and supportive to all members.
In remembering Armstrong and Wynn, the society also recognized two "extraordinary individuals who were members of the Cook Society."
Armstrong, who was one of the pioneering African-American undergraduate students and Duke, returned to the university as a faculty member and served in leadership roles at the School of Medicine for more than 20 years. She also was a well-known mentor to Durham children, particularly through the Durham Striders Track Club. She died Oct. 7, 2018.
Wynn, as Duke's first vice president for Durham and Regional Affairs and as president of Durham Technical Community College, built a stronger partnership between the university and the city. He also provided educational and vocational opportunities for countless Durham residents. He died July 24, 2018.
The society's Distinguished Service Award went to E'Vonne Coleman, chief operating officer of Discover Durham, formerly known as the Durham Convention & Visitors Bureau. Coleman's long career in Charlotte, Washington, DC, and Durham has used arts to reach marginalized communities and to promote cultural expressions.
Coleman came to Durham in the early 1990s to lead the Durham Arts Council. At the council, she added policies to enhance inclusion of artistic styles and racial and ethnic diversity to create an atmosphere where everyone saw themselves as being welcome in the arts. She also served seven years as assistant director of Duke Continuing Studies. In 2008, she joined Discover Durham, where she was named COO in 2012.
Other honorees were:
Dionna Monique Gamble, a fifth-year Ph.D. candidate in the University Program for Genetics and Genomics, where she studies genome instability. She serves as co-president of the Duke Bouchet Society, a graduate student organization that supports minority graduate students in STEM fields. As part of this work, she helps organize and support the Ida Stephens Owens Black Tie Dinner, which honors the first African-American woman to receive a Ph.D. from Duke.
Felix Odili Nwobgo Jr., who received his Ph.D. in chemistry from Duke in 2018. He served with Gamble as co-presidents of the Bouchet Society where he provided leadership "in the area of diversity in the Duke science community and beyond." He is currently exploring opportunities in pharmaceutical research and global regulatory affairs.
Pamela Montgomery, assistant director of finance and administration at the John Hope Franklin Humanities Institute. One of Montgomery's nominators praised her for being "one of Duke's strongest advocates for creating and sustaining an equitable, just, and inclusive campus environment for students, staff, and faculty" and for sustaining a belief "in the hundreds of young people she touches through her volunteer work, and promoting that principle as a value that should be central to our Duke community."
Corey Pilson, a junior majoring in political science. He is president of the Black Men's Union and the chief of staff of the Black Student Alliance. In these roles, he has extended the Black Men's Union to all populations at Duke, including faculty and alumni. He has used his graphic arts and photographic skills to produce compelling works for display in student affairs offices. And he helped provide student leadership on campus issues, including the renaming of Carr Building and discussions among campus men about toxic masculinity.
Faculty awards were presented to
Dr. Onye Emmanuel Akwari, a long-time member of the Department of Surgery faculty. Joining the Duke faculty in 1978 as an associate professor, Akwari was the first African-American faculty member in the Department of Surgery and the second tenure-track faculty member in the School of Medicine. Not only was he a mentor to many staff, students and junior faculty, he also played key roles in university leadership, including several terms on the Academic Council and on its Executive Committee.
Adriane Lentz-Smith, associate professor of history and a noted researcher of American history. She joined the Duke faculty in 2007, and since then has assisted several initiatives to help build a more diverse and humane community at Duke. As a graduate mentor and as adviser in programs such as Mellon Mays and the Rigel Scholars Program, she has worked to feed the pipeline of young scholars. In addition, she has led summer teacher institutes to connect university scholars to high school history teachers; and through the Kenan Institute for Ethics, she has hosted a series of community conversations on critical contemporary social and political issues.
At the ceremony, Reese also recognized winners of the Equity, Diversity & Inclusion awards:
The faculty award went to Dr. Daniel Lew of the Department of Pharmacology and Cancer Biology for his leadership in creating a more diverse and inclusive environment at Duke University and Duke Health.
The staff award went to the Nicholas School's Diversity and Inclusion Actionators task force. The members include: Nancy Kelly, Dean Urban, Charlotte Nuñez-Wolff, Melissa Adragna, Michele Grow, Erika Lovelace, Donna Sell, Brandon Toney, Park Watson, Shawn Stevenson, Sergio Tovar, Allison Besch and Beatriz Martin.
The Samuel DuBois Cook Society was founded in 1997 to honor the first African-American faculty member hired and tenured at Duke University, and to recognize his contributions as a member of the Duke University Board of Trustees.