Blue Devil of the Week: Making Duke's Home of Music Shine
Gloria Biddings' commitment is appreciated by those who pass through the Mary Duke Biddle Music Building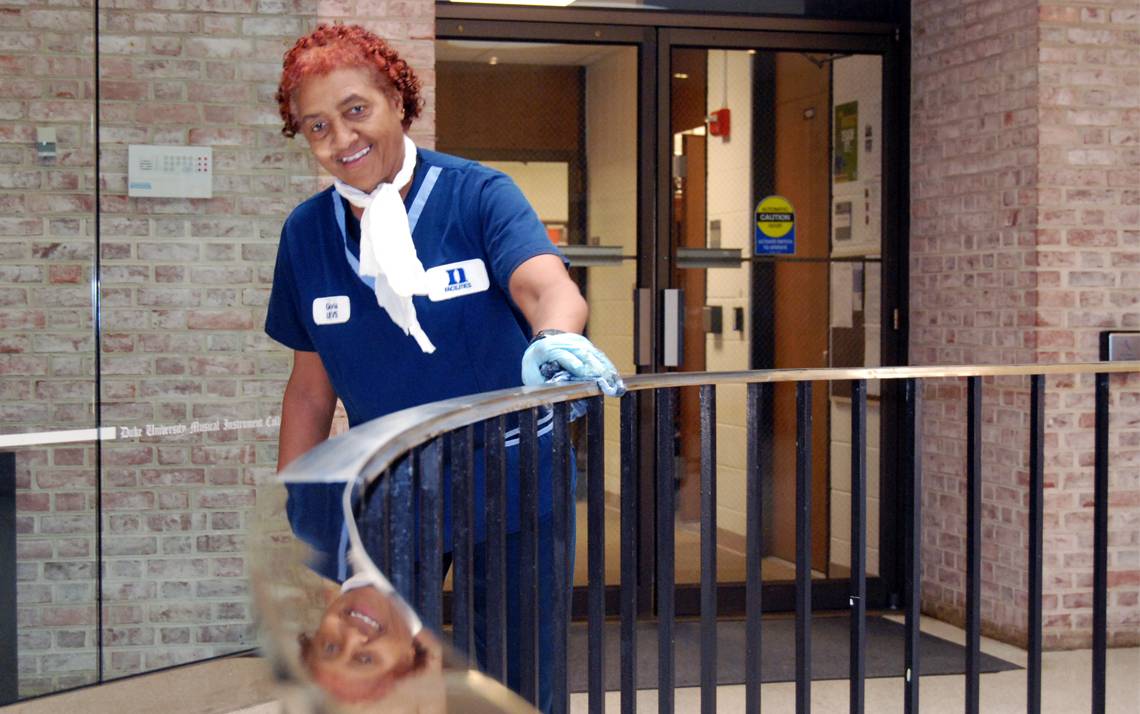 Name: Gloria Biddings
Position: Housekeeper, Mary Duke Biddle Music Building
Years at Duke: 30
What she does at Duke: Whether it's the Mary Duke Biddle Music Building's airy glass lobby, its shiny brass rail or the people who work and study there, Gloria Biddings makes it her job to look after all of it.
For 28 of her 30 years on the staff of Duke's University Environmental Services, Biddings has worked at the building, keeping it clean and developing a fondness for the people who pass through it. Each day, she circles the building with her cart filled with cleaning supplies, often stopping to greet or converse with students and staff.
"I love it here," Biddings said. "It's the music, the students, the staff and professors, sometimes they want to chit chat and talk. I feel lucky to be here."
What she loves about Duke: Biddings recalls working as a housekeeper at a Durham hotel and hearing about people she knew getting jobs at Duke.
"I always wanted to work here," she said. "I always said 'If I get a job at Duke, I'm never going to be late, I'm going to get all my work done and do it to the best of my ability."
In 1988, when she landed a position with Duke, it had a special meaning.
"It's a good place to work, I love it," Biddings said. "I enjoy coming to work."
A memorable day at work: Last spring, Biddings was one of 23 Duke employees honored with a Meritorious Service Award. She was nominated by faculty and staff of Duke Department of Music in recognition of the care she gives to the Mary Duke Biddle Music Building and the people who work in it.
"I was shocked," Biddings said of her reaction to the award. "Out of all the housekeepers, they chose me. It meant a lot. It means they really care about me as a person doing my job."
She couldn't do her job without: In the main lobby on the second floor of the Mary Duke Biddle Building is a circular opening lined with a brass handrail. Located underneath skylights, on sunny days when the handrail is spotless, it can glow like a halo. But when dulled by fingerprint smudges, it eats at Biddings.
Keeping the rail clean is a ceaseless quest for Biddings. And she uses metal polish and a sturdy cloth to do the job.
"It takes a moment to put it on there and you have to let it dry," Biddings said. "Once it's dry, it takes a few minutes to rub it off with a dry rag. When the sun comes in and shines on that rail, everybody likes it."
First ever job: When she was still in her teens, Biddings got a job at a textile plant in Roxboro, feeding yarn into machines that stitched car upholstery.
She worked there for 16 years, and she said the experience left her with an appreciation for doing things the right way. At the plant, any lapse in discipline could lead to machine malfunctions that was difficult to fix or, even worse, injuries.
"You had to do things right," Biddings said. "If you didn't know what you were doing, bad things could happen."
Best advice received: Biddings takes pride in her punctuality and reliability. She said makes it a point to get to work on time and rarely misses a shift.
She attributes that to her father, who she recalls was an especially hard worker. He valued accountability.
"Be sure to get to work on time," he told her. "You don't want people to think you're always late. You're just putting pressure on yourself."
Something most people don't know about her: As a grandmother of seven – and great-grandmother to one – Biddings happily fills the role of loving family matriarch. But she said she wasn't always that way.
"I used to have a temper," Biddings said with a laugh. "I was just young. But I changed. Everything changes, so I changed for the better."
Is there a colleague at Duke who has an intriguing job or goes above and beyond to make a difference? Nominate that person for Blue Devil of the Week.