Blue Devil of the Week: Fostering a GI Family Atmosphere
When Emma Townsend isn't helping patients in Duke's Endoscopy Clinic, she oversees a professional development program and newsletter
Name: Emma Townsend
Title: Registered Medical Assistant II for the Duke Endoscopy Clinic 2H
Years at Duke: 7 years
What she does: Every day is like a puzzle to Emma Townsend.
She gets to work a little early – around 6:30 a.m. – to look over her list of patients and procedures they are scheduled for. She sets up her procedure cart for the day's operations, anything from colonoscopies to upper endoscopies.
The mobile cart accompanies Townsend wherever she goes. It's full of sterile water, plastic tote bags, cleaning sponges, syringes, cleaning brushes and various sizes of endoscopes, a flexible tube with a headlight and camera that is digitally attached to a TV monitor. She uses the mobile cart for bedside procedures.
"It's an adrenaline rush to figure out what equipment you'll need for that day," Townsend said. "It's like someone sits a broken-up puzzle in front of you, and you have to figure out how to put it back together."
During a procedure, Townsend is next to the doctor, helping with whatever is needed.
"Procedure time can vary," she said. "You have to develop dexterity and stamina to operate the tools."
What she loves about Duke: Townsend appreciates her continuing education at Duke. She received training in 2016 to learn the technical set-up for the double balloon enteroscopy, a procedure that fits a balloon at the end of an endoscope to inflate the small intestine for proper visualization.
"When I first heard about the procedure I said 'I want in. I want to learn how to do it,'" she said. "Duke made it happen."
Memorable day at work: An all-day conference for Duke nurses and medical assistants on strengthening teamwork in the spring of 2016 sparked a few ideas for Townsend.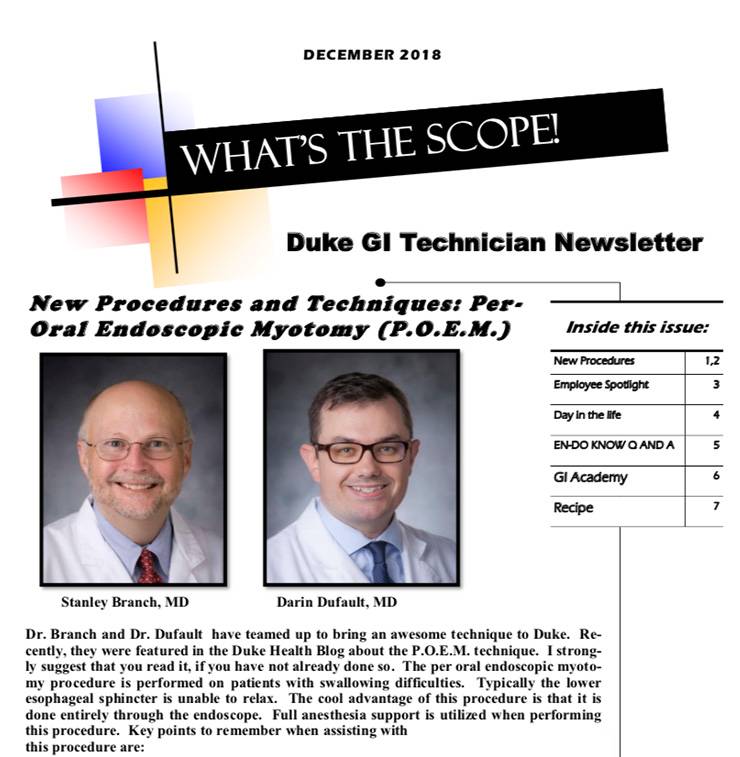 After the conference, she proposed an idea for the "Duke GI Academy." The academy is an internal continuing education program for Duke GI nurses and technicians working in gastroenterology. The participants give monthly presentations on evidence-based research like infection control and polypectomy, a procedure used to remove polyps from the colon.
Townsend also started a newsletter, "What's the Scope!," that's sent to all gastroenterology staff within her division. The letter includes an employee spotlight, day-in-the-life features and recipes.
"We want everyone to feel like they're learning about the field and each other," Emma said. "That's going to help when you're in a stressful situation in a procedure."
Best advice received: Townsend's mentor often tells her "don't sweat the small stuff."
"I have a habit of overthinking things," Townsend said.
First job: As a 16-year-old, Townsend sorted patient records for the human resources department at the VA Medical Center in Fayetteville, N.C.
"It gave me exposure to the hospital," she said. "That's probably why I'm working in one today."
Something most people don't know about her: Townsend got lost on her first day at Duke.
"I didn't realize Duke South was broken into sections by color," she said. "I showed up about 15 minutes late to the same clinic that I am happy to work at today. I feel like if I am late I am letting my team down."
Nominate a colleague to be Blue Devil of the Week.