Winter Books: The Beatles, Ellington and 'the Magic of Collaboration' and Other Great Reads
From history to sci-fi, books from Duke authors to enliven the winter season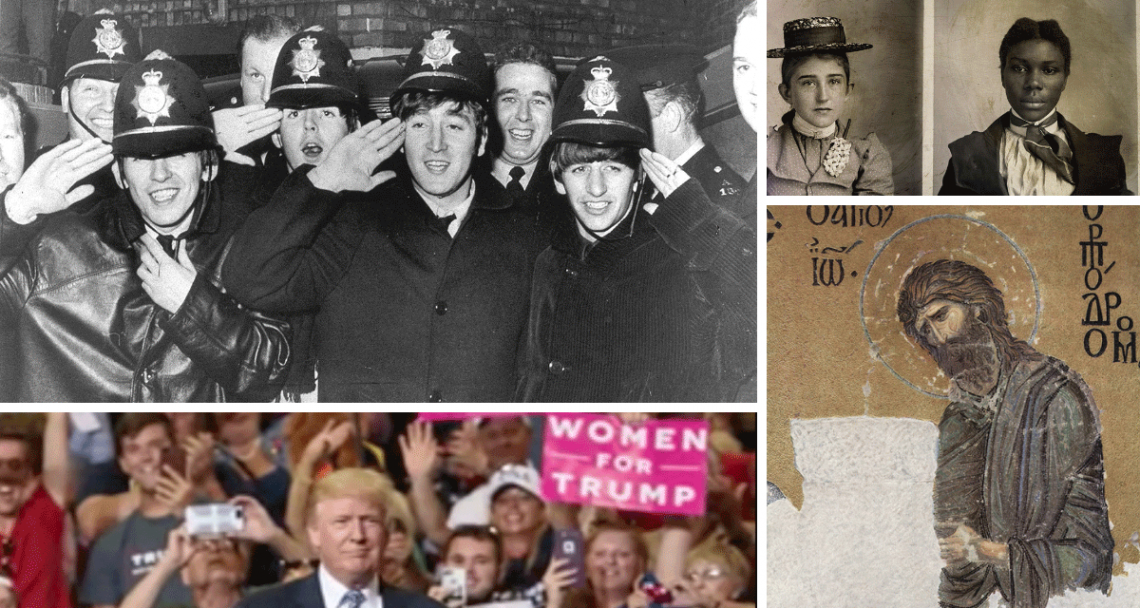 From "John the Baptist in history and theology" to 18th-century explorer John Lawson and the key human aspects of education to a radical reconsideration of how we develop the qualities that make us human, Duke authors are providing a number of good reads for the winter months.
Below, we offer a roundup of titles worthy of attention.
Many of the books, including new editions of previous titles, can be found on the "Duke Authors" display shelves near the circulation desk in Perkins Library. Some are available as e-books for quick download. Most can also be purchased through the Gothic Bookshop.
[Duke Today will provide similar updates in the future. If you are a member of the Duke faculty or staff who will be publishing a book of interest to a general audience, send us a message about it along with your publisher's brief description.]
Dr. Ray Barfield, Sarah Barton, Dr. Dan G. Blazer, Dr. Philip Choi, Dr. Farr A. Curlin, Dr. Warren Kinghorn, Dr. Harold G. Koenig and Brett McCarty, contributors: "Spirituality and Religion Within the Culture of Medicine: From Evidence to Practice" (Oxford University Press)
Among the contributors to this comprehensive text that bridges health care and theology are seven Duke faculty members, as well as a postdoctoral associate and Th.D. candidate, both at Duke Divinity School. These writers provide case examples and highlight best practices when engaging religion/spirituality within clinical practice.
Nicole Elizabeth Barnes: "Intimate Communities: Wartime Healthcare and the Birth of Modern China, 1937-1945" (University of California Press)
When China's War of Resistance against Japan began in July 1937, it sparked a health crisis throughout China that was instrumental in creating national cohesion. In her book, Barnes, Andrew W. Mellon Assistant Professor of History and Gender, Sexuality and Feminist Studies, argues that women who worked as military and civilian nurses, doctors and midwives during this turbulent period built the national community, one relationship at a time. A free e-book version of this title is available at luminosoa.org.
Lori Baron, Jill Hicks-Keeton, and Matthew Thiessen, editors: "The Ways That Often Parted: Essays in Honor of Joel Marcus" (Society of Biblical Literature Press)
In this volume of essays -- honoring Divinity School faculty member Joel Marcus -- an internationally renowned group of scholars and edited by three Duke alumni, challenges popular ways of understanding how Judaism and Christianity came to be separate religions in antiquity. The essayists include Duke Divinity School associate research professor Susan Grove Eastman.
Thomas Brothers: "Help! The Beatles, Duke Ellington, and the Magic of Collaboration" (WW Norton)
In his new book, Duke musicologist Thomas Brothers shows why the Beatles and Duke Ellington were two of the greatest examples of collaboration in music history. He argues that a cooperative dynamic was the primary reason for their success and longevity, allowing them to be greater than the sum of their parts.
Charles Clotfelter: "Big-Time Sports in American Universities" Second edition (Cambridge University Press)
This new edition of his influential book, Sanford School Professor Clotfelter continues to examine the role of athletics in American universities, building on his argument that commercial sports have become a core function of the universities that engage in them. Drawing on recent scandals on large-scale college campuses and updates on several high-profile court cases, Clotfelter brings economic analysis to the variety of problems that sports raise for university and public policy.
Linda Daniel, contributor: "The Globalized Library: American Academic Libraries and International Students, Collections, and Practices" (Association of College & Research Libraries)
Daniel, coordinator of Duke Libraries' support for the Duke Kunshan University Library, contributes the chapter titled, "International Collaborations: Development of the Duke Kunshan University Library." Daniel set up the Duke Kunshan University Library in the fall of 2014 and served as the associate university librarian there in 2015-2016.
Kisha Daniels, co-editor: "Creating Caring and Supportive Educational Environments for Meaningful Learning" (IGI Global)
Daniels, an instructor of education, helps make the case for the importance of the human aspects of education. Topics include service learning, ethics of care and student mental health.
Joseph Donahue: "Wind Maps I-VII" (Talisman House, Publishers)
English department faculty member Donahue's latest poetry collection, according to reviewer Andrew Joron, "has an almost Cantos-like sweep, sampling voices from far and wide, not random but gathered." It includes shorter poems and dramatic monologues.
Prasenjit Duara, co-editor: "Beyond Regimes: China and India Compared" (Harvard University Asia Center)
Duara, a professor of East Asian Studies, explores the local and global influences shaping the Asian giants of China and India. With a comparative approach, the focus is on labor relations; legal reform and rights protest; public goods provision; and transnational migration and investment.
Jennifer L. Eaton, editor: "Thyroid Disease and Reproduction: A Clinical Guide to Diagnosis and Management" (Springer)
Filling a gap in the literature, this evidence-based resource covers thyroid disease and its effects on reproduction and fertility. Eaton is medical director of assisted reproductive technology at the Duke Fertility Center.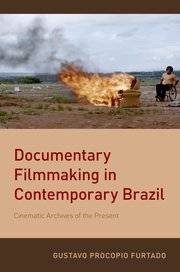 Gustavo Procopio Furtado: "Documentary Filmmaking in Contemporary Brazil: Cinematic Archives of the Present" (Oxford University Press)
Furtado, assistant professor of Romance studies, explores the affinity between documentary and archive in this first book in English on the field of documentary filmmaking in Brazil. He has included two chapters on indigenous issues.
Gary Gereffi: "Global Value Chains and Development: Redefining the Contours of 21st Century Capitalism" (Cambridge University Press)
Building on his pioneering work, Gereffi, a professor emeritus of sociology and director of Duke's Global Value Chains Center, traces the emergence of arguably the most influential approach used to analyze globalization and its impacts.
Drs. Jennifer Gilner and Jeffrey A. Kuller, contributors: "Creasy & Resnick's Maternal-Fetal Medicine Principles & Practice" 8th edition (Elsevier Health)
Kuller, professor of obstetrics and gynecology, is senior author of chapters on "Human Genetics and Patterns of Inheritance" and "Molecular Genetic Technologies." Gilner, an assistant professor is first author of the molecular genetic technologies chapter.
Shai Ginsburg, co-editor: "Jews and the Ends of Theory" (Fordham University Press)
Theory has often been coded as "Jewish" -- not merely because Jewish intellectuals have been central participants, but also, Ginsburg's book argues, because certain problematics of modern Jewishness enrich theoretical questions across the humanities. Ginsburg is an associate professor in the Department of Asian and Middle Eastern Studies.
Kieran Healy: "Data Visualization: A Practical Introduction" (Princeton)
Effective graphics are essential to communicating ideas. Healy, an associate professor of sociology, offers a primer on how to create effective graphics from data.
Scott Huler: "A Delicious Country" (University of North Carolina Press, March 4, 2019)
Duke Magazine senior writer Scott Huler's seventh book of nonfiction, about 18th-century explorer John Lawson, combines a traveler's curiosity, a naturalist's keen observation and a writer's wit.
Ashley Jardina: "White Identity Politics" Cambridge Studies in Public Opinion and Political Psychology (Cambridge University Press, Feb. 28, 2019)
In her forthcoming book, assistant professor of political science Ashley Jardina finds white identity is distinct from racial animus, and that whites can be concerned about their status without harboring much hostility against non-whites.
Paul B. Jaskot, co-editor: "Lessons and Legacies XIII. New Approaches to an Integrated History of the Holocaust: Social History, Representation, Theory" (Northwestern)
Jaskot, a professor of art history, collects 13 essays representing the forefront of current research on the Holocaust in a range of disciplines.
Robin Kirk: "The Bond" (Goldenjay Books)
Robin Kirk's work as a human rights advocate and activist informs the story in her new sci-fi book, "The Bond," in which she digs into genetically modified and designed creatures (including people). Kirk, the faculty co-chair of the Duke Human Rights Center at the Franklin Humanities Institute, recently talked about her debut novel with Vermont College's Through the Tollbooth blog.
Alison Klein: "Anglophone Literature of Caribbean Indenture: The Seductive Hierarchies of Empire" New Caribbean Studies (Palgrave Macmillan)
Through an examination of intimate relationships within indenture narratives, Klein, a lecturer in the Thompson Writing Program, traces the oppressive ideologies of gender, ethnicity and class that developed under imperialism and indenture and that continue to impact the Caribbean today.
Kathryn Kreider, contributor: "Advanced Practice in Endocrinology Nursing" (Springer)
Kreider, an assistant professor in the School of Nursing, wrote the chapter, "Anatomy and Physiology of the Pituitary Gland."
Mbaye Lo: "Political Islam, Justice and Governance" (Palgrave MacMillan)
The associate professor of the practice of Asian and Middle Eastern Studies examines political Islam's failure to govern because of the conflict between neo-liberalism and individual freedom and the Islamic emphasis on a stultified concept of justice.
Joel Marcus: "John the Baptist in History and Theology" Studies on Personalities of the New Testament (University of South Carolina Press)
Marcus, a professor of New Testament and Christian origins at Duke Divinity School, uses biblical and extra-biblical sources, such as the historian Josephus, to argue that John the Baptist saw himself, not Jesus, as the end-time prophet who would inaugurate God's kingdom on earth.
Sally Nuamah: "How Girls Achieve" (Harvard University Press, March 11, 2019)
If we want girls to succeed, we need to teach them the audacity to transgress, says scholar-activist Sally Nuamah, an assistant professor at the Sanford School of Public Policy. Through the lives of students at three very different schools in the United States, Ghana and South Africa, Nuamah makes the case for "feminist schools" that orient girls toward a lifetime of achievement.
David Need, translator: "Rainer Maria Rilke -- From Notebooks and Personal Papers" (Shearsman Books)
This volume is the first English translation of German language poems in the arrangement Rilke had set down in 1926. Need, a lecturing fellow of religion, has published two other books -- a translation and essays on Rainer Maria Rilke, and a selection of Need's own poetry, including a long poem set alongside the Gospel of Mark.
Subhrendu Pattanayak, co-editor: "Handbook of Environmental Economics, Volume 4" (North Holland)
From a professor at the Sanford School of Public Policy and his collaborators, the first substantive review of environmental macroeconomics. The book answers key policy questions facing environmental agencies in developed and developing economies.
Henry Pickford, co-editor: "Der aufrechte Gang im windschiefen Kapitalismus: Modelle kritischen Denkens" / The Upright Gait in Skewed Capitalism: Models of Critical Thinking (Springer VS)
Drawing on contributions to a 2016 conference held in Weimar, Germany, Pickford, an associate professor in the departments of Germanic Languages and Literature and Philosophy, brings together essays from different traditions within critical thinking, offering new perspectives for social theory.
Anathea E. Portier-Young, co-editor: "Scripture and Social Justice: Catholic and Ecumenical Essays" (Lexington Books/Fortress Academic)
In a volume that aims to challenge academic and ecclesiastical complacency, Portier-Young, an associate professor of Old Testament at Duke Divinity School, has helped to gather essays providing a panoramic view of current thinking on biblical texts that play important roles in contemporary struggles for social justice -- either as inspiration or impediment.
Luke A. Powery, co-editor: "Connections: A Lectionary Commentary for Preaching and Worship" (Westminster John Knox Press)
"Connections," a nine-volume series, provides new resources to help preachers connect congregations to scripture. Powery is dean of Duke University Chapel and associate professor of homiletics at Duke Divinity School.
Luke A. Powery: "Were You There?: Lenten Reflections on the Spirituals" (Westminster John Knox Press)
In these devotions for the season of Lent, the Duke University Chapel dean leads the reader through the African American spirituals, valuable not only for their sublime musical expression but for their profound insights into the human condition and Christian life.
Naomi Quinn, editor: "Advances in Culture Theory From Psychological Anthropology" (Palgrave Macmillan)
Quinn, professor emeritus of cultural anthropology, provides a needed synthesis of the current directions in culture theory, which is rendered as a jigsaw puzzle. The book identifies where current research fits together, the missing pieces, and the straight edges that frame the bigger picture.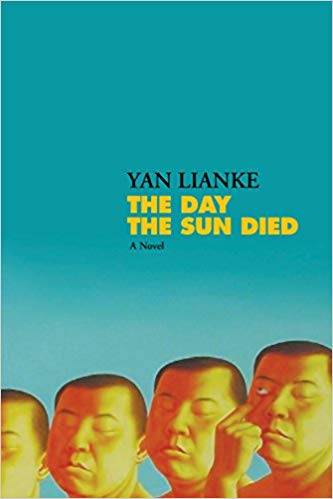 Carlos Rojas, translator: "The Day the Sun Died" by Yan Lianke (Grove Press)
This new translation by a professor of Asian and Middle Eastern Studies has been named a Best Fiction in Translation of 2018 selection by Kirkus Reviews. The New York Times Book Review says Yan's "gripping" 2015 Taiwan-published novel, "superbly" translated by Rojas, is likely to now find many more readers.
Margaret Sartor and Alex Harris, co-editors: "Where We Find Ourselves: The Photographs of Hugh Mangum, 1897–1922" (University of North Carolina Press, Feb. 4)
Self-taught photographer Hugh Mangum was born in 1877 in Durham, as its burgeoning tobacco economy put the frontier-like boomtown on the map. As an itinerant portraitist working primarily in North Carolina and Virginia during the rise of Jim Crow, Mangum welcomed into his temporary studios a clientele that was both racially and economically diverse. "Where We Find Ourselves," published in association with Duke's Center for Documentary Studies (CDS), presents images that hint at unexpected relationships and histories. Margaret Sartor is a writer, photographer and instructor at the CDS. Alex Harris is a professor of the practice at CDS and in the Sanford School of Public Policy. Read more about a Nasher Museum exhibit of the photos.
Denis Simon, co-author: "Innovation in China: Challenging the Global Science and Technology System" China Today series (Polity)
China is in the midst of transitioning from a manufacturing-based economy to one driven by innovation and knowledge. This analysis co-authored by the executive vice chancellor at Duke Kunshan University evaluates China's state-led approach to science and technology, and its successes and failures.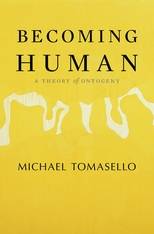 Michael Tomasello: "Becoming Human: A Theory of Ontogeny" (Belknap Press)
Based on decades of experimental work, psychology professor Michael Tomasello, the former director of the Max Planck Institute for Evolutionary Anthropology, presents a radical reconsideration of how we develop the qualities that make us human. Building on the seminal ideas of Soviet psychologist Lev Vygotsky, Tomasello's data-driven model explains how those things that make us most human are constructed during the first years of a child's life. "Becoming Human" places human sociocultural activity within the framework of modern evolutionary theory, and shows how biology creates the conditions under which culture does its work.
Grant Wacker: "Augustus H. Strong and the Dilemma of Historical Consciousness" (Baylor University Press paperback reissue with new preface)
Wacker, Gilbert T. Rowe Professor Emeritus of Christian History at Duke Divinity School, reveals the tragic side of the influential 19th-century theologian.
Michael D. Ward, co-author: "Maximum Likelihood for Social Science: Strategies for Analysis" (Cambridge University Press)
Ward, a professor emeritus who established at Duke a research lab of graduate and undergraduate students focusing on conflict prediction, is the co-author of this advanced text in applied statistics and methodology. Ward is one of the first political scientists to focus on the role of prediction in scholarly and policy work.
E. Roy Weintraub, co-editor: "A Contemporary Historiography of Economics" (Routledge)
Weintraub, a professor emeritus of economics, collects contributors who provide for the first time a methodological overview of the historiography of economics. The book seeks to provide research tools for future historians of economic thought, as well as to any historians of social science with an interest in historiographic issues.