PUBLISHED
Remembering Jim Rogers, Senior Fellow at Duke University
The former Duke Energy CEO shared his expertise with Duke University students and faculty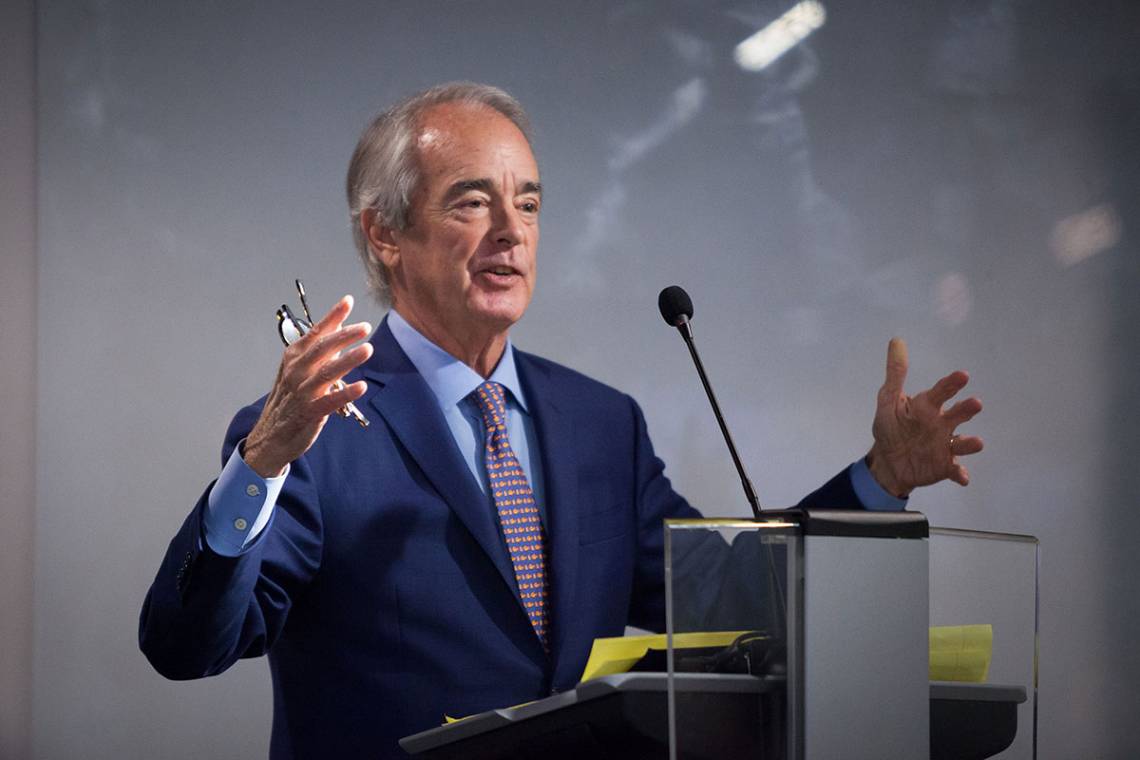 Duke University lost a valued friend, adviser, and visionary with the passing of James E. "Jim" Rogers on Mon., Dec. 17, 2018.
Rogers, 71, was the former president and CEO of Duke Energy and the author of Lighting the World: Transforming Our Energy Future by Bringing Electricity to Everyone (St. Martin's Press, 2015).  
A Duke University Senior Fellow, Rogers worked closely with the Nicholas Institute for Environmental Policy Solutions and Duke University Energy Initiative to advance educational programming and research on global energy access.
"Jim was a trusted adviser, an inspirational leader, and a great friend to all of us at the university," observed Nicholas Institute director Tim Profeta. "He was astonishingly generous with his time, talent, and insights, and we are much diminished by his passing."
"There's no question that Jim's leadership and support helped make Duke University a leader in energy policy and education," said Duke President Vincent E. Price. "He was committed to building a smarter and more inclusive energy future, and we are very grateful for his association with the university."
An energy industry powerhouse
Born in Alabama and raised in Kentucky, Rogers worked his way through school at the University of Kentucky as a reporter at the Lexington Herald-Leader. After earning a law degree, he served as Assistant Attorney General of Kentucky, working as a consumer advocate to challenge utility companies' rate increases. Rogers then moved to Washington, D.C., to work for the Federal Energy Regulatory Commission and eventually a private law firm.
Next, after embarking on a 25-year career as a utility CEO, Rogers engineered a series of acquisitions and mergers that eventually led to Duke Energy becoming the largest electric utility in the United States.
Under Rogers's leadership, Duke Energy—a major emitter of carbon—was also recognized for its move away from coal toward a more sustainable approach. Energy Initiative director Brian Murray observed, "It was extraordinary to watch Jim navigate the complexities of climate issues as someone who had to deliver value to shareholders."
As Rogers told a group of students at Duke in November, "I never let the industry or conventional wisdom constrain my imagination of what I could do."
Murray recalled that Rogers often said he had "a cathedral mindset": "He talked about how the great builders of cathedrals in the medieval ages thought and planned in long time frames, building structures that no one person would see from start to completion yet would last for millennia. He encouraged people to think in those terms when it came to issues like climate change."  
Rogers helped drive formation of the U.S. Climate Action Partnership, which brought together environment-focused nongovernmental organizations with major carbon-emitting companies from the power, transportation, and oil and gas sectors. They helped advance the American Clean Energy and Security Act of 2009 (ACES), a comprehensive proposal to address climate pollution that was passed by the U.S. House but never made it to the Senate Floor.
Profeta observed, "Jim pushed his sector to come to grips with global climate change, and a lot of the efforts you're seeing now to decarbonize power generation started with Jim's voice."
Trusted adviser and inaugural Rubenstein Fellow
Rogers's formal affiliation with Duke University began in 2005 when he joined the Nicholas Institute board of advisors at the invitation of Profeta, a former congressional staffer who'd first met the CEO on the Hill. Rogers also was part of a task force that helped guide the work of the Energy Initiative in its early years. "Jim has been an invaluable adviser to Duke over the past 13 years, helping identify issues and partnerships that have allowed us to make a meaningful impact," Profeta said.
After Rogers retired from Duke Energy in 2013, he was named as the inaugural member of Duke University's Rubenstein Fellows Academy, an initiative to bring top thought leaders to the university to share insight and spark discussion on global challenges.
"Jim was remarkably warm and accessible," said Laura Howes, director of the Rubenstein Fellows Academy. She recalled his marathon office hours, when he met individually with more than 50 students to provide career advice and how, during the first course he taught at Duke, Rogers met with each of his two dozen students over a meal for a mentoring conversation.
That first course, co-taught with Profeta, helped Rogers to explore ideas for his forthcoming book on global energy access challenges, Lighting the World. The course, which focused on rural electrification in Africa and India, attracted graduate students from five schools across Duke.
"Jim had been developing his arguments for years," said Profeta, "yet he demonstrated no defensiveness or hubris when the students came after his hypotheses from every disciplinary angle. Instead, he reveled in the intellectual pushback."
Profeta and Rogers also charged students with designing business models for deploying power technologies in different regions of the world. Andrew Seelaus (MEM/MBA'17), now working for a firm that electrifies rural villages in east Africa, described Rogers as a "a generous, thoughtful, and kind person who valued relationships and authentic engagement." Seelaus reflected, "Between the advice he provided and the doors he opened, Jim undoubtedly helped shape the direction of my career in energy access."
Rogers and Profeta led a Bass Connections project as well, searching for specific opportunities for Duke Engage students to promote renewable off-grid electricity solutions for rural populations.
Founder of the Energy Access Project at Duke
Rogers's deep engagement with energy students and faculty at Duke did not end with his term as a Rubenstein Fellow.
Rogers felt a strong connection to Duke University's ethos, said Murray. "He wanted to be part of this institution's commitment to knowledge in service of society. He delighted in helping us develop future energy leaders and focus our academic expertise on solving problems of global importance."  
"The more Jim embedded himself in the interdisciplinary energy community here, the more promise he saw for Duke as a hub for productive activity on the global challenge of energy access," Profeta reflected.
In 2017, a gift from Rogers and his wife M.A. helped to launch Duke University's Energy Access Project. The interdisciplinary project focuses on increasing underserved populations' access to modern energy solutions by supporting foundational research, fostering constructive dialogue among decision-makers, and engaging students. It is a collaborative effort of the Nicholas Institute, Energy Initiative, Sanford School of Public Policy, Nicholas School of the Environment, and Bass Connections.   
Named a Duke University Senior Fellow by the Energy Initiative and Nicholas Institute in 2017, Rogers has played an active role in getting the Energy Access Project off the ground. He helped convene leaders of international agencies at a D.C. launch event earlier this year to discuss Duke's potential contributions to the space and explore possibilities for collaboration.
Energy Access Project director Jonathan Phillips says that while Rogers will be missed, he established a strong foundation for Duke's efforts. "Jim was the kind of leader who sets others up for success rather than having everything revolve around him," Phillips reflected. "From the start, he asked the right questions. He emphasized the importance of strategic collaboration. He prepared us to thrive."
Inspirational mentor
In the acknowledgments section of Lighting the World, Rogers wrote, "For several decades, I have made decisions based on the grandchildren's test—meaning, what effect will today's decision have on lives of others long after I'm gone? It's a tough test—when they are my age and look back on my life, will the decisions I made when they were young still seem like good decisions? I hope so."
Rogers applied that rubric to everything from bold corporate moves to policy plays to civic involvement to how he treated people in daily encounters.
"Jim never entered our office without taking the time to say hi and ask how I was," remembered Robin Marley, who staffs the front desk at the Energy Initiative. "He was unfailingly genuine, kind, and quick with a smile—one of those people who makes everyone in the room feel valued."
In what turned out to be the final months of his life, Rogers co-taught two courses at Duke University: one on renewables and the world's poor with Profeta and another on the transformation of the U.S. electric power sector with Murray, the Nicholas Institute's Kate Konschnik, and former FERC chair Norman Bay.
Caitlin Bonney, who is pursuing a master's degree in environmental management at the Nicholas School of the Environment, was enrolled in both classes. "Jim was a natural teacher who encouraged us to challenge him on ideas," recalled Bonney. "In line with his mission to light the world, he taught us that it is essential to find energy access solutions that have both a sound business case and can be scaled quickly in order to make a significant impact." 
One of the educational efforts Rogers helped launch at Duke is the annual Energy in Emerging Markets Case Competition. Organized by students in the Duke MBA Energy Club as part of Energy Week at Duke, the competition challenges students from top schools to generate solutions for real-world issues faced by energy companies in developing countries.
Mike Penansky, a student in Duke's dual master's degree program in public policy and business administration, was one of the organizers of the 2018 competition, which attracted nearly three dozen teams to apply. "Jim was passionate about encouraging the best and brightest students to take on the challenges of rural electrification," he noted. "And he had this unwavering enthusiasm for mentorship that came through in how he interacted with the student competitors."
In a free-flowing Q&A session at the case competition, Rogers offered his ambitious young audience a singular recipe for a successful career: "Having purpose in your work," he asserted, "will give you passion, clarity, and great joy." Wise words from a man who lived them fully.