From Old House to Office
In repurposed campus houses, work and class spaces have quirky touches of home
Greg Britz said a funny thing often happens when Duke undergraduate students take classes at the Center for Documentary Studies.
"They'll often feel like they've found this secret place," said Britz, the center's associate director of operations and finance.
That reaction isn't just because of the coursework, which involves innovative ways to tell stories. It's also about where that documentary work takes place: a white, clapboard house built in the 1880s.
"It's so different from their experience on campus," Britz said of the center's Pettigrew Street facility. "They're just like 'Whoa, this is great!'"
When many people think of Duke's buildings, they picture the stone and spires of West Campus, but the Center for Documentary Studies' Lyndhurst House – with its creaky floors, sweeping porch and railroad tracks a few yards away – feels like something else entirely.
It's one of several old houses that have been converted into workspaces. From sprawling stone mansions lining Campus Drive to humble houses tucked among the trees of Central Campus, each has a story. And for those who work or study there, each has its unique charms.
"These are great ways to remind us of the context that we're in and the historical roots of Duke and Durham," said Duke University Archivist Valerie Gillispie. "I think they add a lot of character to our experience on campus. They're a really nice connection to our past."
Here are the stories of a few of Duke's workplaces with past lives as homes.
Bishop's House
In both distance and atmosphere, the Bishop's House on East Campus is about as far from Duke's busy gothic revival core as you can get.
The rambling building sits near the corner of Markham Avenue and Buchanan Boulevard at the northeast corner of Duke's older campus. It's got a wide front porch, creaky floors and windows that look out onto tall pines and quiet neighborhood streets.
"I knew this as a peaceful area growing up, so working here is pretty cool," said Tim Barco, a Durham native and project coordinator for central operations and registration for Duke Continuing Studies. "It's a lovely place."
The house was completed in 1911 to be the home of former Duke President John Kilgo, who was also a bishop in the Methodist Episcopal Church. Later, the building took on a variety of uses, first as a women's dormitory, then a home to male faculty members and then a faculty clubhouse.  In the 1930s it became the infirmary for the Women's College, which was housed on East Campus and from the 1960s to 1980s, it was home to Duke University Press.
With its current use as the base of operations for Duke Continuing Studies, the building's first floor classrooms welcome people from Duke and Durham for courses on topics such as yoga, improv comedy, history and even wine tasting.
But upstairs, the character of the building shines through. Offices are tucked into former bedrooms, parlors and even a window-lined sun porch.
For those who work in the building, its past life as a home isn't something that gets brought up. But recently, when furniture was moved out for carpets to be redone, the natural flow of the house was momentarily returned. Barco said, it was hard to miss just how majestic a residence the Bishop's House once was.
"This is meant to be a house, but we're not used to thinking of it like that," Barco said.
2010 Campus Drive

When he gives directions to the Duke Performances office on Campus Drive, Interim Director Eric Oberstein tells them to look for the "charming white house" next to the Rubenstein Arts Center.
Situated next to The Ruby and across the street from the Nasher Museum of Art, Duke Performance's squat, white brick house with a red door is a quaint counterpoint to its modern, angular neighbors.
Built in 1937 as a home for Herbert J. Herring, then the Dean of Trinity College, the house has, at times, been home to Duke Police, Duke Parking and Transportation Services and the Arts & Sciences Development Office.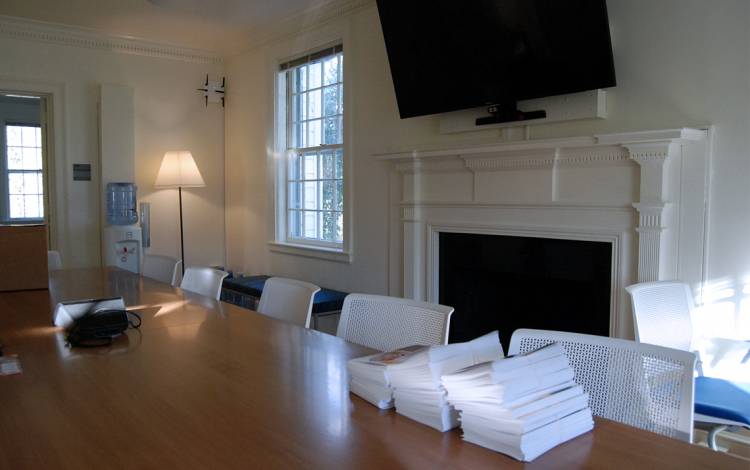 There's a sealed-up fireplace in the conference room and upstairs offices have the layouts of bedrooms. But several decades as a workspace have erased many vestiges of the building's days as a residence, such as bathtubs or homey décor.
Still, for Duke Performances, which moved there in 2017 from a patch of office space in Smith Warehouse, the building has become a home. The staff has come to appreciate the quiet and closeness the house offers. Flanked by Duke's two sprawling artistic hubs, Duke Performances is content in its "charming white house."
"It's very comfortable," Oberstein said. "It's really lovely and we're fortunate to be here."
Lyndhurst House
In addition to students from Duke, the Center for Documentary Studies draws students from other universities, as well as people from the community through its continuing education programs.
"That's important for us because as part of our mission, we try to straddle those two worlds," said Greg Britz, who came to the center in 1994.
And the center's facility has its own dual personality.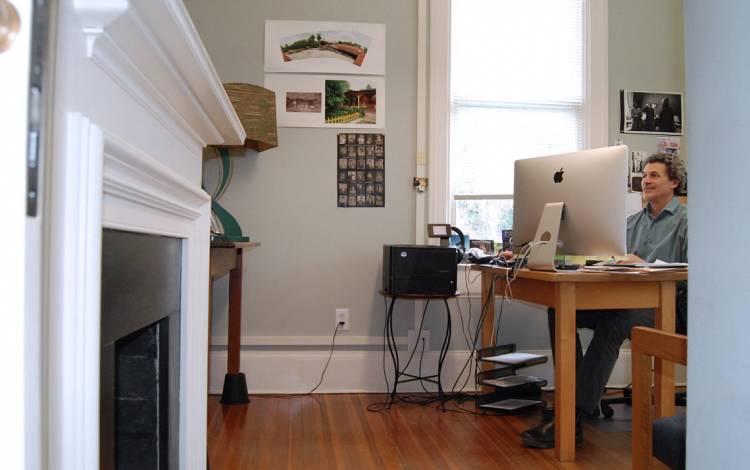 In 1994, the Center for Documentary Studies moved into the Lyndhurst House, which was built in the 1880s, bought by Duke in the 1960s and moved a few hundred yards east from its original location at the corner of Swift Avenue and Pettigrew Street to its current location on West Pettigrew Street in 1990.
In 1998, the Bridges Building – a three-story addition which features classrooms, an auditorium, digital lab space, a dark room and equipment storage area - was added on.
A walk through the building now will take visitors from the entrance - where dark heart-of-pine floors lead to a staircase with banisters worn by over a century of hands – to modern classrooms filled with flatscreen monitors.
Most of the staff works in the older Lyndhurst House – named after the Lyndhurst Foundation, which has been a key supporter of the center – which can at times remind them of its age. Sometimes the heating and cooling systems can go offline and there has been an occasional mouse.
But for all of its quirks, for both those that visit and work there, the charm is undeniable.
"I think everybody loves this side of the building," said Britz, whose office features the remnants of a fireplace, high ceilings and a plenty of built-in bookcases. "I think even the people that might gripe about it wouldn't trade it for a more corporate building."
Have a story idea or news to share? Share it with Working@Duke.