Giving Back in Durham
Colleagues around Duke volunteer together as teams in the community
As he mixes a pot of tomato sauce and steaming spaghetti, Geoffrey Mock looks through his fogged eyeglasses at a clock above the entrance of the kitchen in Urban Ministries of Durham.
"We've got thirty minutes until service," he tells nine volunteers from Duke as they remove vegetables from a steamer, slice pieces of key lime pie and brew tea in the kitchen.
Lunch on this Sunday begins promptly at 12:30 p.m. for about 155 guests at Urban Ministries. On this day, they'll eat a meal of spaghetti, steamed broccoli and cauliflower, rolls, and key lime pie – all prepared by a group organized by Mock on the second Sunday of every month at Urban Ministries.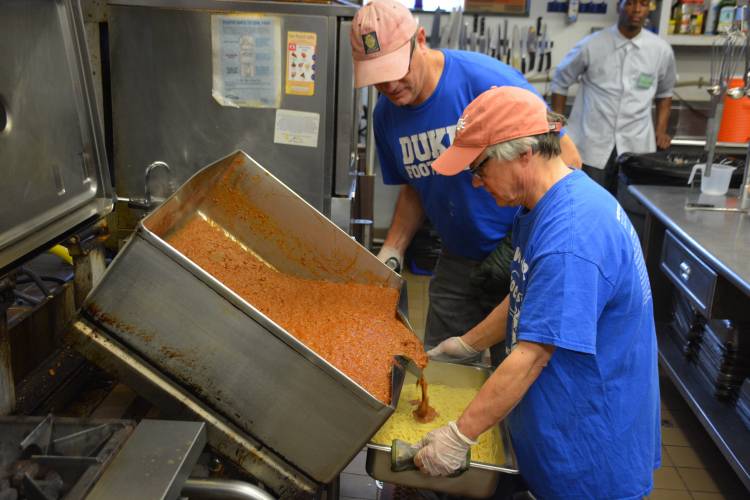 The volunteers buy the ingredients and prepare and serve an entrée, vegetable, fruit and dessert for the Sunday lunch. This team of communicators is among the roughly 30 percent of adults who volunteer annually in the United States, according to research in 2018 by the Corporation for National and Community Service, a federal agency that engages Americans with volunteering opportunities.
"All of the volunteers get a chance to enjoy one another's company outside of work," Mock said. "This passion for civic engagement creates a special bond."
Mock began volunteering at Urban Ministries in 2008 when University Communications chose to serve dinner there rather than have a staff holiday party. He enjoyed the experience so much that he began enlisting other communicators to volunteer with him every month.
Here are other Duke teams serving the community.
Donating school supplies

Growing up in the Raleigh suburb of Knightdale, Latoya Patterson, MD, remembers seeing her elementary school classmates carry torn up bookbags and struggle somedays to pay for lunch.
Those memories inspired Patterson, an obstetrician and gynecologist for Duke Obstetrics & Gynecology, to organize a bookbag drive in 2018 when Duke OB/GYN students and employees donated 30 backpacks, crayons, pencils and notebooks to the Durham Rescue Mission.
"Being an OB/GYN, I'm taking care of people the moment they come into this world," Patterson said. "That shouldn't stop after they leave the hospital. We should stay connected to the community we're working in."
Staying in touch with the community is a big reason Matthew Barber, MD, harvested sweet potatoes for the Society of St. Andrew, a hunger relief nonprofit, in 2017. Barber, the E.C. Hamblen Professor of Obstetrics and Gynecology and Chair of Duke OB/GYN said it helped him feel connected to North Carolina after moving from Ohio in 2017.
"Duke signifies not only excellence in medicine but a commitment to caring for the region," he said. "It's nice when we can get our hands a little dirty to help our neighbors."
Delivering a hot meal

When Anna White started at the Sanford School of Public Policy in 2014, she had 20 years of experience working and volunteering with nonprofits in New York City.
With a desire to continue donating her time to people in need, White reached out to colleagues at Duke to find volunteer opportunities. She quickly learned Sanford was in need of someone to oversee volunteer efforts with Meals on Wheels of Durham. Sanford School employees began volunteering with Meals on Wheels 20 years ago.
White took a shift delivering food to senior citizens, people with disabilities and others who are unable to provide proper nutrition for themselves.
"These people don't have anyone else to care or look after them," said White, now the meeting and events coordinator for the Duke World Food Policy Center in the Sanford School of Public Policy. "It just moved my heart to keep the program going."
White now ensures there are enough volunteers from Sanford to deliver meals to about 15 people each shift.
"Sometimes we're the only people the Meals on Wheels recipients will see until Monday," White said. "We can bring them a warm meal and smile. It makes you realize that we can spend a few hours to help people in our community."
Want to volunteer?
The Duke Office of Durham & Regional Affairs keeps an updated listing of volunteer opportunities sorted by category, frequency and location. Check it out here.
Volunteer opportunities can also be found at the Triangle Nonprofit & Volunteer Leadership Center website. The center works with about 1,000 agencies in the region.
Have a story idea or news to share? Share it with Working@Duke.