Blue Devil of the Week: Seeing the Vision in Art
Bill Fick has seen where Duke's arts programs have been and where they're going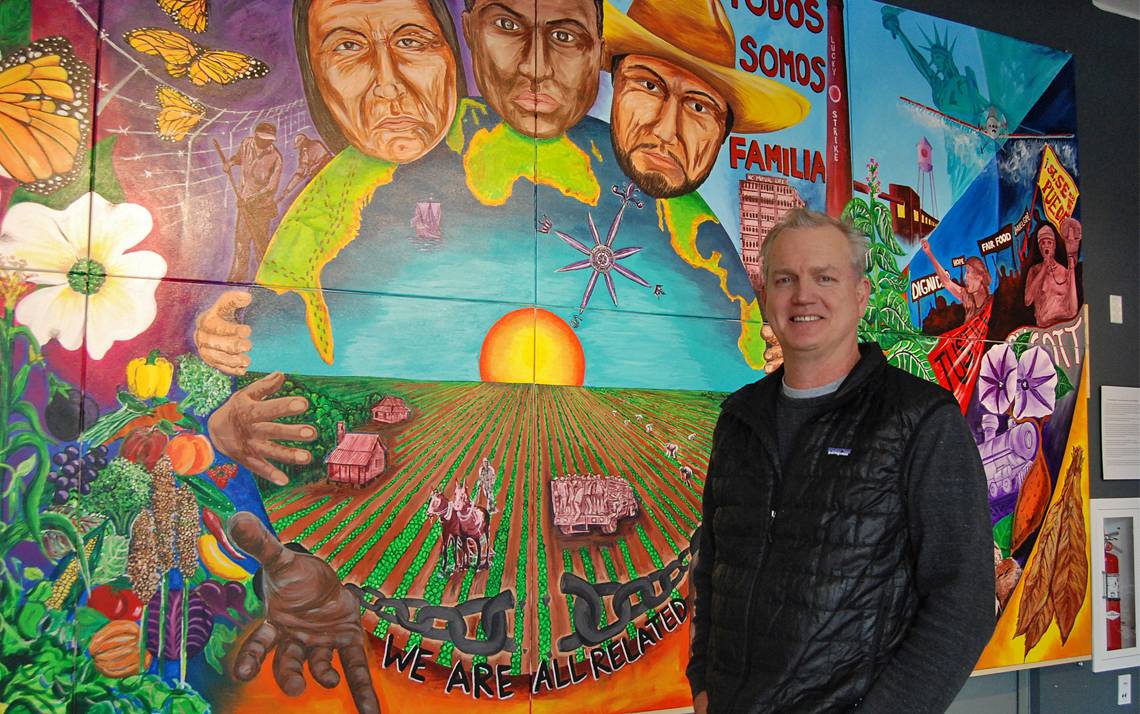 Name: Bill Fick
Title: Lecturing Fellow in the Department of Art, Art History and Visual Studies, Assistant Director for Visual and Studio Arts, Rubenstein Arts Center
Years at Duke: 11
What he does: Fick attended Duke in the 1980s, where he majored in art. At the time, the department was far from a focal point on campus, both geographically – it was housed in a small building in a far-flung corner of East Campus – and in terms of stature – Fick estimates that the number for art majors at the time was in the single digits.
"There were very few of us," Fick said. "People took art classes, but the department was just very small."
After graduating from Duke, earning his masters at UNC-Greensboro and spending eight years enmeshed in the New York arts scene, Fick found his way back to Durham in the mid-2000s and started teaching art classes at Duke.
Soon his role evolved into helping Scott Lindroth, Duke's Vice Provost for the Arts, coordinate the visual arts installations on campus.
And when the Rubenstein Arts Center was on its way to becoming a reality, Fick was selected to oversee its visual arts gallery and studio spaces.
It's a big job since the 70,000-square foot building, which opened last year, features several multi-purpose studios, a makerspace and several art installations. But as a tangible commitment to Duke's increased emphasis on the arts, Fick finds it especially thrilling to be a part of the building's early days.
"It's really exciting because I know where it's come from," said Fick, who still teaches classes in drawing, printmaking and comics. "People are excited about the changes that are happening and that people are investing in the arts."
What he loves about Duke: While Fick is proud of the fact that the Rubenstein Arts Center represents growth in the profile of arts programs at Duke, he's also excited that people from other parts of the university feel welcome in the space.
Art, he points out, isn't solely for artists. Creativity, and the desire to see where it leads, aren't things that are limited to art majors. As a result, The Ruby has already featured an eclectic mix of art, including an exhibition inspired by images captured by scientists.
"There are a lot of people in different disciplines that are interested in the arts," Fick said. "I think it's exciting to see that grow. The potential is exciting. … We have all sort of projects where people are doing things. We people from the sciences who are doing things, people from the humanities. For me, that's what I find great. There are a lot of possibilities."
Memorable days at work: On Sept. 20, 2013, Fick was part of a group of 300 students, staff and faculty who built Fort Duke. The structure, which was built solely with around 3,500 reused cardboard boxes, took 10 hours to build, covered a 70 x 70-foot area of Abele Quad and rose to a height of 16 feet.
It had twin goals be raising awareness of the importance of recycling and setting a world record for the largest cardboard box structure – out got the record, but before long it was eclipsed by a similar project at another school.
"What was so cool about it was that it was a big project that brought a lot of people together," Fick said. "That's the kind of stuff I love to see. It was great to see all this participations. It was about creativity and making something and going for a goal."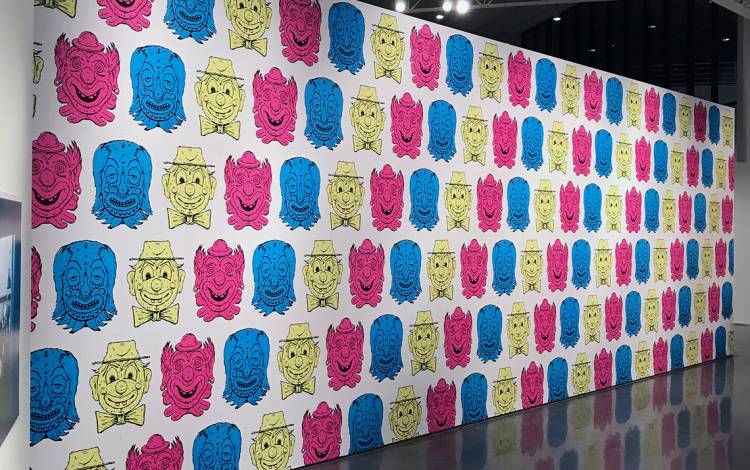 Meaningful object in his workplace: Fick traces his passion for printmaking back to when his uncle gave him some old carving tools he'd quit using. Fick, who was not long out of college, began carving images into shoots of linoleum and using those sheets in the printing process, creating clean and repeatable images.
"The thing I love about it is the graphic quality," Fick said. "I'm interested in both, graphic images with high contrast. I like images based on popular culture and signage. I wouldn't call them delicate. They're in the traditions of posters. I wouldn't call them commercial, but more of the everyday art making."
While Fick brings the gear he needs to make prints –- carving tools, linoleum, ink and an etching press made of two cylinders in a metal housing – to campus when he teaching classes, for the most part, his tools stay at his own studio – Super G Print Lab – in Durham.
First ever job: During the summer while he was at Duke, Fick helped his uncle at his commercial photography business in High Point. The business took photos of products – usually furniture – for advertisements.
Fick helped during photo shoots and help put together collections of images.
"I did a little bit of everything," Fick said. "If they needed something moved during a photo shoot, they'd get me to help them."
Fick said, in some way, the experience colored some of how he views art.
"I got to see the backside of how things were photographed," Fick said. "It was cool because they would create these whole sets. If you look at it, you'd think it was somebody's home, but really it was a fake set. It was cool to see the behind-the-scenes side of this because it informed my view of making art. There's a lot of work that goes into that stuff."
Something most people don't know about him: By the time Fick arrived in Durham as a first-year student at Duke, he'd already seen much of the globe. His father worked for an oil company, so Fick was born in Indonesia and, when he was a few months old, he moved with his family to Venezuela, where he spent much of his childhood.
"It was great, I loved it, it was amazing," said Fick, who said he can still speak some Spanish, though not much. "It's a beautiful country and my parents were real good about traveling, so when we'd go to Andes mountains and the beaches on the Caribbean. There was such an interesting culture. I think as an artist, I draw on that because everything was so vibrant."
Is there a colleague at Duke who has an intriguing job or goes above and beyond to make a difference? Nominate that person for Blue Devil of the Week.