Blue Devil of the Week: Keeping Athletes Ready to Compete
Devin Demyanovich brings commitment, compassion to sports medicine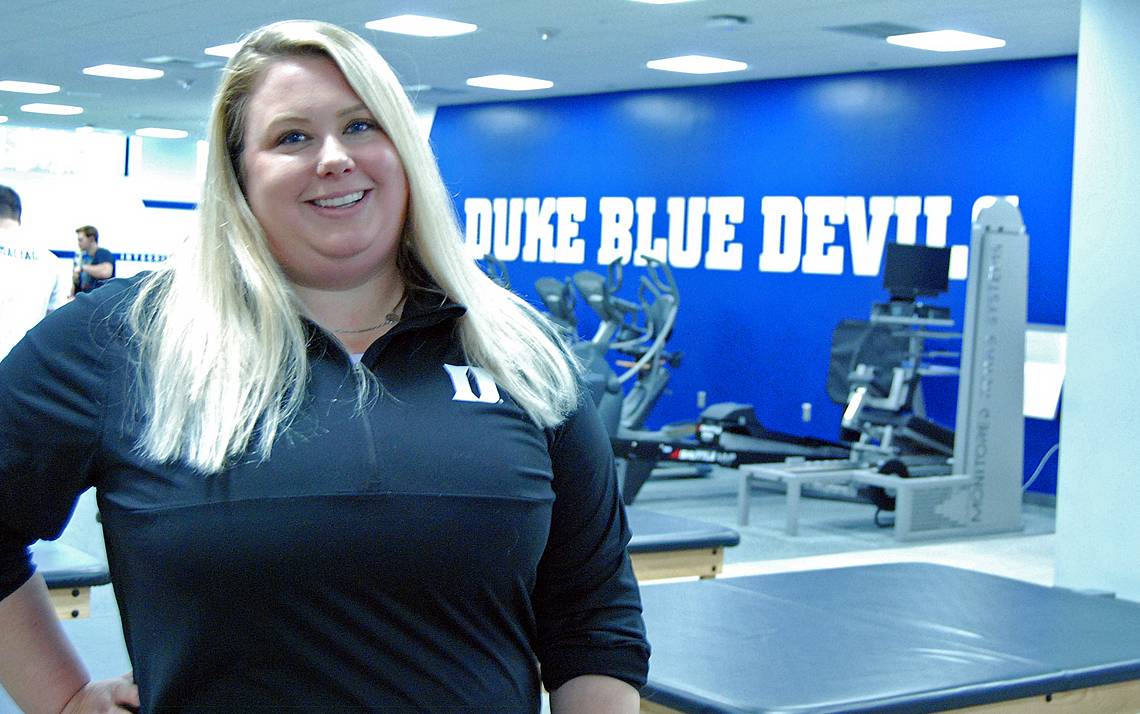 Name: Devin Demyanovich
Position: Assistant Director of Athletic Medicine
Years at Duke: 8
What she does at Duke: A major part of Demyanovich's job is serving as the certified athletic trainer for Duke's wrestling and men's and women's fencing programs. In that role, she's responsible for the well-being of athletes' bodies, which means tending to orthopedic injuries, coordinating rehabilitation work and ensuring they're able to physically perform.
Between the two sports, she sees the full spectrum of sports medicine concerns.
With wrestling, where athletes tangle in close-quarter physical combat, joints get dislocated, bones can be broken and injuries can leave competitors sidelined for months. Fencing, meanwhile, is about short, quick bursts of often graceful and highly strategic motion. Here, injuries come from overuse and the challenge becomes how to help athletes work through the pain and adjust their approach without losing any competitive edge.
"It's pretty nice for me as a professional to use two different skill sets," Demyanovich said. "It's two different mindsets for how we're going to treat these things. I like it because it challenges me to have to think both ways."
How she got into the field: She grew up competing in volleyball and swimming before chronic injuries to her right shoulder spelled the end of her career as an athlete. Now relishes the chance to help Duke athletes overcome their injuries and continue their competitive journey.
"I can't tell you how cool it is to see a kid struggle and overcome their problems and all the hurdles that come along with coming back to what they love, and then you see them do it, it's amazing," Demyanovich said.
What she loves about Duke: While much of her time is devoted caring for athletes, she also handles plenty of administrative tasks. Among them are crafting training policies for Duke Athletics, helping oversee the training facilities and developing younger staff members.
She said Duke's willingness to expand her scope of responsibilities was a meaningful vote of confidence.
"Duke has always been a place that's encouraged me to grow as a professional," Demyanovich said. "It's allowed me to spread my wings and grow and take on more responsibilities. Every time I've asked to challenge myself, they've allowed me to do that. Every time I've asked to learn something different, they've said 'OK, how can we get you those skills.'"
A memorable day at work: Demyanovich said her favorite days at work are when she gets to see an athlete come back from injury go on to reach their goal. Whether it's becoming an All-American or simply competing, Demyanovich said the thrill never wears off.
"They work so hard, and when they can finally cash in on all that work, it means a lot to me," Demyanovich said. "That's what keeps me in it."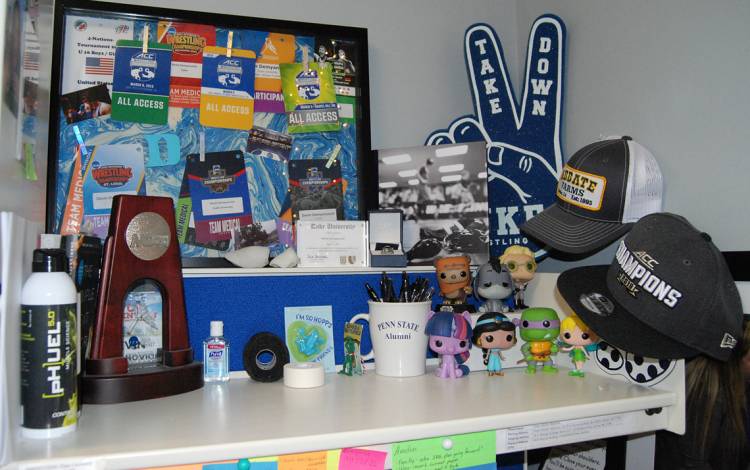 A special object/memorabilia in her workspace: On a shelf in her office, there's a collection of mementos that include credentials and badges from important wrestling events, an Atlantic Coast Conference championship ring from men's fencing and a few thank you notes from former players and parents.
"I'm really proud of all of those things," Demyanovich said. "There are hard days, but when I look at that stuff, it reminds me why I'm here."
First ever job: As a teenager in her hometown of Coaldale, Pennsylvania, Demyanovich worked the cash register of a gas station during the 4 p.m.-10 p.m. shift.
"I learned how to deal with a full range of people, I learned how to have patience and how to handle responsibility," Demyanovich said.
Best advice received: Written in a card from one of her mentors is a quote from 19th-century psychologist William James.
The quote reads: "Act as if what you do makes a difference. It does."
Demyanovich said she see the quote as a reminder that every part of her job, both the momentous and mundane, deserves her full attention.
"As a professional, make sure you're really aware of what you're doing because in the long run, it's all in the details," Demyanovich said. "If you know that every little thing you do matters, it makes a big difference."
Something most people don't know about her: Growing up, before she became enchanted with volleyball, Demyanovich found her competitive outlet in horseback riding. On the back of her aunt's Saddlebred horse named Sam, she participated in horseback riding competitions at the county and state levels.
Her horseback riding days ended in her teens, but recently she joined some co-workers for a horseback riding outing. She said she didn't tell her colleagues about her horseback riding past because she was worried her skills would be rusty. But once in the saddle, she said she felt right at home.
"It's like riding a bike," Demyanovich said. "You don't forget how to do it."
Is there a colleague at Duke who has an intriguing job or goes above and beyond to make a difference? Nominate that person for Blue Devil of the Week.