3, 2, 1 Action!
Duke employee filmmakers screen documentaries and movies around the world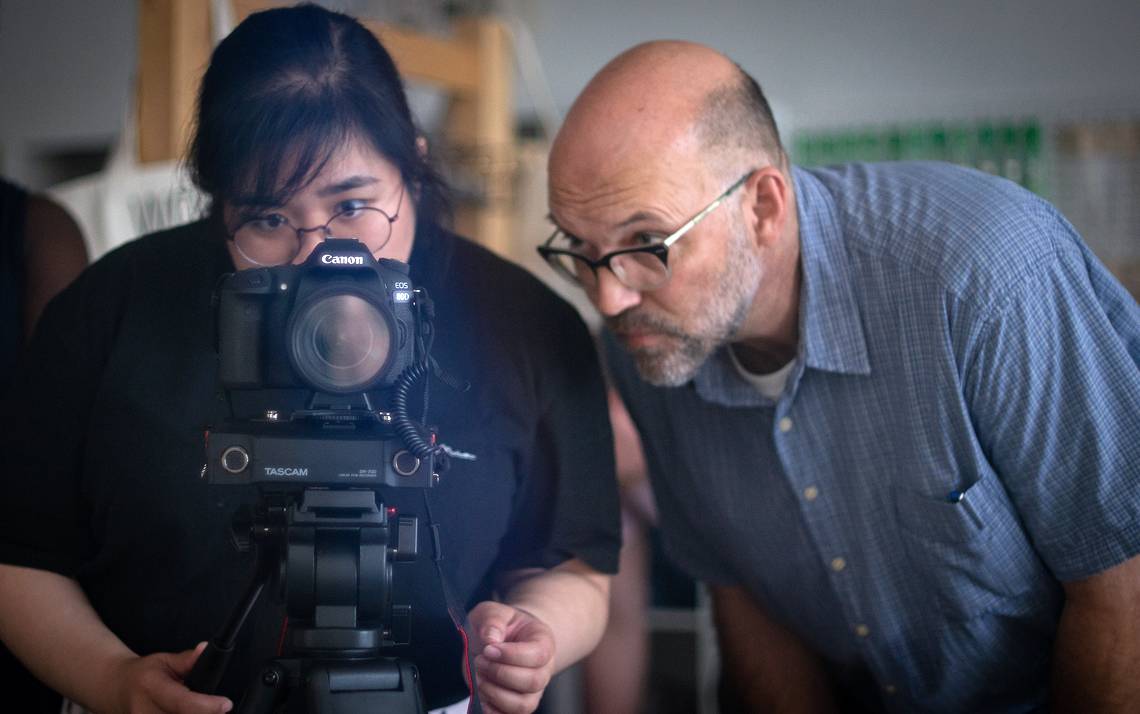 As a train slowly passes through a junction at an unknown location, the only sign of life is thousands of dark leaves smothering light poles, trees and building frames.
The leaves are kudzu, an invasive plant species and the focus of Josh Gibson's "Kudzu Vine," a short-film that imagines a world in which kudzu has taken over. Gibson has been fascinated by the plant since attending Duke University in 1991.
"You rarely see a plant as aggressive as kudzu," said Gibson, now director of Duke's Arts of the Moving Image program. "It just spreads like fire if you leave it unattended."
Much like kudzu, Gibson has seen exponential growth in Duke's involvement in film. Between the opening of the Power Plant Gallery at American Tobacco Campus and the Rubenstein Arts Center, as well as programs through Full Frame, the Center for Documentary Studies at Duke and the Arts of the Moving Image, more people are getting involved in making and enjoying movies.
"The film scene in Durham has increased because of Duke's investment in the arts," Gibson said.
See how Duke employees are leaving a mark in the film industry.
Josh Gibson
Director of Arts of the Moving Image and Associate Professor of the Practice in the Department of Art, Art History & Visual Studies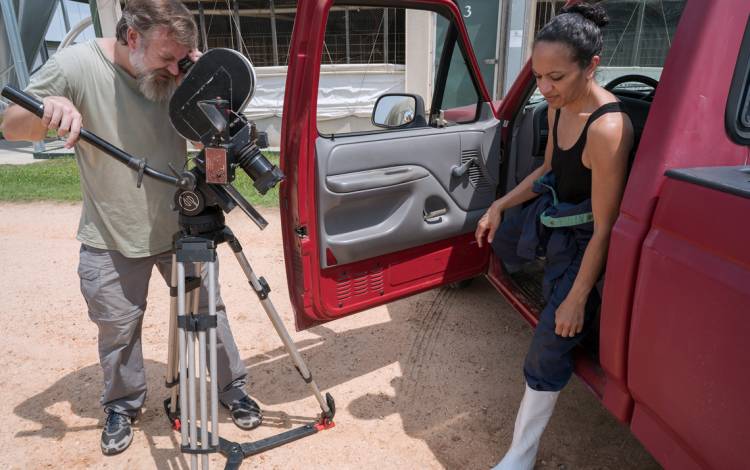 Josh Gibson had every intention of being a doctor when he arrived at Duke as a first-year student in 1991.
During the fall of his junior year, Gibson traveled to India for a study abroad program on the country's culture and film industry. While there, he met Mani Kaul, an Indian filmmaker who would later be a visiting instructor at Duke. Gibson was fascinated by the man and enrolled in two of his classes at Duke.
"Mani changed my career," he said. "He made me fall in love with film."
Gibson earned his master's degree from the School of the Art Institute of Chicago and had every intention to make it as an independent filmmaker in New York City. But before he could move, Gibson was invited to work on a short film, "Birthmark," in the Appalachian Mountains in North Carolina. Then he was asked to teach a 16mm film workshop at Duke, and he's been in Durham ever since.
Gibson now produces documentaries and fiction films. His film, "Nile Perch," documents the impact of globalization on a small fishing village in Uganda. Gibson's most recent feature short movie, "Pig Film," is a science-fiction musical set to the backdrop of an industrialized hog farm. Students in the Duke Master of Fine Arts In Experimental and Documentary Arts and Duke Arts of the Moving Image program assisted Gibson in producing "Pig Film."
Gibson has earned accolades for Best Individual Contribution to Short Film at the Edinburgh International Film Festival in Edinburgh, Scotland; Best Short Film at the LA Film Festival in Los Angeles; and Best International Documentary at Zagreb Dox in Zagreb, Croatia.
"My work has become this interesting mix of documentary, narrative and experimental," Gibson said. "I think that's a result of working with a lot of creative people at Duke."
Gibson is currently brainstorming projects using footage he shot in the Scottish highlands last summer.
Shambhavi Kaul
Assistant Professor of the Practice of Filmmaking of Art, Art History and Visual Studies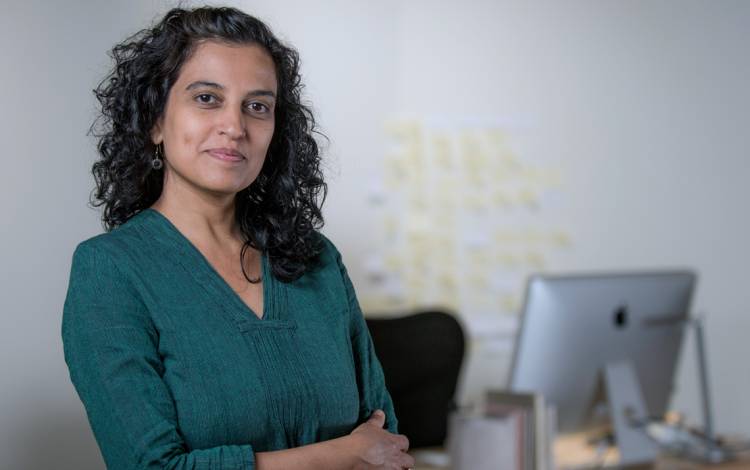 Shambhavi Kaul describes her childhood as "being raised in the cinema."
Her father, Mani Kaul, a well-known Indian filmmaker and professor, was the person who inspired Josh Gibson to make films. Shambhavi Kaul designed sets for films while an undergraduate student, learned how to edit and studied directing in graduate school at Bard College in New York.
"The moment I realized I wanted to be a filmmaker, I knew I had to figure out my own path, and that it was going to be very hard," she said. "My father cast a long shadow."
Kaul is an experimental filmmaker who works in a diverse range of media from utilizing archival footage and shooting 16mm film to photography, installation and writing.
Kaul's work has been on display at venues such as the Museum of Modern Art in New York City and the Tate Modern in London, as well as film festivals like the Toronto International Film Festival and the Berlinale.
Her latest project, "Hijacked," is about air travel and tourism. The 14-minute film features seemingly dislocated actors sleeping, eating peanuts and staring out an imaginary window. It is unclear if the actors. It is unclear if the actors are trapped or flying on an airplane.
"It is a privilege to be an artist in the context of the university," Kaul said. "At every turn, I have the opportunity to engage in stimulating conversations with my colleagues and students. It is very enriching for practicing art."
Jim Haverkamp
Lecturing Fellow of Arts of the Moving Image

Jim Haverkamp fell in love with filmmaking in middle school while shooting home movies on a Super 8 film camera.
He spent his afternoons directing and filming friends in remakes of James Bond, "Star Wars" and monster movies. The home videos gave way for filming local talk shows at his hometown's public access center. He studied film at the University of Iowa and discovered a passion for film editing.
"Editing feels like half brain surgery and half tiling the bathroom floor," Haverkamp said. "You have to have this personality where you're a tech geek and interested in storytelling. I find the infinite ways to put a story together infinitely fascinating."
Haverkamp now teaches "Editing for Film and Video" and "Moving Image Practice" at Duke and is a longtime collaborator with Ellen Hemphill, professor of the practice of theater studies at Duke. Haverkamp edited a film they co-directed, "It Had Wings," about a widow who discovers an angel in her backyard.
Haverkamp edited the documentary, "The Rise and Fall of Liberty," which examines Durham's Liberty Warehouse, which was demolished to make way for apartments. The film won Best Overall Documentary Feature at the North Carolina Museum of History's Longleaf Film Festival.
"I love working on documentaries because you're trying to figure how to portray someone's world and tell their story honestly," Haverkamp said. "It's a great juggling act."
Have a story idea or news to share? Share it with Working@Duke.