Look on Campus for Great Holiday Gifts
Employees and students get a 20 percent discount at Duke Stores through Dec. 16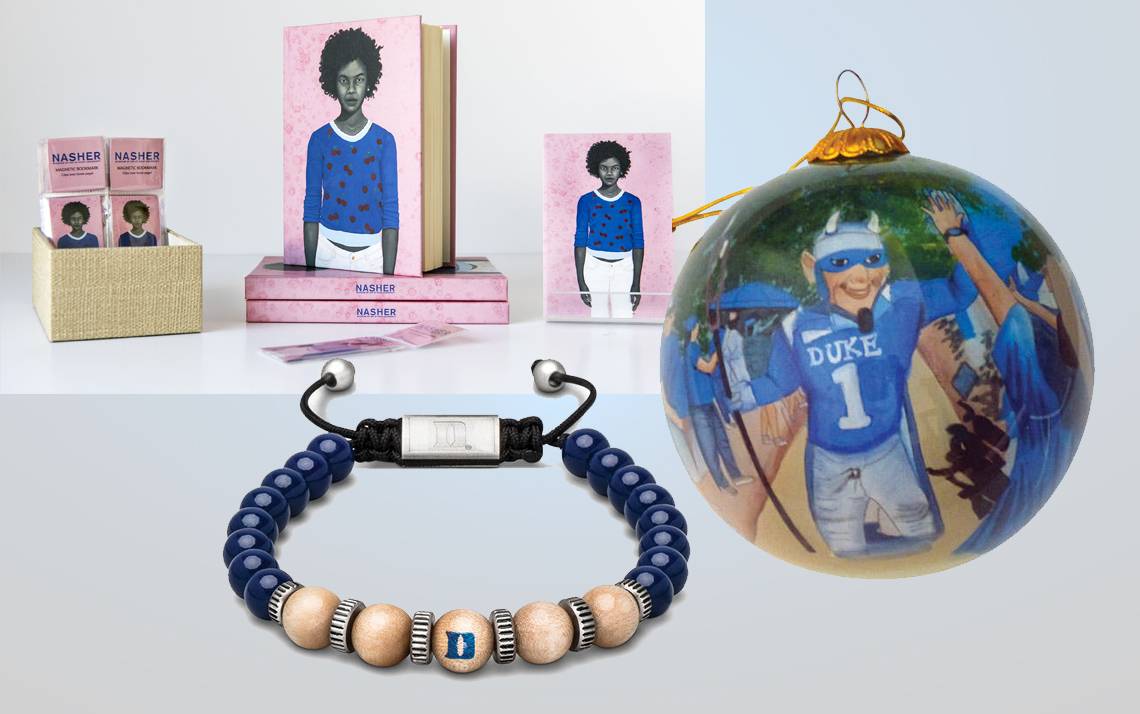 The holidays are a time of year when stores most want to please their customers. And in the case of Duke University Stores, this week many happy customers will likely be Duke employees and students.
From today through Sunday, Dec. 16, Duke employees and students get 20 percent off of clothing and gifts at the University Store, Duke Team Store, Medical Center Store, Terrace Shop, Nasher Museum Store, East Campus Store, Provisions and Divinity Bookshop.
"Students and employees are some of our best customers," said Darcy Ewalt, Duke University Stores' deputy general manager of retail operations. "They come in and shop for their family and friends. People want to have something from Duke."
Shoppers at the University Store can take advantage of free gift-wrapping as well as a service that can turn any collection of purchases into a gift-basket. The holiday sale does not apply to online purchases, and Duke community members must present a valid Duke ID to get the discount.
Whether you take advantage of the discount or not, here are some Duke gift ideas worth considering.
Hand-Painted Ornaments, $24.95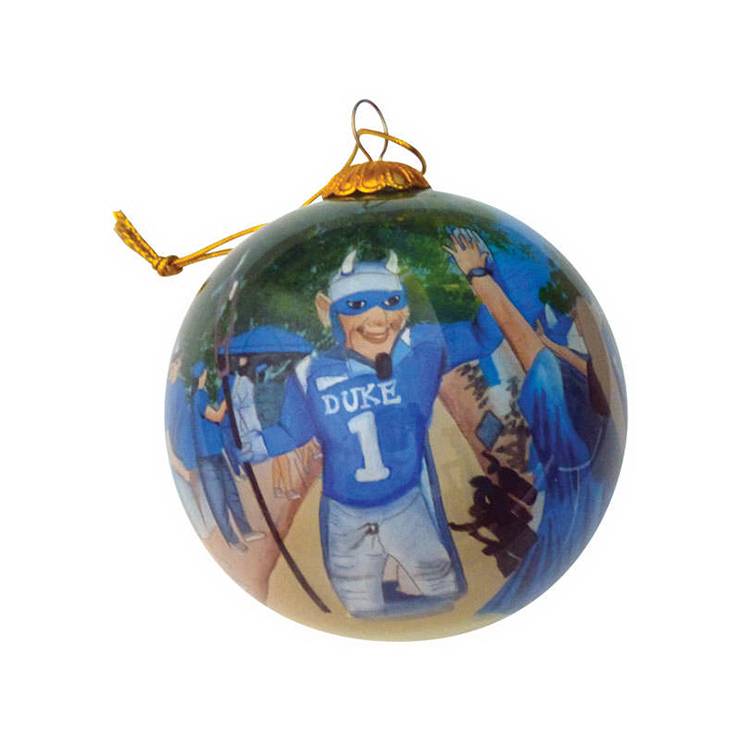 Some of the most popular holiday items sold by Duke University Stores are these glass ornaments featuring a new hand-painted scene each year. This year's edition features the Duke Blue Devil mascot at a football game. This one and ornaments from past years – including ones featuring Duke University Chapel, Sarah P. Duke Gardens and Cameron Indoor Stadium – are available online and in the University Store.
Pet Bed, $36.95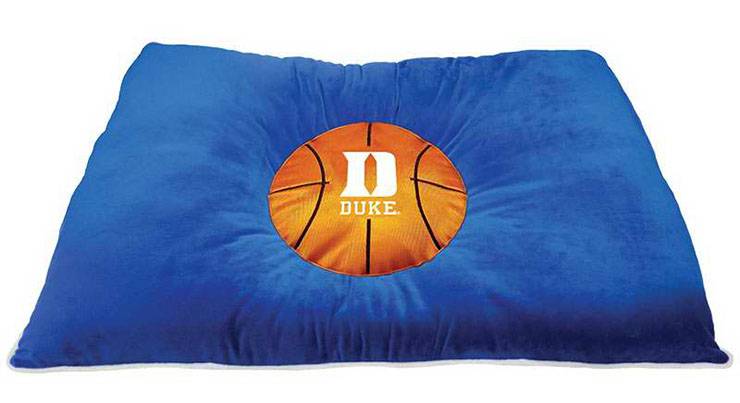 Show your four-legged friends some love this holiday season with this plush pet bed. The blue bed features a basketball in the center with the Duke logo. New this year, the bed is part of Duke University Stores' expanded offerings for pets.
NCAA Championship Bracelet, $40
Keep a piece of Duke's 2015 NCAA men's basketball championship with you when you wear this macramé bracelet featuring beads fashioned from the wood of the floor on which Duke played the title game. The bracelet is one of many jewelry items sold at the University Store and online at a variety of price points.
M. LaHart Ties, $69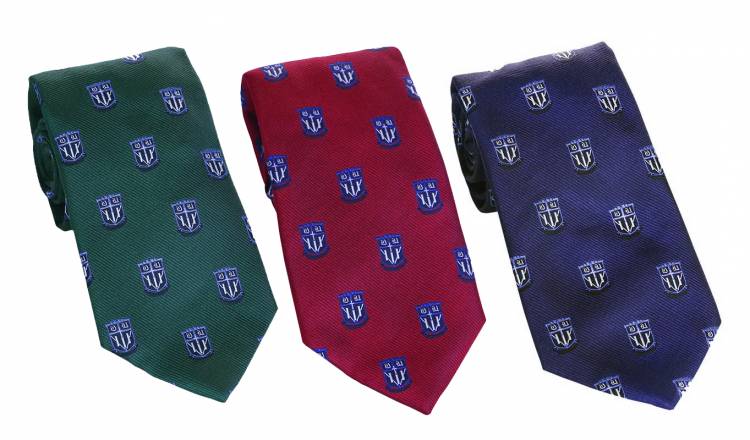 Duke graduate Michael LaHart founded the M. LaHart brand of fine collegiate inspired jewelry and accessories. These silk ties feature the Duke shield logo against backdrops of deep blue, red or green. Duke University Stores offers a variety of neckties both online and in most of its on-campus locations.
Pack & Go Jacket, $45.95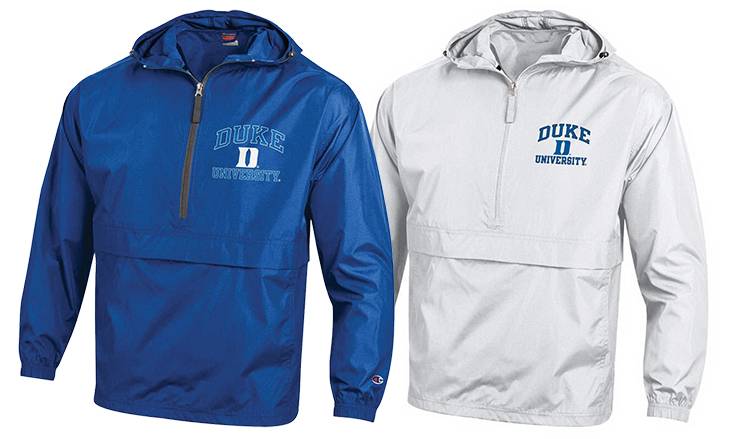 These water-resistant jackets by Champion are perfect for Duke fans who are on the go since they can be packed up into their zippered front pocket. White and royal blue versions are available online, while black and charcoal ones can also be picked up at the University Store.
Eye bag, $21.95
Find your way to relaxation with the help of this eye bag with a silk cover made by Hugger Mugger. It's one of many wellness-focused products available at Provisions, which is part of Duke Integrative Medicine.
Often placed over the eyes or on hands in order to help ease tension, the four-by-eight-inch bags contain hypoallergenic beads and can be microwaved or chilled in a freezer.
Duke Gardens Calendar, $12.95
Duke Gardens' 2019 wall calendar is a tribute to longtime volunteer photographer and Duke Gardens supporter Rick Fisher. It features Fisher's breathtaking vistas of beloved gardens settings throughout the seasons. It's available at the Terrace Shop.
"Light is Easy to Love" Items, $1.50-$19
Bring home a work of art! Hardcover journals, postcards and bookmarks are available at the Nasher Museum Shop showcasing the lush oil portrait "Light is Easy to Love" by artist Amy Sherald, the official portraitist of Michelle Obama. The painting is on view now as part of the Nasher Museum's collection.
Plush Lemurs, $25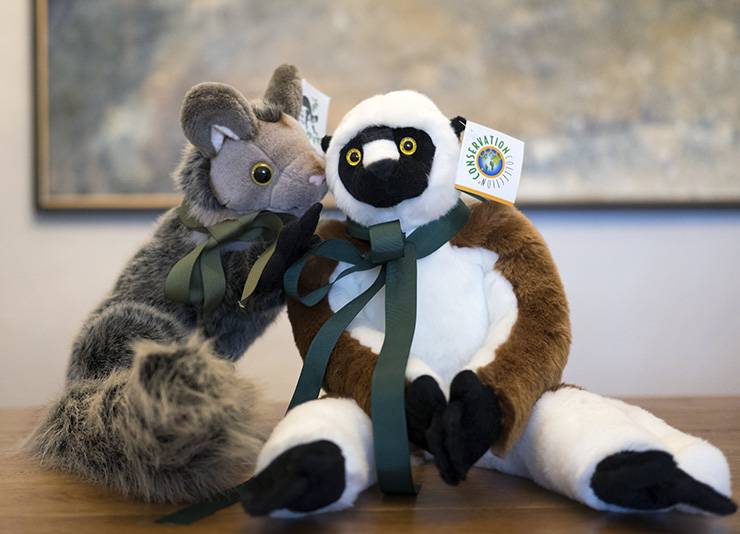 No matter how much you want to, you can't take any of the Duke Lemur Center's furry inhabitants home with you. But you can get your hands on some cuddlier stuffed versions. These plush aye-aye and Coquerel's sifaka were made exclusively for the Duke Lemur Center and sales of them help support the center's education programs.
Fans of the Duke Lemur Center can also pick up wooden ornaments, gift certificates and explore the Adopt-a-Lemur packages which start at $50.
For Duke University Stores retail locations, see here.
Got a story idea or news to share, send Working@Duke your news.