Blue Devil of the Week: The Retirement Navigator
Sara Howe helps Duke employees make sense of Duke's retirement benefit options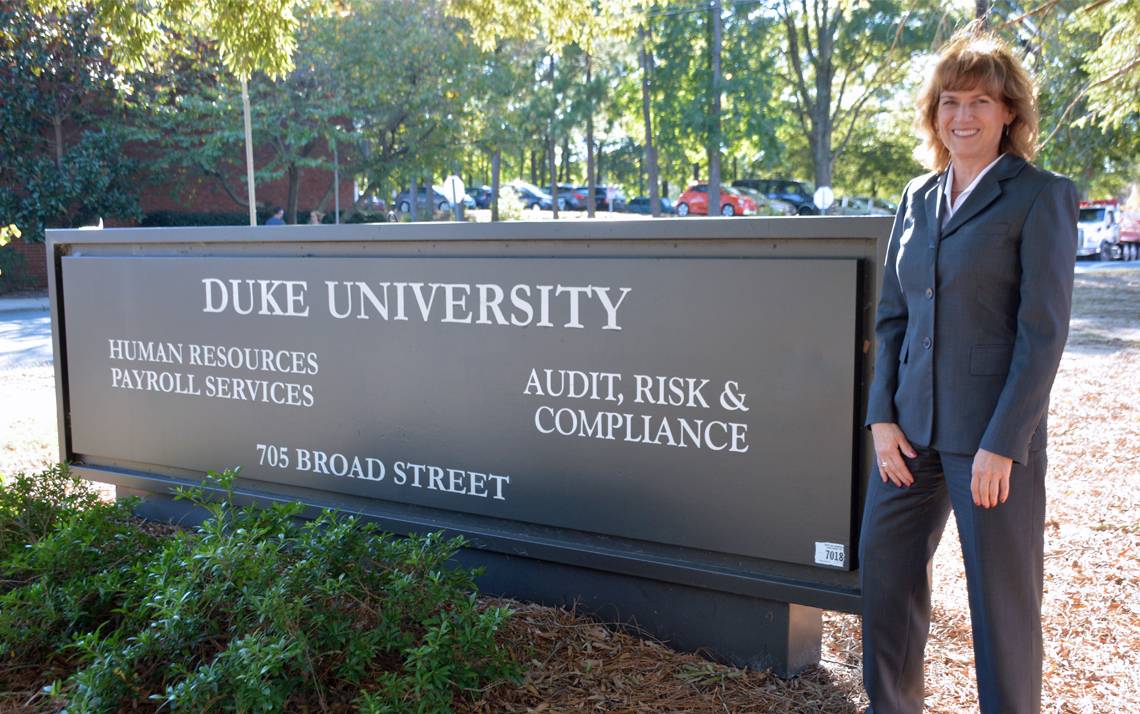 Name: Sara Howe
Title: Benefits Administration and Communications Analyst
Years at Duke: 1.5
What she does: Howe helps Duke employees understand their retirement plan options. A typical day for Howe involves answering email and phone inquiries and meeting with Duke employees who are soon to retire. Howe's most fielded questions typically fall around medical benefits that continue after retirement, the monetary cap on contributing to a retirement account and available investment options.
"Retirement is a critical time in people's lives," she said. "It can be overwhelming to navigate through retirement. I'm here to help you figure out where to start and guide you through the important decisions."
In her role, Howe meets with employees at Duke's New Hire Orientation, where she summarizes Duke's retirement plans and guides employees through information on the Human Resources website. Howe also regularly leads retirement planning seminars, which you can sign up for here.
"There's a great fulfillment in what I do," she said. "I empower people by giving them the tools and resources they need to make their decisions. It's a great sense of accomplishment."
What she loves about Duke: Howe enjoys visiting Duke University Chapel and the Historic Terraces at Sarah P. Duke Gardens.
"It's an overwhelming perk to my day to be surrounded by such amazing architecture," Howe said. "I remember how excited I was that my staff orientation was at Duke Gardens. It felt like a pinch-me moment to be surrounded by such grandeur."
Memorable day at work: Howe recorded the voiceover for the Duke Human Resources video, "Duke Retirement Plan Redesign." The redesign, which takes effect in January 2019, includes designation of Fidelity Investments as Duke's primary recordkeeper for the Faculty and Staff Retirement Plan and a new investment lineup.
"I went into this tiny conference room and tried to speak as clearly as I can into a little recorder," she said. "If you ever need me to do a webinar, I'm now an expert," Howe added with a laugh.
Special memorabilia in her office: Howe plays rain sounds from her computer during the day.
"I've gotten my neighbors to start listening to it," Howe said. "It's very subtle but so peaceful."
Best advice received: Howe's father, Robert, often told her to do the right thing.
"I brought my kids up with that mantra," Howe said. "It may not be something you want, but it's always best to do what's right."
First-ever job: Howe served ice cream at a dairy stand in Hancock, Maine.
"It was this tiny little building where you barely had room to move side to side," Howe said. "I remember getting blisters from scooping the ice cream."
Something most people don't know about her: Howe lived in a rural section of Northeast Maine, about 15 miles from the Canadian Border.
Every fall, before the first frost, Howe's school shut down for two weeks, so the students could help their families farm potatoes.
"Nothing makes you appreciate the value of hard work more than digging potatoes as a child," Howe said. "I'm not afraid to roll up my shirt sleeves and get a little dirty."
Is there a colleague at Duke who has an intriguing job or goes above and beyond to make a difference? Nominate that person for Blue Devil of the Week.