Rand Paul on How Libertarian Philosophy Can Connect Divided Partisans
What should we expect from Congress between January and the presidential election in 2020, now that Democrats have won back the House?
Not much, according to one U.S. senator.
"I think very little will happen," said U.S. Sen. Rand Paul, a Republican from Kentucky who spoke Friday at the Sanford School. "I think Democrats will bring forth initiatives in the House and they will die in the Senate." 
Paul, who earned his medical degree from Duke in 1988 and has a son who's a sophomore here, also talked about how his fellow Republicans can work more productively with Democrats.
For one, Paul, a Libertarian-leaning Republican, said he favors a form of compromise that's not defined based on your party. 
"As a Libertarian I can talk with the far left about war, drug policy … not about guns and taxes."
-- Rand Paul
Paul said he agrees with liberals on a number of issues, including: war ("I'm as anti-war as you can get"); relaxed criminalization for drug offenses ("There is a racial disparity in drug policy and we should do something about it"); less government eavesdropping on Americans in the name of fighting terrorism; and not allowing a U.S. citizen to be held indefinitely as an enemy combatant without a trial.
"As a Libertarian I can talk with the far left about war, drug policy … not about guns and taxes," he said to laughter.
Most of the compromising in Washington involves too much shared back-scratching: the left gets its welfare spending so the right can get its military spending, he said.
He believes the main role of government is to protect liberty, not provide broadband in rural areas, for instance. "Private enterprise will take care of that," Paul said. "I think we should really self-examine what government is."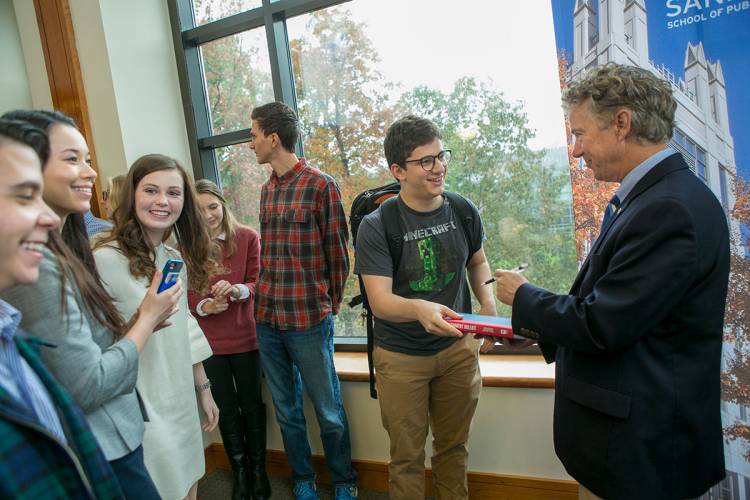 Asked how he reconciles smaller government with economic disparity, Paul said, "There is no world in which there is no inequality. It would be so tightly controlled you wouldn't want to live in it," he said, citing Cambodia, the Soviet Union and Venezuela as failed states that tried that approach.
He said there's "more mobility than you think," and that while not perfect, the United States' and other nations' embrace of capitalism has helped reduce extreme poverty from around 85 percent worldwide in the 1800s to around 9 percent of the world today.
He also agreed that political rhetoric should be toned down, in part because it influences unstable, angry people. That softer approach could help attract urban voters who may agree with some conservative policies but are turned off by harsh talk about immigrants, for example. 
He disagrees with Trump on immigration, which he said is an asset, especially in today's hot economy where workers can be hard to find.
Asked about gun control in the wake of recent mass killings in Pittsburgh and Southern California, Paul said he doesn't believe that's the answer since "99 percent of gun owners aren't killing people."
Better law enforcement work would help, especially investigating potential threats to the fullest extent, he said.
Paul also doesn't believe politics today are the most uncivil ever in American history, citing a South Carolina congressman's caning of a congressman from Massachusetts in the 1800s as an example.
"There was no perfect halcyon days when everyone got along and everyone had civility," Paul told the mostly student audience in a filled Rhodes Conference Room. 
Asked how he can be against government intrusion into private lives yet oppose a woman's right to an abortion, Paul said it's a question that divides Libertarians, but noted their political philosophy typically opposes aggression.
"If you think the baby is not a person, do what you want," he said. "If you think it's a person then Libertarians say the government has a role to stop it."
The event was hosted by the Young Americans for Liberty student organization and POLIS: Duke's Center for Political Leadership, Innovation, and Service.