Learning From the Best
New "Foundational Skills" professional development program pairs participants with mentors
Four months into a new professional program for Duke's entry-level staff, participants are meeting with mentors who work in the type of positions they hope to have in administrative support.
The six employees in Duke's Foundational Skills program have each been matched with two mentors working in administrative roles in the University and Health System. Over the next four months, the mentors will meet with participants weekly to discuss career goals and skills needed to achieve them.
"By pairing the participants with mentors, we've given them direct access to someone who has the skills and experience they need," said Gina Rogers, practitioner with Duke Learning & Organization Development, a unit in Duke Human Resources. "The mentors act as navigator to steer them in the right direction."
The 37-week Foundational Skills program is a redesigned approach to career-development programs within Duke's Professional Development Academy. The program includes instructor-led classroom training, 60 hours of job shadowing and 90 hours of the on-the-job training. Employees choose between University and Health System tracks to prepare them for entry-level administrative support positions. Supervisors nominate staff members in good standing.
Meet some of the Foundational Skills pairings.
Foundational Skills Participant: Imer Ramadanovic
Mentors: Jackie Dozar and Viken Momdjian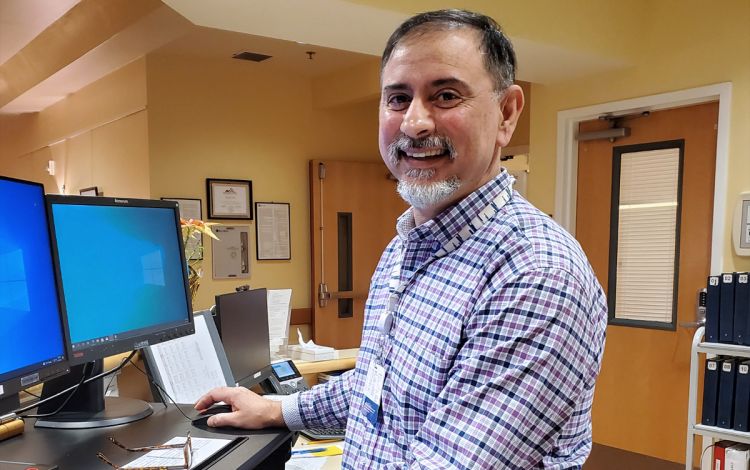 Imer Ramadanovic, a food production associate for Hock Family Pavilion, applied for the Foundational Skills program because he is ready for a career change. He's worked in the food industry for the past 30 years and would like to become an office administrator.
During Ramadanovic's meetings with mentors Jacky Dozar, a staff assistant for the Department of Gynecologic Oncology, and Viken Momdjian, administrative specialist for the Case Management Department, he learns about forwarding faxes and voicemails from patients, scheduling meetings in Microsoft Outlook and using Microsoft Excel and PowerPoint.
Ramadanovic hopes to build the computer skills necessary to become an office administrator. Dozar and Momdjian are confident Ramadanovic will achieve his goal.
"You've got a tremendous attitude and a defined goal," Dozar told Ramadanovic during a recent meeting. "I don't see a reason why you won't succeed."
Foundational Skills Participant: LaShaunda Freeman
Mentors: Tracey Madrid and Renee Vaughan

LaShaunda Freeman, housekeeping specialist for Duke Medical Center, wanted to learn the skills needed to become an executive administrator and knew Foundational Skills would help her achieve her goal.
She meets with Tracey Madrid, administrative assistant for the Department of Population Health Sciences, and Renee Vaughan, financial practice manager for Duke Clinical Research, eight hours a week.
Madrid and Vaughan have taught Freeman how to operate Webex, make an itinerary and book conference rooms in Microsoft Outlook.
"LaShaunda has immersed herself in this program," Madrid said. "She's incredibly organized and has a great demeanor. She's going to do wonders with her career."
The Foundational Skills 2018-19 Class:
LaShaunda Freeman, mentored by Tracey Madrid and Renee Vaughan
George Johnson, mentored by Dahlia Cowhig and Michele L. Jones
Marquita Mangum, mentored by Marsha Adams-Rucker and Mary Greenway
Nicole Smith, mentored by Shanna Fitzpatrick and Seneca McLean
Imer Ramadanovic, mentored by Jackie Dozar and Viken Momdjian
Lamecka Wilkerson, mentored by Sharena Ballard and Justin Clayton
Have a story idea or news to share? Share it with Working@Duke.