Duke Unveils Official Brodhead Portrait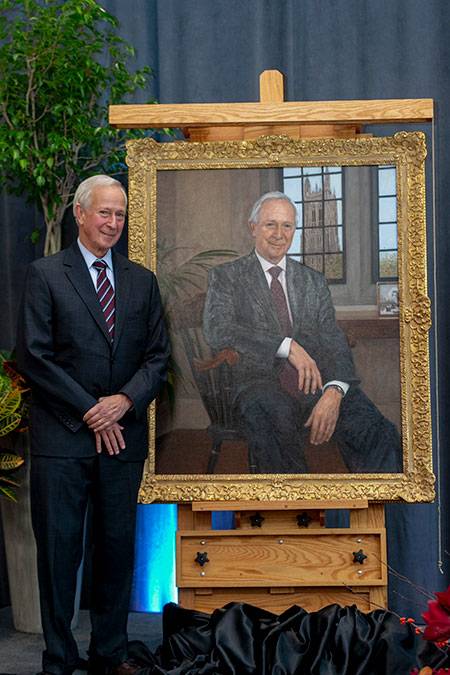 Duke's ninth president was back on campus Friday as Richard Brodhead returned for the unveiling of his official portrait in the Gothic Reading Room.
The portrait was painted by the artist Robert Anderson, who previously painted a portrait of Brodhead in 2006 when he stepped down as dean of Yale College in order to become the president of Duke. Anderson also painted the official portrait of President George W. Bush that hangs in the National Portrait Gallery of the Smithsonian Institution in Washington, D.C.
The Duke portrait, which will hang in the Gothic Reading Room with all the other presidents of Duke University and Trinity College, depicts Brodhead in his Allen Building office, with Duke Chapel seen through the window. Brodhead, who is now president emeritus, expressed his gratitude for the work of his former colleagues that had made Duke's growth possible. He pointed out a detail in the portrait – a favorite framed photo depicting the train tracks that brought the stone from the quarry for the building of West Campus in the 1920s.
"For me, it's about the interplay between the finished university that appears to be around us and the endless reminder that universities are always works in progress," Brodhead said. "They're always still being built, still reaching for something better than they have been before."
Brodhead was greeted by his successor, President Vincent Price, and by about 100 members of the Duke community at a luncheon for the unveiling. Price thanked Brodhead for his leadership as president.
"Duke would not be Duke without Dick's work," Price said. "Thanks in large part to your ability to lead this institution, your capacity for partnership, and your ability to work with everyone in this room, you were able to help Duke move from being a rising institution with extraordinary ambitions to a leading global university that is well equipped to deliver on those ambitions."