Duke Celebrates 2018 Veterans Day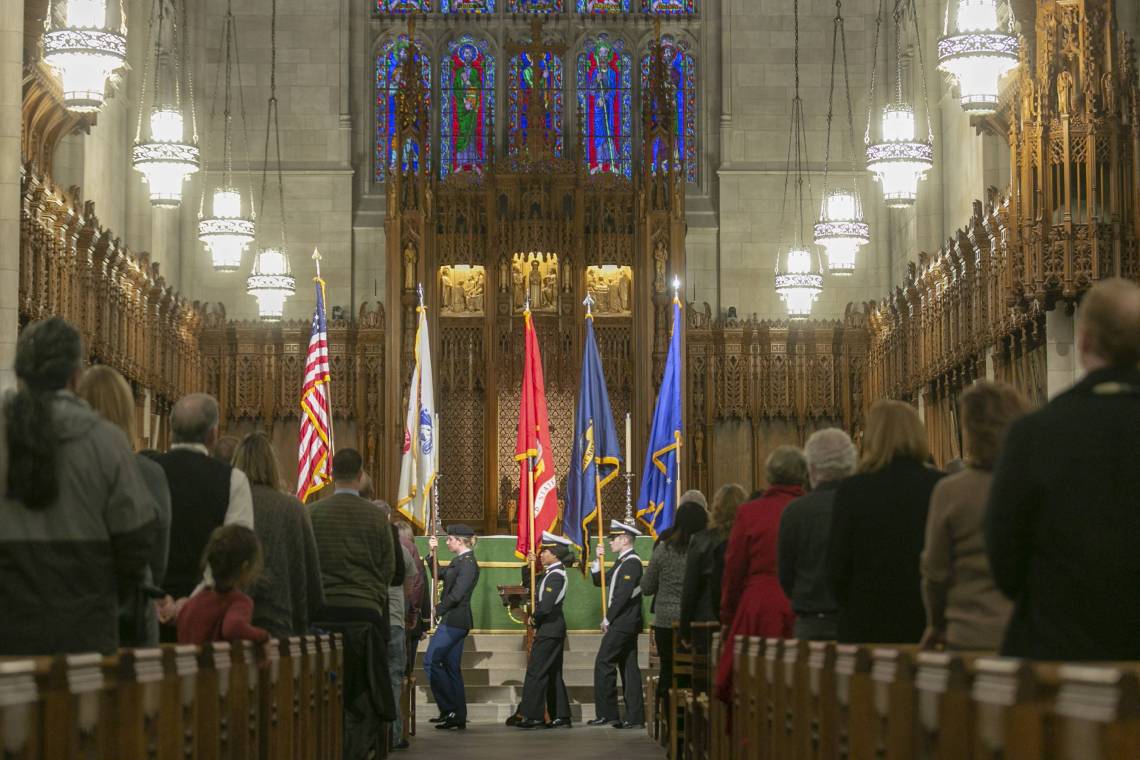 Rain moved Duke's Veterans Day celebration from its planned location on the steps of Duke University Chapel and into the sanctuary of the iconic building. As a result, Monday's ceremony took on a solemn, reverent tone.
Under soaring gothic arches, music played and speakers told an audience of several hundred how important the contributions of veterans are.
"If it were not for these great men and women, we would not enjoy the freedoms and liberties that we sometimes take for granted," said Duke Vice President for Administration Kyle Cavanaugh. "So from the bottom of my heart and on behalf of the entire Duke enterprise, I'd like to say thank you."
Enjoy some scenes from the commemoration.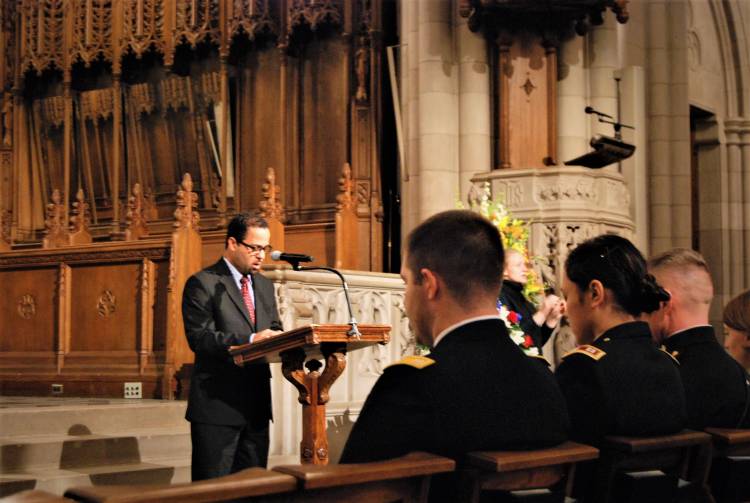 After the flags were raised in front of the alter and a brass band played the "Star Spangled Banner," Luke Powery, dean of Duke University Chapel, offered an invocation.
"As we sit in this great towering church that rises above us, we are reminded of the great men and women whose military service soars with sacrifice, honor, dedication, purpose and humility," Powery said to a silent chapel. "We give thanks for our military veterans who gave their lives so that others may live."
There are 910 members of the staff and faculty of Duke University and Health System who identify and military veterans. One of them, Dan Bruno, the Chief Operating Officer of Duke Health Technology Solutions and a veteran of three decades in the U.S. Army, was the keynote speaker.
"Regardless of the military branch of our veterans – Army, Navy, Air Force, Marines, Coast Guard – this day belongs to all of them," Bruno said. "From the Minutemen who fought for our independence, to today's warriors, the generations of patriots made us stronger and more resilient as a nation. Each veteran is part of that proud legacy. They served in different places, in different ways, but served they have."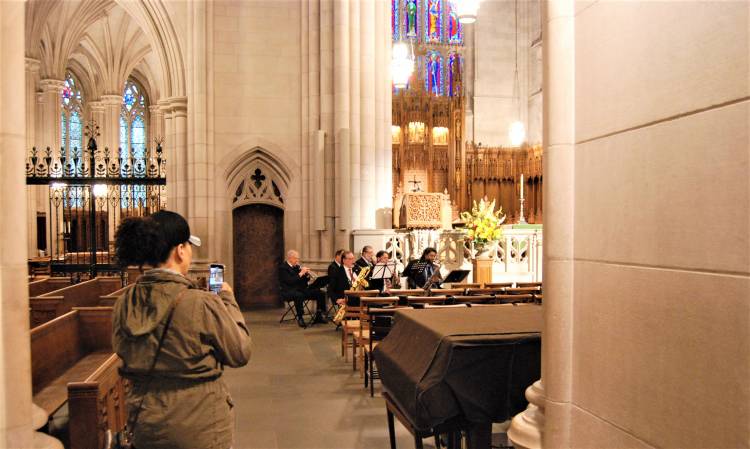 Carmen Archer, a customer service associate at the Patient Revenue Management Organization, recorded parts of the ceremony on her phone. Archer, who worked in military intelligence during Operation Desert Storm, said events such as these show the veterans among Duke's work force that they're valued.
"I'm thankful that Duke provides these type of ceremonies," Archer said. "I look for things like this and I'd like for the other soldiers that are part of Duke's staff to know about these."
Bobby Campbell, a Navy veteran from South Carolina who made the trip to Durham to visit friends, shakes the hand of Duke Human Resources Assistant Vice President Antwan Lofton.
"It was wonderful," Campbell said of the ceremony.
Outside of the chapel following the ceremony, Maj. Barry Morris talked with guests. Morris, who runs Duke's Naval ROTC program, said the event serves as a rallying point for the network of veterans sprinkled throughout Duke.
"It's amazing how many veterans actually work here at Duke," Morris said. "A lot of them are humble and quiet and you really wouldn't know it unless you see them with a ballcap or out here at something like this."