On-Call Heroes
Across Duke, employees use empathy and resourcefulness to solve problems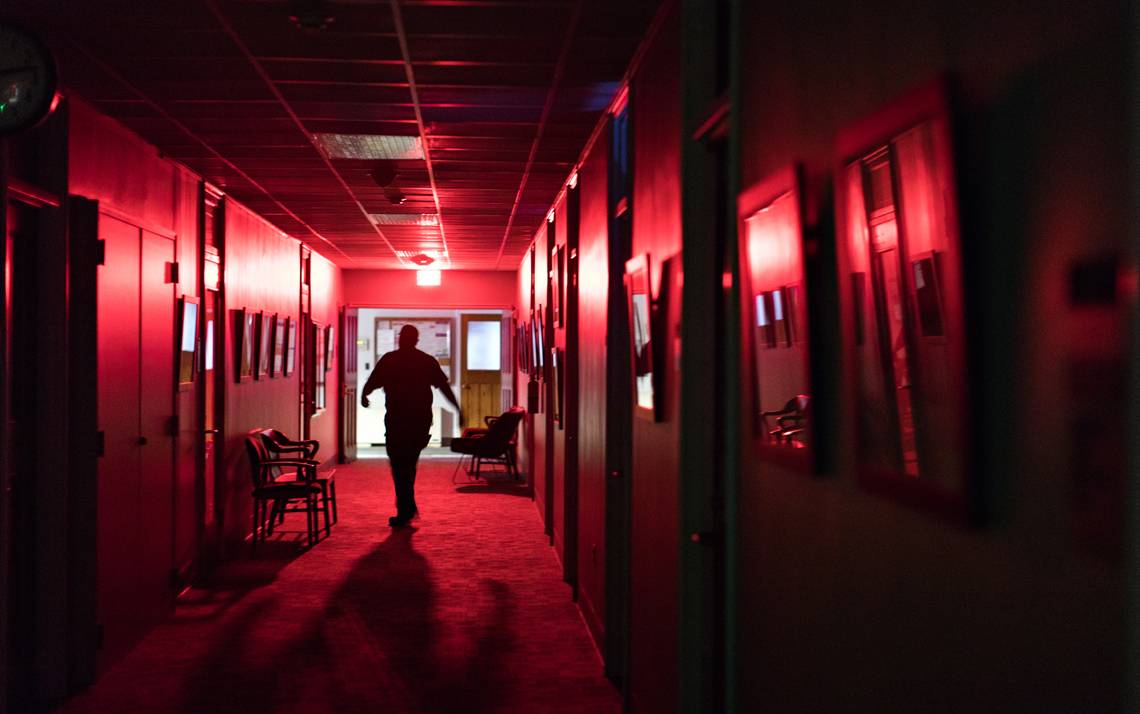 On a quiet Thursday night, Roosevelt Hall walks the corridors of a campus building and retrieves a master key before heading to the second floor, where he's greeted by a security officer with the Duke University Police Department.
"OK, where are we going?" asks Hall, a senior general maintenance mechanic with Duke Facilities Management.
The security officer, Aaron Thompson, leads Hall to a postdoctoral researcher who is locked out of his office in the Fitzpatrick Center for Interdisciplinary Engineering, Medicine and Applied Sciences. Within moments, Hall opens the door, allowing the relieved researcher to get back to work. For Hall, it's one problem solved during an evening that will see him address plenty.
"He should wear a red cape," Thompson jokes, comparing Hall to Superman.
Hall is one of many employees across the University and Duke Health who tackle a wide variety of issues, often at a moment's notice. While their positions are often unpredictable, the employees display poise, versatility and an ability to relate to people.
Always at the ready, these are some of Duke's on-call heroes.
Making a Difference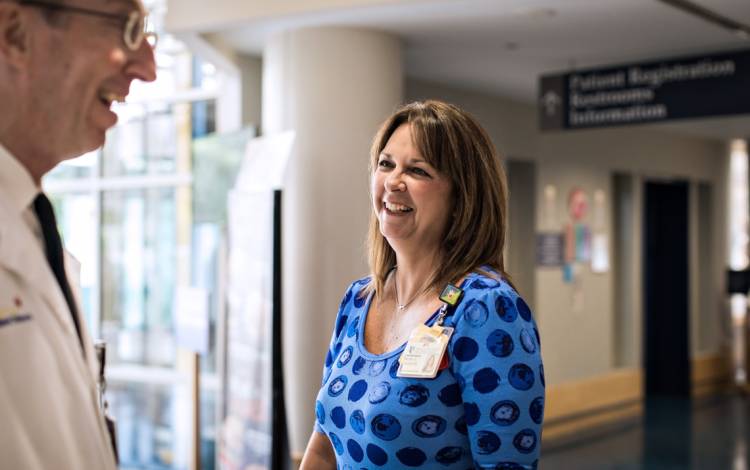 Most days it can seem as though Betsy Faucette, one of Duke University Hospital's patient advocates, can't go more than a few steps without running into someone who needs her help.
On this day, she talks with patients in the lobby of Duke Children's Hospital about a billing issue then swings through the parking lot to check on the availability of parking spaces for patients with disabilities.
Later, on her way to meet the mother of a patient, she spots two women looking slightly lost.
"Is there anything I can help you with?" Faucette asks.
Whether it's a stubborn billing problem, a communication breakdown between patient and provider or advice on where to take a head-clearing campus walk, Faucette and her fellow patient advocates resolve it.
They know whom to call, what steps to take and, most importantly, how to make patients feel heard. In a given day, patient advocates at Duke University Hospital handle 10 to 12 cases, in addition to other small doses of help along their way.
"You need to have someone who can put themselves in the shoes of the other person and understand what they're going through," said Brenda Radford, Duke University Hospital's director of guest services.
Faucette has been a patient advocate for 14 of her 31 years at Duke. She said that when the position arose, she was initially reluctant, joking that she didn't want to hear complaints all day. But she quickly came to see the role's value and how well her temperament and inexhaustible empathy fit with it.
"You can have all the degrees you can get, but it's got to be in your heart to want to help people," Faucette said. "It's very rewarding. It makes you feel good that you've made a difference."
An Empathetic Voice
There aren't many quiet moments during Muriel Canup's day.
From 8 a.m. until 5 p.m., the Human Resources Information Center in the lower level of the Duke Human Resources building is a hive of activity. Phones ring, keyboards click, and a team of human resources information specialists work through the concerns of voices in headsets.
Canup has been part of this scene on Broad Street since 2015, when she was encouraged to take the position by a friend who was part of the team.
"She told me it was fast-paced," Canup said. "She was right."
During the past fiscal year, the Human Resources Information Center, which serves University and Duke Health employees, received 71,160 calls. While some calls are simple – helping job applicants reset passwords is a common query – others are difficult. It's not uncommon for family members to call to straighten out the paperwork of a loved one who has just died.
"We just try to talk to them and make it as easy as we can," Canup said. "They're not prepared emotionally to do any of that."
For Canup and her colleagues, a strong human touch is equally as important as an ability to understand the intricacies of Duke's human resources system.
"We can teach somebody about specific HR policies and benefit programs, but it's much more difficult to train a person to have a willingness to help and appreciate their customers," said Jacky LaBonte, assistant director of the Human Resources Information Center.
Caring for Campus
Roosevelt Hall's 8 p.m. to 8 a.m. shift begins at the Duke Facilities Management general maintenance shop in Smith Warehouse.
One of four general maintenance mechanics who work nights, he begins each shift with a list of recurring tasks such as cleaning the pool at the Brodie Recreation Center and checking on light fixtures. But it's the 10-or-so emergency calls that keep shifts from becoming routine.
"When you come in, you don't know what you'll end up doing," said Hall, who usually patrols campus in a van stocked with tools, ranging from voltage testers to industrial shop towels.
During the day, general maintenance mechanics divide the University campus into zones and serve specific areas. Mechanics on the night shift look after the entire campus.
"These guys are special in their ability to work in all these different situations," said Jack Burgess assistant director of building maintenance for Duke Facilities Management. "And Roosevelt has so much experience. He knows what to do."
Over the years, Hall, who has worked at Duke on-and-off since 1982, has stood outside the doors of stuck elevators, calmly chatting with students inside while waiting for technicians. He's also had several encounters with wildlife, from snakes that slithered into buildings to a possum in the Bryan Center.
"I know a lot of the people that work at night, so I'll help them out," Hall said. "If that means I have to chase a possum out, I'll do it."
Have a story idea or news to share? Share it with Working@Duke.