Blue Devil of the Week: Helping Keep Duke Safe
Lance Brown is a sergeant with Duke Police and serves in the U.S. Army Reserve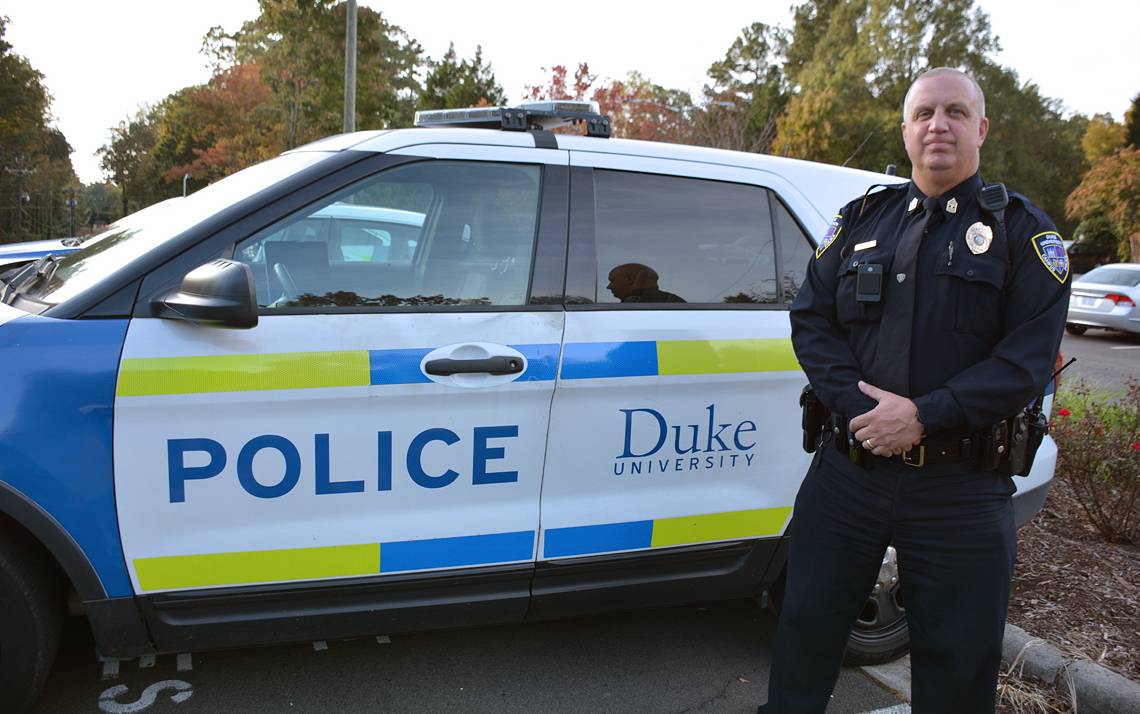 Name: Lance Brown
Position: Police Sergeant, Duke University Police Department
Years at Duke: 4 years
What he does at Duke: Brown works the night shift– 6 p.m. to 6 a.m. – as a sergeant with the Duke University Police Department.
Brown starts the shift by leading about eight police officers and eight security officers in coordination with the squad lieutenant. The officers are assigned to patrol areas around the University and Health System campuses. After that, he never knows what to expect for the evening. One night, Brown may assist Duke Health staff with a matter. Other nights, he could be responding to a car accident or investigating a theft or suspicious vehicle.
"I like the night shift because you never know what's going to happen," Brown said. "I've always enjoyed being a police officer because I like helping people. I want everyone at Duke to feel like they can live and work in a safe environment."
At Duke property crime is the most prevalent issue, and he doesn't miss a chance to encourage Duke community members to not leave electronics unattended or in plain view in a car.
"You never think a crime is going to happen to you until it does," Brown said. "But, if that does happen, I'll be there as swiftly as possible to support you however I can."
What he loves about Duke: Brown's position involves occasionally working Duke football and basketball games. Staffing the floor at Cameron Indoor Stadium during Duke-UNC basketball games is among his favorite experiences.
"I soak in the energy of the crowd and feel so energized long after a game has ended," he said.
A memorable day at Duke: About two years ago, Brown was driving around campus when he received a call that equipment had been stolen from the Rubenstein Arts Center construction site.
As he was driving toward the center, Brown spotted a man carrying two chainsaws near the intersection of Anderson Street and Erwin Road. He pulled over and, after speaking with the man, swiftly deduced the person was carrying the missing equipment.
"It was one of those lucky breaks where I was in the right place at the right time," Brown said.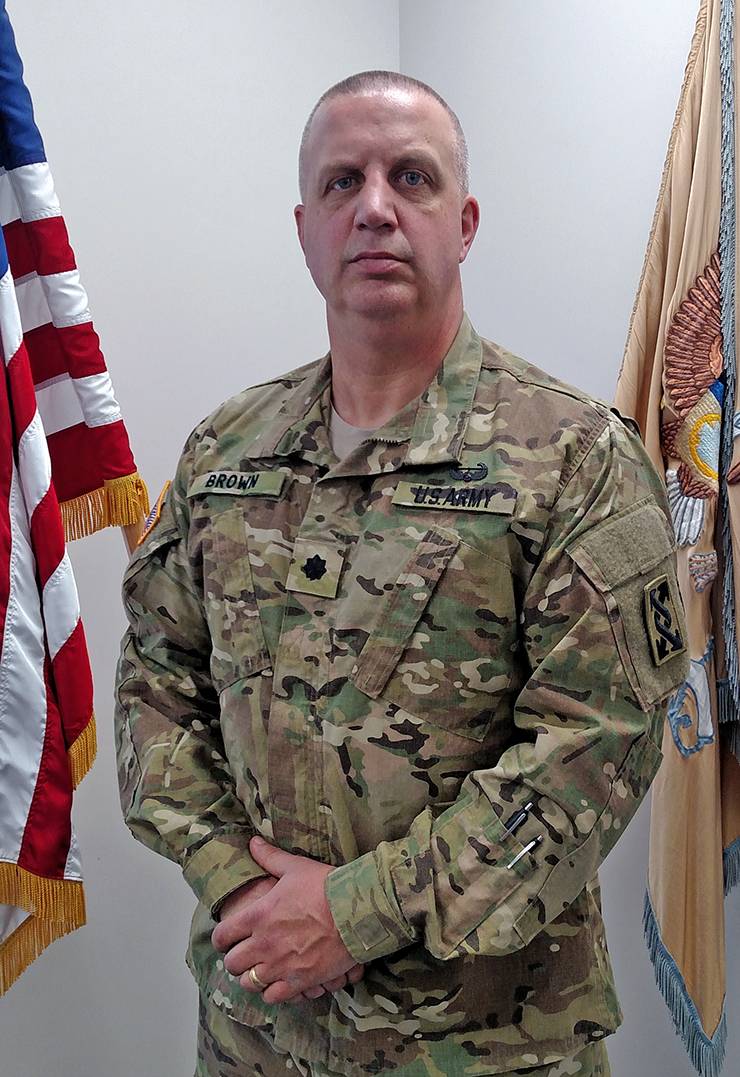 His other service: Brown joined the U.S. Army Reserve after graduating high school in 1983. He is currently a colonel and finished a year-long deployment to Fort Bragg, outside of Fayetteville, working as the plans chief for 1st Special Forces Command.
Brown has traveled to Iraq, Kuwait and other foreign lands for the Army Reserve, but his most memorable assignment sent him to Liberia in 2014 during the outbreak of Ebola, a virus that causes severe bleeding and organ failure.
Brown's unit provided strategic logistic support to doctors and other aid workers who were treating patients. They also worked on repairing roads around the West African country.
"It was a harsh experience," Brown said. "When we returned, we had to be quarantined for a period of time to make sure we didn't contract the virus. There were 16 of us from unit quarantined. The only way we could pass the time was by chatting and playing cards."
Best advice received: As Brown juggles full-time work at Duke and his role in the U.S. Army Reserve, he often thinks about what his high school football coach told him when he thought about giving up the sport: "You don't seem like someone who gives up."
"It can sometimes be overwhelming juggling those two jobs," Brown said. "If I ever start to feel overwhelmed I just think of how proud I am to serve both the Duke community and my country. I could never give up on that."
Something most people don't know about him: Brown has been an avid coin collector for the past 20 years. His collection includes currency from his deployment in the Middle East, Susan. B Anthony dollar coins and about 50 Buffalo Nickels, which feature Native Americans and the American bison.
He stores the coins in about 30 books.
"It's like a walk down memory lane," Brown said. "I can pick up a coin from Iraq, and my time in deployment there comes flooding back to me."
Is there a colleague at Duke who has an intriguing job or goes above and beyond to make a difference? Nominate that person for Blue Devil of the Week.