And the 2018 Blue Devil Halloween Photo Contest Winners Are …
There were 81 submissions in the Blue Devil Halloween Photo Contest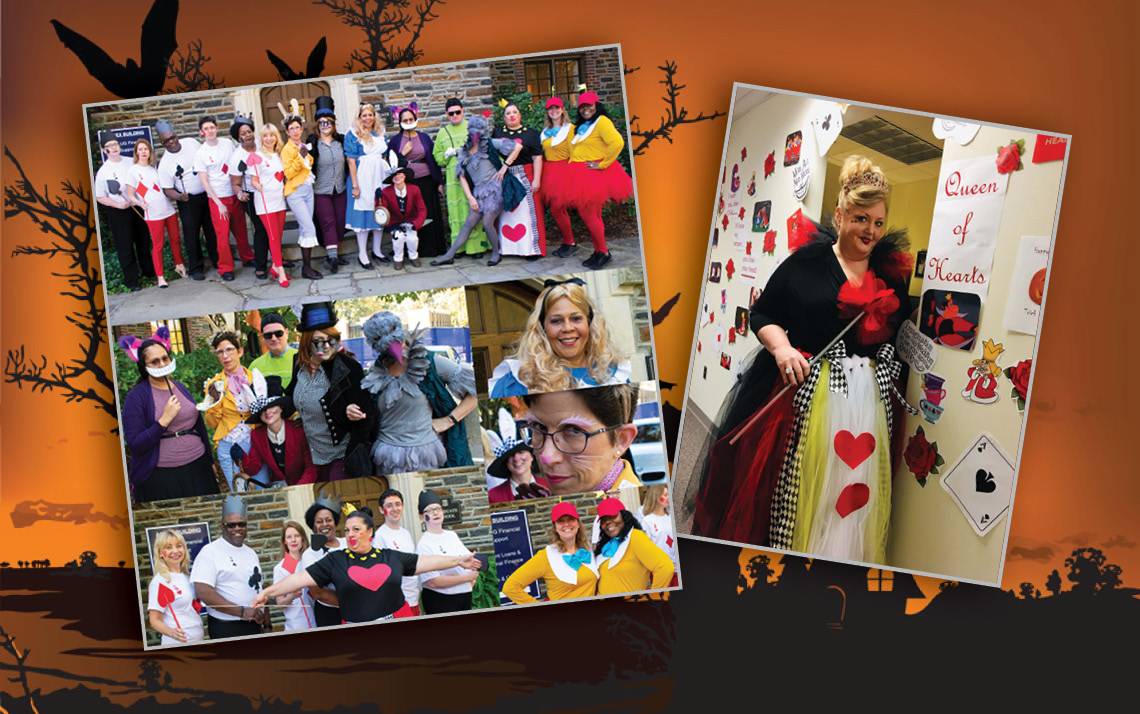 In his 1865 book, "Alice in Wonderland," author Lewis Carroll wrote, "have I gone mad? I'm afraid so, but let me tell you something, the best people usually are."
The winners of the 2018 Blue Devil Halloween Photo Contest have certainly "gone mad." Two "Alice In Wonderland" themed costumes beat 79 other competitors to claim the top prizes.
Here are the 2018 winners, and we can't wait for next Halloween.
Team Winner: Duke Graduate School

A few guests got slightly startled walking into Duke Graduate School offices on Halloween morning when they were greeted by a large caterpillar, the Cheshire Cat and a rabbit with a pocket watch.
Sixteen Graduate School staff and faculty, including Dean Paula D. McClain, dressed up as famous characters from "Alice in Wonderland." Their entry, titled "Curiouser and Curiouser," garnered 223 likes by 1 p.m. Friday.
"Welcome to graduate school, where you'll pursue elusive metaphors down rabbit-holes and read books with no pictures or conversations on a daily basis," they wrote in their submission.
Reached Friday afternoon with the news of the team's winning, Caroline Morris immediately began sharing the news.
"We're all exchanging high fives," said Morris, fellowship coordinator for the Graduate School. "We're crazy about Halloween."
Morris came up with this year's idea for the theme.
"Planning our costumes is a great excuse for all of us to get out of the office and speak with people in different departments," said Morris, who dressed as the Mad Hatter. "Halloween has become this huge team-building event."
The Graduate School employees each receive a coffee mug decorated with their winning costume photo.
It was a narrow victory for the Graduate School, which squeaked by the 194 likes for a team from the Duke University Health System Clinical Laboratories that dressed up as "RRCL Lab Cats."
Individual Winner: Michelle Pleasants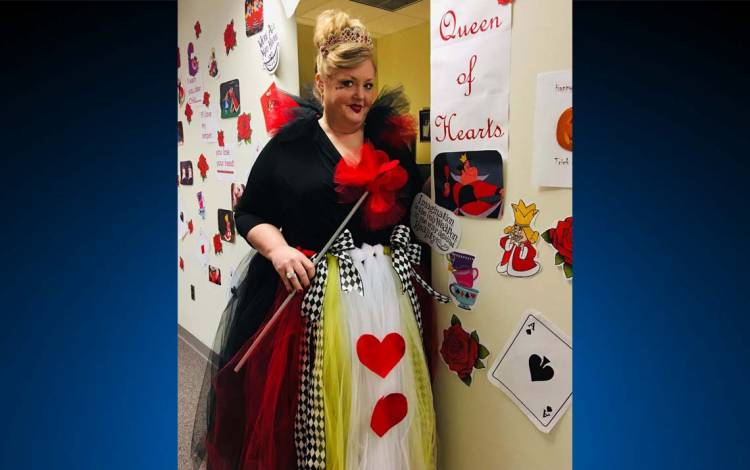 Michelle Pleasants also took a trip down the rabbit hole for her costume.
It took Pleasants, staff specialist for Duke Procurement and Supply Chain Management, about three nights to put together her outfit as the Queen of Hearts from "Alice in Wonderland." Pleasants made her costume using about 100 yards of tulle. She also decorated her office with large playing cards and hearts.
"I always try to outdo myself the next year," Pleasants said. "I'm already thinking about what I'll be next year."
Pleasants, who had 62 likes by 1 p.m., narrowly beat Sandra MacLachlan, assistant to the dean of the Nicholas School of the Environment. She had 58 likes for her hybrid costume of Wonder Woman and a bounty hunter from "Star Wars."
"I mixed the two things I loved together – Star Wars Bounty Hunters and Wonder Woman. I made all the metal parts of this costume by hand," MacLachlan said in her submission.
Pleasants will receive a coffee mug decorated with her winning photo.
Working@Duke Judges Award for Spookiest: Crystal Grimshaw and Allyson Allen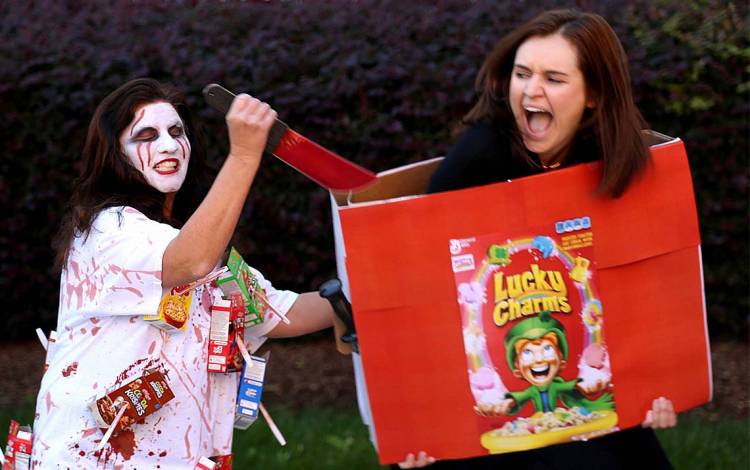 Crystal Grimshaw and Allyson Allen, staff specialists for Strategic Events in Duke Health Development and Alumni Affairs, elicited laughs and frights with their "Cereal Killer" costumes.
Grimshaw, wielding a fake knife and wearing boxes of cereal covered in fake blood, pretended to attack Allen, dressed as a box of Lucky Charms cereal. The look of terror on Allen's face sold the photo.
"We had a lot of fun taking the photos," Grimshaw said.
Grimshaw and Allen will each receive a bag of chocolate as their prize.
Working@Duke Judges Award for Most Creative: Office of the University Registrar

The Office of the University Registrar had a special guest for their Halloween.
Bahar Rostami's three-month-old daughter, Jasmine, joined her coworkers in dressing up as garden gnomes. The child took part in the photoshoot of the employees peeking over the East Campus wall.
"The office gets excited about Halloween every year," said Rostami, assistant university registrar. "We work on our costumes together, so it brings us together."
The Office of the University Registrar will get a few bags of chocolate as their prize.
"Proud to be Working@Duke" T-shirt Winner: Tyler Lee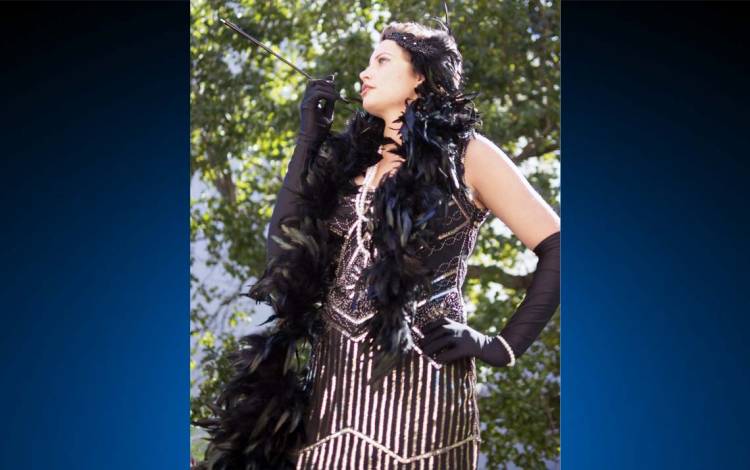 Tyler Lee, program coordinator for the Duke Institute for Brain Sciences, wins one of our new "Proud to be Working@Duke" T-shirts.
Lee dressed as a 1920s flapper and submitted this photo titled, ""Back again: the Roaring Twenties!"
Last year, she dressed as the "Mad Max: Fury Road" character Imperator Furiosa.
"Can't repeat the past? Why of course you can!" Lee wrote in her submission this year.
View all 2018 submissions by visiting the Working@Duke Facebook album.
Have a story idea or news to share? Share it with Working@Duke.