Why So Many Young People Don't Vote
Bass Connections team studying causes and developing solutions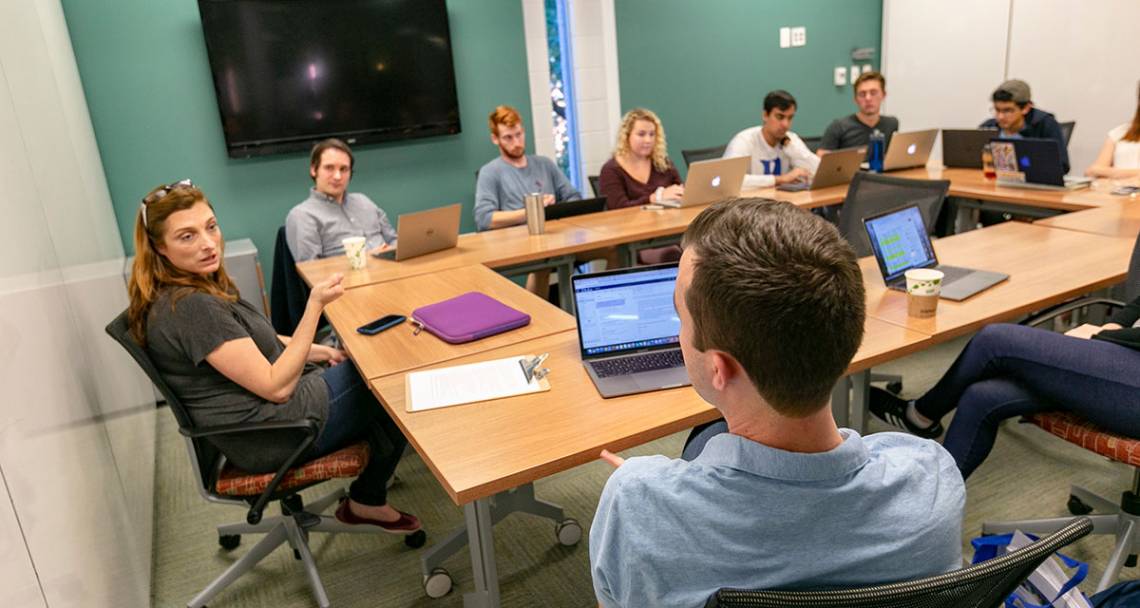 If Taylor Swift's admonition to vote doesn't move the needle among young Americans this year, researchers at Duke can help explain why.
Students in a Bass Connections project are researching why so many young voters, even those who say they're politically motivated, often fail to turn out at the polls.
"It's always been pathetic," says Sunshine Hillygus, a political scientist at Duke who studies voter behavior and co-leads the Bass Connections project.
In 1972, the first year 18- to 20-year-olds were allowed to vote, 55 percent of 18- to 29-year-olds cast ballots. Only 43 percent of that age group voted in 2016 and just 16 percent turned out to vote in 2014.
Turnout among young voters is typically 20-30 percentage points lower than among older citizens. And youth turnout has never matched that of 1972, Hillygus says.
The low turnout among 18- to 29-year-olds has puzzled political scientists for decades. The Bass Connections project aims to both understand and find those missing pieces that can bolster the youth vote.
The Bass Connections Project
Specifically, this team is studying how reforming two key areas may help improve voter turnout among young people -- the education system and election administration.
The team is examining a mix of longitudinal student surveys, school administrative records and voter registration files, and testing the effects of voter registration and mobilization interventions developed by the team.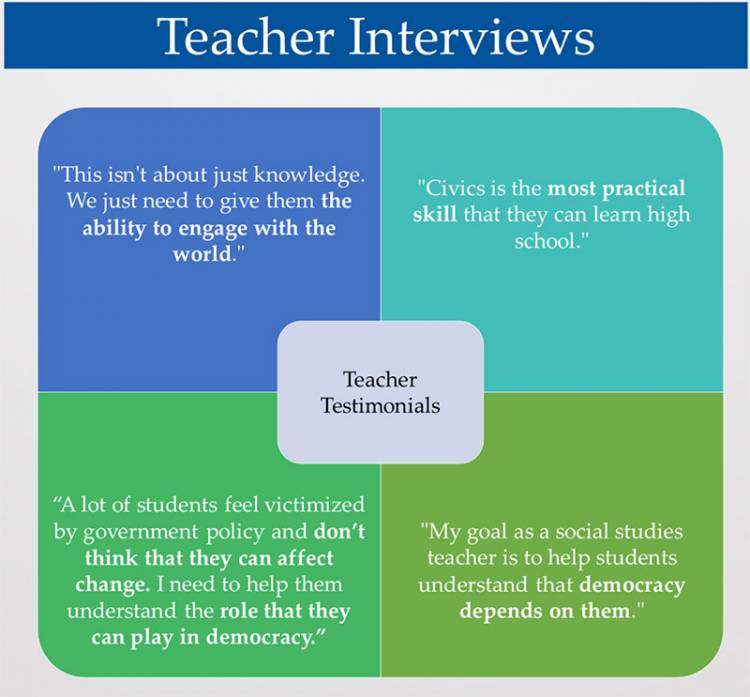 They are studying why only some electoral reforms work to mobilize young citizens, which may help reconcile what are often conflicting results in election sciences literature, Hillygus says.
The team is also continuing a partnership with the Wake County Public School System that includes annual surveys of students; contributions to a nationwide database of electoral and civics education policies in all states; and surveying and interviewing teachers to understand efforts in schools to increase civic participation.
Team members will present their results to the American Association of Public Opinion Researchers in May.
Reasons Young People Don't Vote
Hillygus, who is also working on a book about the subject, says some of the reasons behind the lackluster youth turnout include:
High school civics classes are not adequately preparing youth to understand the basic skills they need for the voting process. They learn how many justices are on the Supreme Court, for example, but not that they can still vote if they aren't familiar with candidates on the ballot for the local water district.
Teachers -- especially in today's polarized climate -- often shy away from discussing politics in the classroom to avoid stepping on potential landmines. "I think that's shirking their duties," Hillygus says. There are ways to have students talk about issues that aren't biased and schools are avoiding that."
The voter registration laws are sometimes fluid. In 2010, North Carolinians ages 16 and 17 could preregister to vote. When Election Day came in 2012, they were already in the system. But North Carolina lawmakers removed preregistration in 2013. The 4th U.S. Court of Appeals has since struck down the law, so reinstatement of it in 2016 should help alleviate some of the problem, Hillygus notes.
Youth also bear responsibility for their low turnout. Hillygus says young people often lack the "grit" to follow through with registering to vote, forgetting they need to register a certain amount of time before Election Day, for example.
She says one study found that 55 percent of college students "messed up filling out their voter registration form, e.g., they left a question blank or didn't know their Social Security number."
Options such as preregistration in high school and automatic registration can help ensure the youth vote improves, she says.
"Preregistration and automatic registration have such consequences for young people," Hillygus says. "Because follow-through is so much of the story, there's a real high cost to procrastination in U.S. democracy."
To further dig into the thinking of young voters, the Bass Connections project includes interviewing young people about their family history related to politics, what propelled them to vote (or not), as well as if and how they registered.
Carlee Goldberg, a freshman from Parkland, Florida, says the handful of people she's interviewed so far this month say they struggle to find good information about candidates.
"There's no one place to find that type information," says Goldberg, a political science major who hopes to become a judge in Florida, where judges are elected. "For a lot of students, when trying to vote and they have no clue who's on the ballot, it either discourages them from voting or they just start just randomly filling it in."
"Or when they don't know they just vote down party lines," adds sophomore Ryan Geitner, a Hickory, North Carolina, native majoring in political science and Asian and Middle Eastern Studies.
Both Duke students agree that giving teens the ability to register before they're 18 and providing them more practical information in high school about how to navigate the election system would go a long way in motivating more young people.
"That first year in which you can vote, I think, is the most crucial," Goldberg says. "That's when it's the most exciting, that's where you're probably most likely to vote just because you can. But if you don't vote in that year, I think it's more difficult after that."