Duke College Advising Corps a Win-Win for Aspiring Physicians
The qualities that make them good advisers will serve them well as doctors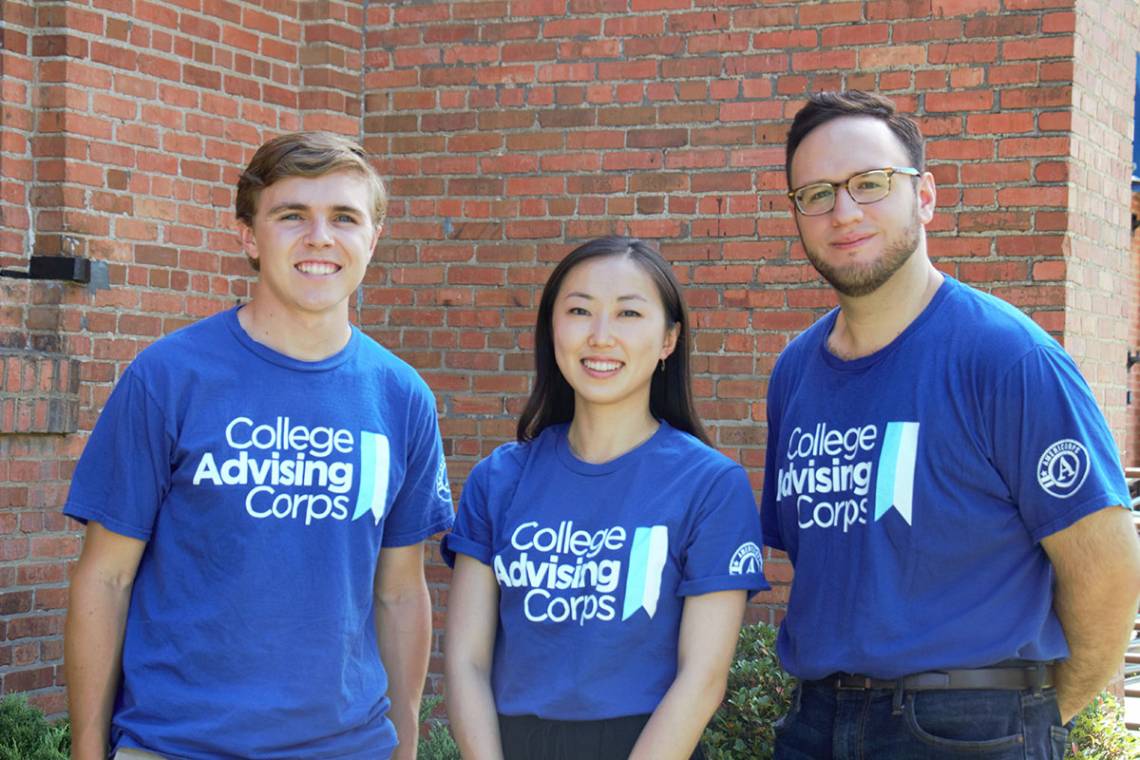 Working as a doctor and serving as a college adviser may seem like very different careers, but Evan Murray, T'17, sees quite a few parallels. 
"Much like patients seeking care," Murray said, "students who come into our office are seeking guidance through a very complicated process, and our responsibility is to break it down in a way that fits their needs and helps them make the right choices." 
Murray is one of six Duke College Advising Corps (CAC) members who will be attending medical school in the fall after spending a year as near-peer college advisors at underserved high schools across North Carolina. He and the other aspiring physicians in this year's CAC cohort expect to draw on their experiences in North Carolina schools as they learn to care for patients. 
Started in 2005, College Advising Corps is a national nonprofit organization that places recent college graduates as full-time advisers in underserved high schools across the country. Duke, one of 14 partner universities, is responsible for recruiting, training and supervising advisers who serve schools in communities in and around Durham. 
This past year, 16 Duke alumni worked in high schools across the state, including several in rural areas. After serving up to two years, advisers must leave CAC to pursue other opportunities. Some Duke CAC advisers have moved on to work in nonprofits and schools, while others have gone on to graduate school in a variety of fields, including medicine. 
Connecting with Students
The advisers who apply to medical school do so at the same time as they help high school students fill out financial aid forms and sign up or SATs and often draw upon their personal experiences to connect with students. 
Mirai Matsuura, T'17, remembers what it was like to apply to college without adequate support. "I definitely struggled with my own college application process as both my parents are immigrants and had no idea what higher education was like in this country," she said. "As the oldest child, I had to figure a lot of it out on my own. For low-income, first-generation students, meeting someone who can relate to their experience can be transformative, dramatically increasing the likelihood they will apply and be accepted to college.
Building a Better Application 
College Advising Corps provides meaningful work experience to bolster advisers' chances in all kinds of career trajectories. Medical school applications are no exception. To get into medical school, applicants need good grades and high test scores, but they also need experiences that set them apart from other applicants. For med school applicants who prefer not to do research or volunteer in a clinic, College Advising Corps can be an attractive option. 
"I feel like I gained so much that I might not have gained just sitting in a lab doing research. I'm interested in community health, so from that perspective, there's a lot of transferable experience," said Matsuura.
In the fall, Matsuura will leverage her experiences with College Advising Corps within the Primary Care Leadership Track (PCLT) at Duke School of Medicine. Recognizing the gap between public health and medical care, the four-year track is intended to train primary care practitioners to be community health leaders through specialized training, community-based research and an integrated clerkship. The program also offers the possibility of a $40,000 scholarship to reduce need-based loan debt and encourage more students to choose primary care. Matsuura comes to the track with a deep understanding of some of the health challenges present in Durham, where she spent the last year working at City of Medicine Academy.
"It's a very different dynamic, and it's allowed me to see their fears and better understand their needs. I want to use that knowledge as a physician to provide the best services I can."
-- Alejandro De La Torre
Like Matsuura, Alejandro De La Torre, T'17, also wants to work in primary care, serving communities similar to those he got to know as a college adviser at Northern High School in Durham. Growing up in Texas, he was a part of an established Latino community. Many of the Latino students he worked with in Durham are more recent arrivals, with precarious legal status. 
"It's a very different dynamic, and it's allowed me to see their fears and better understand their needs. I want to use that knowledge as a physician to provide the best services I can," said De La Torre, who will be returning to Texas to attend Texas Christian University Medical School.
Improving Access and Understanding
Dr. Dennis Clements, who teaches at Duke School of Medicine and leads medical expeditions to Honduras, emphasized the value of immersive experiences like College Advising Corps for students interested in medicine. "Medical school applicants in general are book-smart," said Clements, "but to me the students who have tried to broaden their lens so they can understand how others live will be more useful to the school, the patients and their colleagues."
Living and working in Sampson County, Murray gained a better understanding of the obstacles rural populations face in access to both education and health care.
"There are barriers that are geographic — they're far from these academic medical centers if they need more specialized care — but it's also sort of cultural," he said. "It's hard for an outsider to come in and embed themselves in the community, because it's pretty small and everybody knows each other." 
Murray worked hard to gain the trust of students and their families, and he believes his experience in Sampson County will serve him well as a Duke medical student, where he is likely to encounter patients from similar communities, facing similar barriers. "I have students who have come to Duke and UNC to receive care, so those institutions have a responsibility to a whole state and whole region to provide care and to understand the challenges of the communities they serve," he said. 
For Dr. Clements, exercising empathy and developing cultural humility are critical to becoming a doctor: "How can you help someone to a place of better health if you don't know where they're coming from? The most useful thing I can ever do is to help students understand how important it is to work hard to understand those around them – to be supportive, positive, caring and listening."