KUNSHAN -- Last week, groups from Duke and Duke Kunshan universities co-hosted a five-day symposium to share knowledge and build connections that will help answer an important question: How can we collaborate to meet the sustainability challenges created when investment takes place across national boundaries?
The events on Duke Kunshan's campus addressed how to better understand and plan for China's vast increase in infrastructure investment abroad, especially for projects that are part of the Belt and Road Initiative (BRI). The BRI is China's evolving policy to foster "New Silk Road" trade with a large group of countries through trillions of dollars of investments in construction, including ports, roads, railways and power plants. Such projects can foster economic growth and bring benefits to countries involved in the initiative, but can also cause serious environmental and social harms, depending on how they are done.
Understanding the implications of this sweeping initiative will require inputs from diverse perspectives -- like those the symposium brought together. Participants from China, the United States, Europe, Central Asia and other regions and backgrounds, including private industry, academia, technical consulting, government and civil society organizations. They discussed a range of topics from international treaties and trade agreements, to geostrategic concerns, to the impact and reactions in investment-receiving countries such as Kazakhstan and Myanmar. 

Speakers at the symposium envisioned that the BRI will help China diversify its overseas investment and trade, reducing its reliance on the North American market and making China more resilient in future trade wars.
According to several speakers, BRI will help to lift China's position in the global value chain. Despite an ongoing trade war and growing anti-globalization in countries across the world, China stands to rise and benefit from BRI.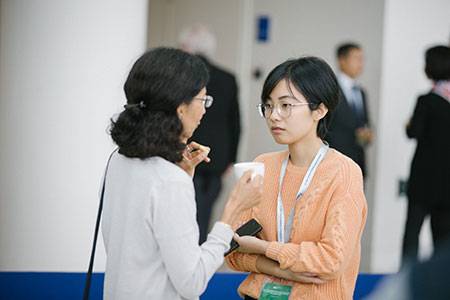 Compared to a traditional financer like the World Bank, funding from China is becoming the new fancy for developing countries, for it has few additional requirements, a short processing time and is an easy procedure, speakers said.
But Chinese investments have often caused environmental concerns and social issues for lack of solid and sufficient pre-investment analysis.
"Making money comes before doing charity" is how most Chinese firms understand corporate social responsibility. "The BRI is not charity," said one senior official from China, stressing the initiative's principle of wide consultation, joint contribution and shared benefits.
Speakers at the symposium urged China to optimize the use of energy in overseas investment, as the country has built the green BRI as a concept.
They acknowledged China's effort in combatting air pollution and optimizing energy structure at home, but said coal still powers more than half of the country's foreign investment projects.
Erika Weinthal, the Lee Hill Snowdon Professor of Environmental Policy at Duke,noted that "events like these shed light on the importance of DKU's Environmental Research Center, which provides a platform for faculty and students to engage across institutions and borders to build new research programs on topics of global policy relevance."  
One of the other co-organizers, Giovanni Zanalda, who directs the Duke University Center for International & Global Studies, added that "this symposium is a good example of how centers and initiatives from Duke and DKU successfully collaborated in the organization of an event that combined high-quality research, policy advice and technical expertise." 
Organizers hope that Duke and DKU's partnership can serve as a foundation for the kinds of institutional bridges needed to tackle complex international issues. 
"The test of our work will be whether we offer practical solutions and ideas for how to execute them – goals which we will continue to pursue as the BRI matures," said Jackson Ewing, a Duke adjunct professor who works closely with the Duke Kunshan University Environmental Research Center. 
The events were co-hosted by the Environmental Research Center at Duke Kunshan, the Nicholas Institute for Environmental Policy Solutions, and the Duke Center for International & Global Studies, both at Duke, and were co-sponsored by the Duke Kunshan University Center for the Study of Contemporary China and the Friedrich-Ebert-Stiftung (FES) Shanghai Representative Office.