Blue Devil of the Week: Making a Difference at Duke and on the Diamond
Community Service Center's Pat James is driven by a desire to help area youth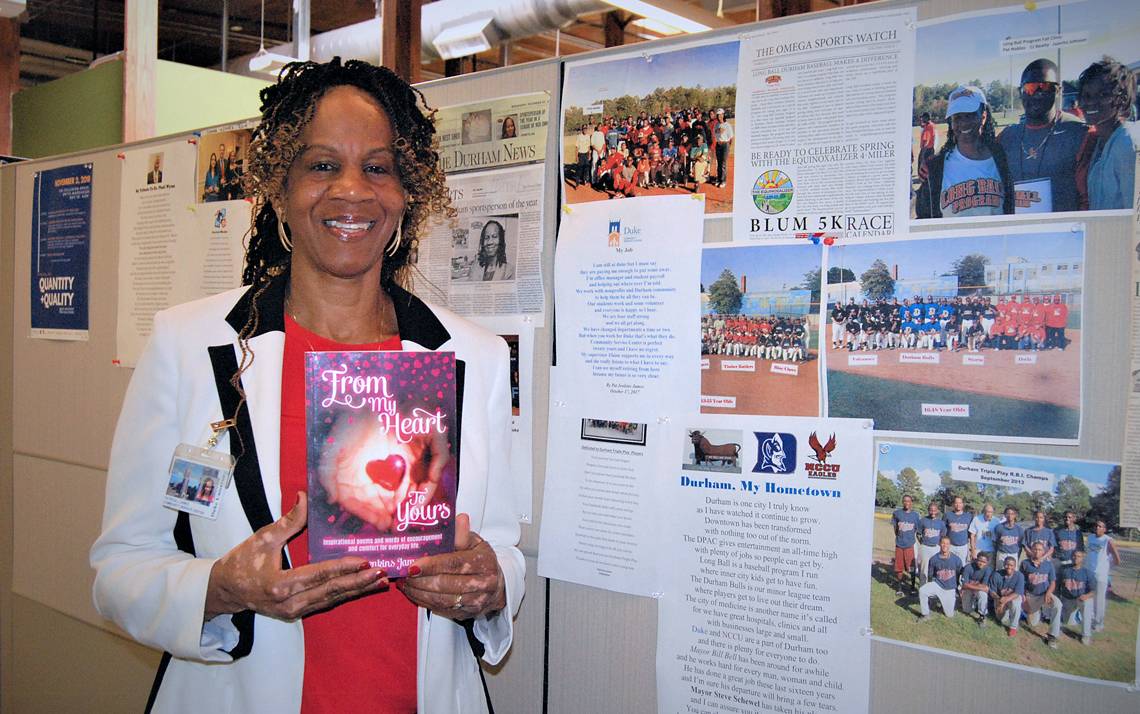 Name: Pat James
Title: Staff Specialist, Community Service Center
Years at Duke: 38
What she does: After a series of jobs at Duke University Hospital, James joined the staff of the Community Service Center about 22 years ago. The small unit serves as a clearinghouse for Duke students, staff and faculty interested in community service. She oversees the finances of the office.
A major piece of her job is to help Duke students navigate the paperwork of the America Reads/America Counts program, which provides a stipend for tutoring students in Durham's public schools. James enjoys helping students in the program because of their selfless nature and youthful excitement.
"I love what I do," James said. "I love working with my students."
What she loves about Duke: With nearly four decades on staff at Duke, James said colleagues often jokingly ask her why she hasn't retired yet. She responds that Duke has treated her so well, she's in no hurry to leave.
"Duke is my partner," James said.
Her favorite example of that help involves the Long Ball Program, a baseball league for kids in Durham that she helped start a decade ago.
In 2008, James, who has been an ardent softball player since high school, was an assistant coach for her son's youth baseball team. When Durham Parks and Recreation announced that the league would be discontinued the next season due to budget cuts, James approached some of the league's coaches to see about starting a league of their own.
"I thought, if the city isn't going to do it, let's make this happen because these boys need something to do over the summer," James said.
In the decade since, James has built the Long Ball Program into a thriving outlet for kids, featuring eight teams and playing its games at historic Durham Athletic Park. In addition to support from Minor League Baseball, Major League Baseball's RBI (Reviving Baseball in Inner Cities) program and local donors and businesses, James said Duke has been a key ally.
James said she's gotten help from Duke-Durham Neighborhood Partnership, Duke University Stores and Duke Law School, which guided her through the legal paperwork to make Long Ball a 501(c)(3) nonprofit. The Blue Devils' baseball program has also been a major supporter, providing baseballs for practice, slightly used equipment and access to Jack Coombs Field for a handful of practices.
"Since day one Duke coach Chris Pollard has been awesome," James said. "They are amazing."
Memorable days at work: Last year, James published a collection of inspirational poetry entitled "From My Heart to Yours." Not long after, a student from Duke Divinity School was passing through the Community Service Center when he stopped James.
"You didn't tell me you were a celebrity," he told her.
James asked what he was talking about. He then went on to say that her book was on sale at the Duke Divinity School's bookstore.
"I was totally shocked," James said.
The proceeds from the book go toward scholarships for the Long Ball players who are headed to college. With help from money raised from the Duke Divinity School, she was able to give money to 28 players to help with college costs.
Best advice received: During her first season leading the Long Ball program, James confided in her uncle, General James, that running the fledgling league was becoming a financial and emotional strain.
He told her, "Pat, you have not because you ask not. Ask and you shall receive."
Her uncle, who is also the pastor of a church in Plymouth, told her to think outside of herself and ask others for help, whether it be through time or money. That inspired her to start building the strong network of sponsors and supporters that's kept the league going ever since.
First ever job: When she was in high school, James worked in a retail business on Ninth Street that sold towels. She recalls working at the register at first. But when she had a chance to handle the back-of-the-house logistics, the shop's owner gave her that role as well, which James took as an encouraging sign of his trust in her.
"That was my first boss and they set the standard," James said. "If you've got a good relationship with your boss, you don't mind coming to work. He was just so motivating."
Something most people don't know about her: While she loves to compete on the diamond, it's not the only place she likes to burn off energy.
"I love to dance," James said. "When my songs come on, I have to go out and dance."
Is there a colleague at Duke who has an intriguing job or goes above and beyond to make a difference? Nominate that person for Blue Devil of the Week.