Be Yourself: How to Navigate the College Admissions Process
Two Duke officials discuss what parents and students need to know when applying to colleges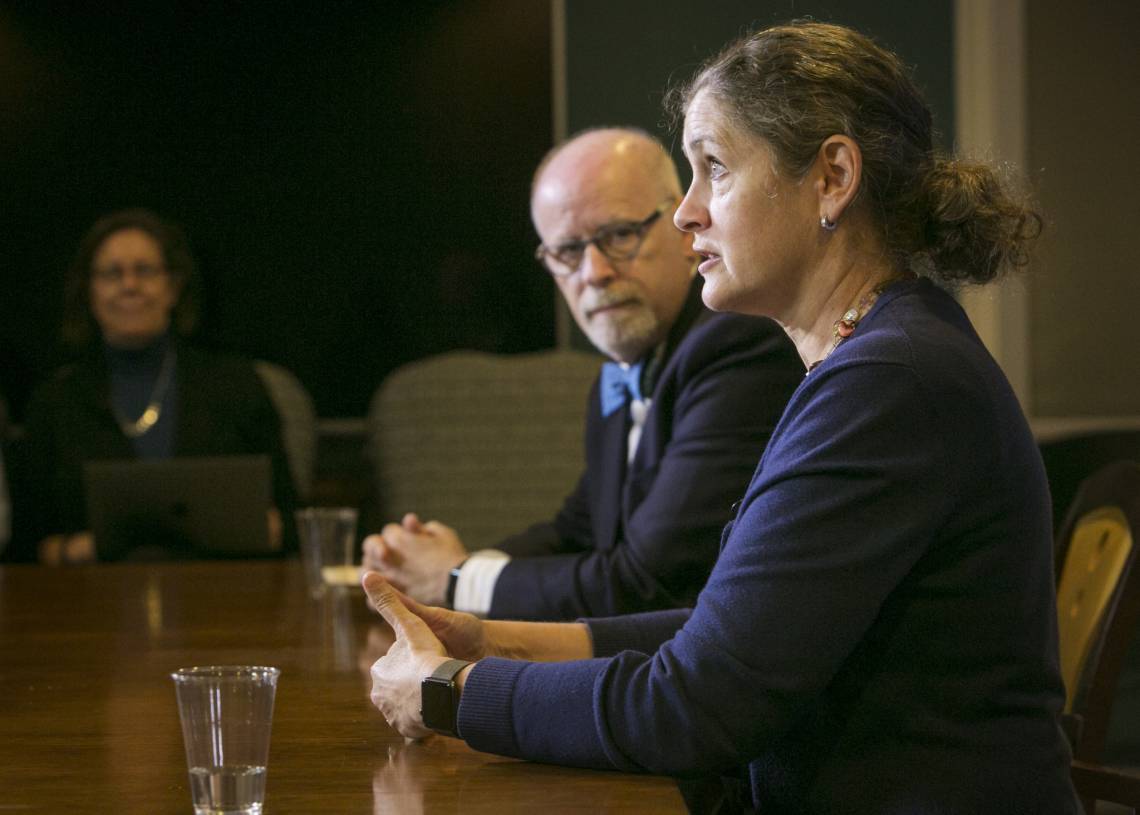 Here's a tip for high school seniors wondering how to ace the essay portion of the college application: Just be yourself.
"The challenge is for the student to come across as the individual they are," said Christoph Guttentag, Duke's dean of undergraduate admissions. "They should worry less about the quality of the writing and more about the opportunity for the reader to learn about the student."
This can be difficult for students and parents navigating what has, over the years, become a more serious and complicated college admissions process, Guttentag said Thursday morning. He joined Alison Rabil, Duke's assistant vice provost and director of financial aid, to discuss the annual admissions and financial aid application season and offered several tips to ease the minds of students – and, of course, their parents.
Guttentag said admissions officers work hard to understand each applicant's personality, interests and character as they build a class of new Duke students each year that is talented, balanced, engaged and diverse. Grades matter a great deal, but so does a student's desire to learn and a willingness to put talent into action.
"Colleges like students who love to learn," he said. "That enjoyment for being in the classroom; an enthusiasm for learning, we look for that."
Rabil said parents and students should have a frank conversation early in the college search process so the family's financial situation is clear. How much can a family afford to pay? Will the student have to work during college? Will loans be necessary?
"Parents should have a real conversation (with their child) about your financial expectations for them and how the family will make the college experience happen," Rabil said.
The process can be daunting. There are myriad forms including the FAFSA – the required Free Application for Federal Student Aid – lots of deadlines and financial information to unearth. And admission to a college like Duke, which receives roughly 37,000 applications a year, admits 3,200 and enrolls roughly 1,700, can seem like a long shot.
But both Guttentag and Rabil urge students and parents not to assume Duke is beyond their reach. In particular, Duke may be far more affordable than many think due to its need-blind admissions policy, in which applications are evaluated without regard to the student's ability to pay. The estimated total cost of attendance at Duke for the current school year is $72,710.
"Eliminating colleges you think are too expensive, without looking into it, is a big mistake," Rabil said. "You might have qualified for some need-based aid … or other benefits. For 60 percent of our students, the sticker price is not what you'd pay."
Other tips:
High school freshmen, sophomores and juniors should focus on their grades and taking challenging courses, but should also think about what things really move them. "Make a commitment to that and be seriously engaged," Guttentag said.
Ask questions. The admissions and financial aid process is complex and students and parents should never be afraid of asking questions.
When making a list of prospective colleges, cast a wide net. "Look broadly and think broadly," Guttentag said. "Just in the state of North Carolina there are wonderful colleges of all kinds."
Financial aid comes in many forms – merit, needbased, from state and federal sources and elsewhere. Spend some time understanding what's available.
Make the Net Price Calculator your ally. This online tool lets you enter financial information to see what your true cost would be at a university. Duke's Net Price Calculator is available here.
The Early Decision deadline for Duke applicants is Nov. 1 (aside from an extension for prospective students affected by hurricanes Florence and Michael), and those admitted will be notified by Dec. 15. Duke's Regular Decision deadline is Jan. 2, and students offered admission will be notified around April 1.