Adding Memories to the Library Collection
Memorialize, honor or thank a special person through the "Honoring with Books" program at Duke Libraries
Whenever Lesley Looper would talk to her father, there were two topics that often got brought up.
One was Duke football. Charles "Byrd" Looper played football for the Blue Devils in the early 1950s and spent the rest of his life as a devoted fan.
The other was Duke Libraries, where Lesley works as a unit supervisor in technical services.
"He'd always ask me how things were at the library," Lesley said of her father, an avid reader. "He'd always tell me how proud he was that I was working here."
After Byrd Looper died in January at 86, Lesley's co-workers looked for a way to both comfort her and memorialize her father. Through the library's Honoring with Books program, they found a perfect way to do it.
Honoring with Books provides an opportunity to recognize someone or an event with an electronic bookplate. For a donation of at least $100, the donor or, in many cases, Collection Development Specialist Dee McCullough will select an appropriate book and add the honoree's name to the book details in the online catalog listing.
"We felt like it would be really meaningful to honor Mr. Looper's memory with a book instead of flowers or something like that," said Team Lead for Monographic Original Cataloging at Duke University Libraries Natalie Sommerville, one of Lesley's co-workers.
The use of electronic bookplates is part of an industry shift away from paper ones that used to be affixed to a book's inside cover.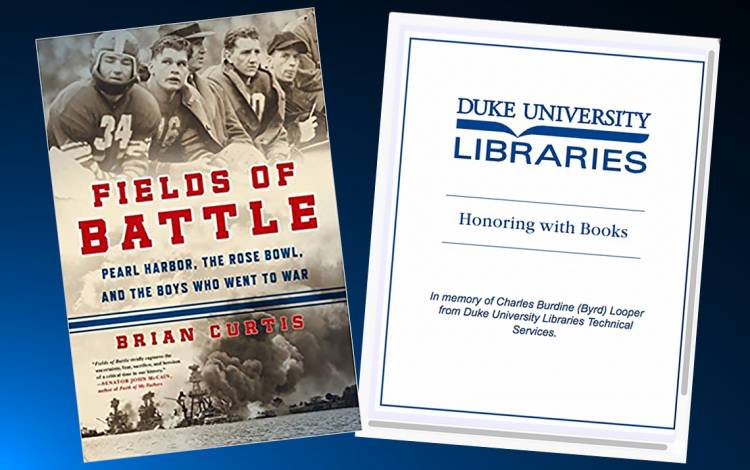 Drawing on Byrd's experience as a Duke football player and as a veteran of the U.S. Marine Corps, the book that now bears his name is "Fields of Battle: Pearl Harbor, the Rose Bowl and the Boys Who Went to War." The 2016 work tells the story of the 1942 Rose Bowl, which was held on Duke's campus due to safety concerns following the bombing of Pearl Harbor.
"This is a way to permanently honor someone, connect with the library and leave an imprint," said Duke Libraries Annual Giving Coordinator Megan Crain.
The Looper family's ties to Duke are strong. Byrd met his wife, LaNelle, in a Shakespeare class at Duke. Both Lesley and her sister Lisa also attended Duke. Byrd was a member of the Iron Dukes and, despite living in Selma, Alabama since the late 1960s, had season tickets to Duke football as recently as last year.
While Byrd played football at Duke nearly a decade after Duke's appearance in the 1942 Rose Bowl, the game was a point of pride for everyone associated with the program and one of Byrd's favorite stories to tell.
"I heard a lot about that game from my dad," Lesley said. "Every year or three, he'd remind me about it. Of course it was one of those stories I didn't mind him repeating because I could tell he was proud of it."
Lesley said she's slowly working her way through a digital copy of the book that her father's name is now linked to. While it's been a fascinating read, the true value of the story is how it helps her feel closer to her father's memory.
"I know Dad knew a lot of this story, but there are some things I bet even he wasn't aware of," said Lesley, who is currently reading the book. "He would have loved it."
Got a story idea or news to share? Share it with Working@Duke.