To Meet, or Not to Meet
Duke experts offer ideas on when to schedule – or not schedule – in-person meetings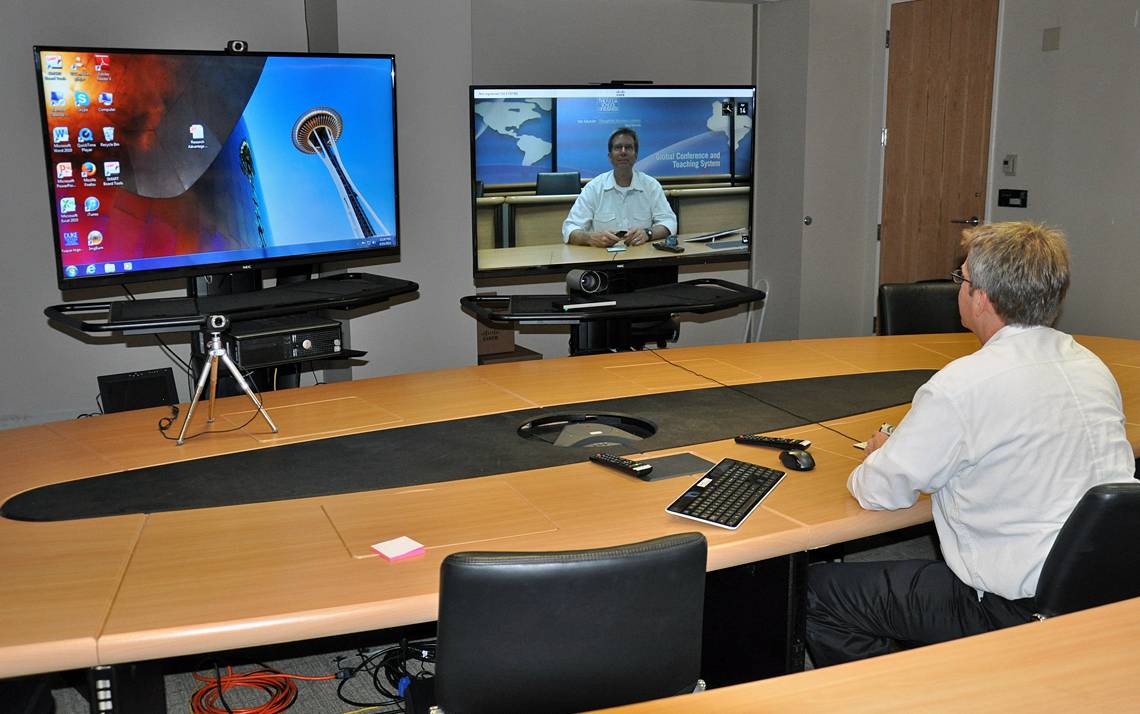 John Sampson has plenty of demands on his time. The professor of Neurosurgery serves as the Department Chair of Duke Neurosurgery and the President of the Private Diagnostic Clinic.
As the person who manages the schedules of both Sampson and Kathy Tobin, Duke Neurosurgery's chief administrator, Special Assistant Tami Tuck works diligently to figure out how to fit everything in.
"My job is to make sure he is where he needs to be with clear understanding of location, purpose, and materials to accomplish successful use of his valuable time."" Tuck said.
As part of that mission, Tuck uses her judgement to schedule Sampson for in-person meetings.  If something can be done more efficiently through another method like email or web conferences, she will suggest that. If the purpose or plan for a meeting is unclear, she'll ask for more information and obtain materials to assist for review prior to meeting.
"It's important to be respectful of the people you're scheduling for," Tuck said. "The people I schedule for, they're here before daybreak and late into the night. I want to help them get the most out of their day. Communication is key to everyone's success."
While your schedule may not be as complicated as Sampson's, taking to heart methods Tuck and others use to decide how, when – or when not – to schedule an in-person meeting, could help you make more efficient use of your time.
Here are some ideas to consider when meeting plans are coming together.
Get as much information as possible
Dorie Clark, adjunct professor at Duke's Fuqua School of Business, points out that it's common to have someone ask for an in-person meeting without putting much thought into whether the meeting is necessary or if there are other ways to cover the same ground, such as email or a conference call.
Clark said it's common to have people agree to attend meetings out of simple politeness. But out of respect for your time and the time of others, Clark recommends responding to vague meeting requests by digging for clarity and more information, such as the goal of the meeting or how you fit into it.
"If you can take control of sending more precise and detailed information upfront, it will eliminate downstream questions," Clark said. "If someone wants a meeting but you are unsure of your role there, it's perfectly appropriate to respond with 'Great, would you mind sending over an agenda and letting me know how I can specifically contribute to the conversation?'"
Know when not to meet
When it comes to brainstorming or making decisions with outcomes that benefit from group input, in-person meetings can be crucial. Don Shortslef, a senior practice partner with Duke Learning & Organization Development, said it's also important to understand that, for some situations, meetings aren't the best option.
If there's no clear purpose to the conversation or if the flow of information is only going one way, there are likely more efficient options to consider.
"If I'm bringing a group of people together and I'm just giving them information and there's no real need for discussion, that could go out in an email," Shortslef said. He teaches the "Managing Meetings Effectively" course, which returns September 25.
Consider alternatives
Over the course of a week, Tami Tuck said she'll have John Sampson talking with people in a variety of ways. There will be face-to-face meetings with colleagues, but there will also be conference calls and occasional video conferences, which prove to be valuable time savers.
"It may take up to 15-30 minutes to get somewhere," Tuck said. "You can save valuable time by calling in."
Duke's Office of Information Technology (OIT) helps Duke staff, faculty and students have a full range of collaborative meeting options by offering a variety of free web-based collaboration tools, including WebEx and Jabber.
One low-tech option Shortslef suggests is a simple in-person huddle. When just a few key bits of information need to be discussed, just gather the relevant people for a quick chat.
"It's not a formal meeting, but kind of a substitute that takes less time and gets the pertinent information to those who need it," Shortslef said.
While quick chats and collaboration technology can help important workplace information flow efficiently, traditional meetings likely aren't going extinct anytime soon.
"Sometimes you need to be able to hammer something out and have all the papers spread out on the table," Tuck said. "For those, you really do need to be face-to-face."
Got a story idea or news to share? Share your news with Working@Duke.