Help Your Creative Vision Come Alive
Art + Tech Fair in Rubenstein Arts Center on Sept 12 to show off laser cutters, 3D printers and more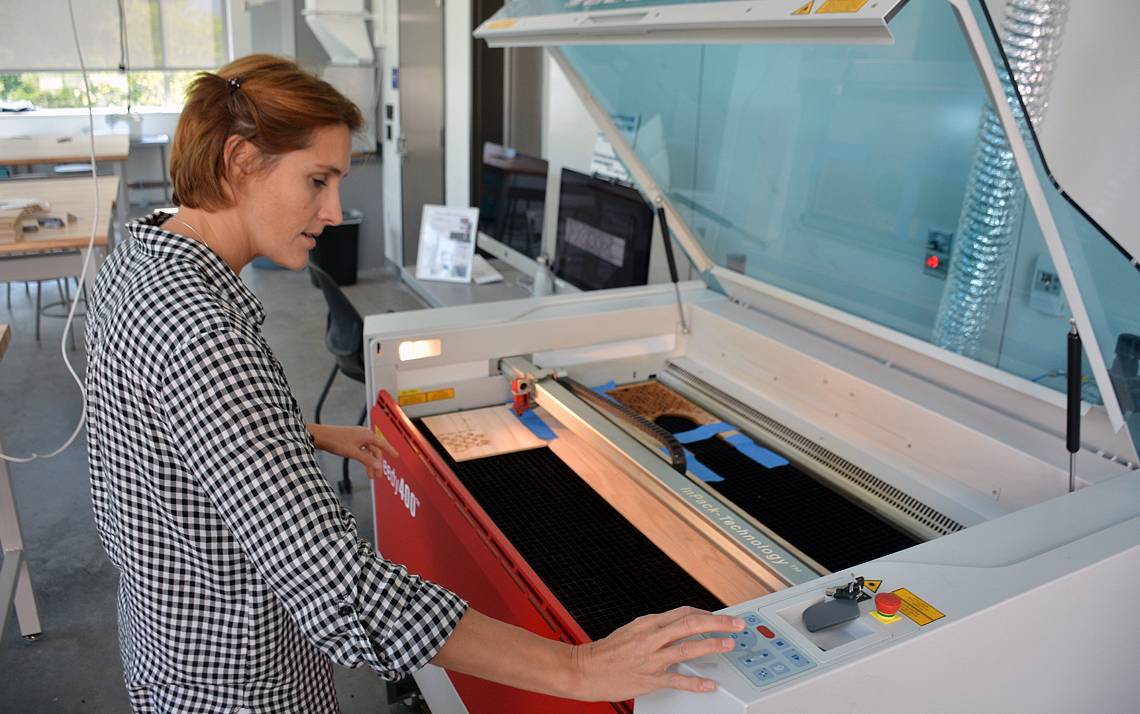 Raquel Salvatella de Prada's work largely existed in the digital sphere until this summer.
Salvatella de Prada is a graphic designer and animator by trade but challenged herself to create an art installation using a laser cutter in the makerspace in Rubenstein Arts Center. The piece, called "Cornered," deals with the topic of immigration from Africa to Spain.
"Cornered" will feature video projections from inside a wooden structure, which is inspired by Moroccan tables and is decorated with geometric patterns that are engraved and cutout.
"This has been a trial and error experience," said Salvatella de Prada, assistant professor of the practice for Duke Art, Art History & Visual Studies. "I'm used to hitting the undo button on the computer to make any mistakes vanish. It's great and frustrating to be working with physical tools."
The Duke community will get an introduction to Salvatella de Prada's work and the makerspace during the Art + Tech Fair from 6:30-8:30 p.m. on Sept. 12 in the Rubenstein Arts Center. Duke Arts and Duke's Office of Information Technology (OIT) partnered to showcase OIT's studio during this free event that is open to the public.
During the fair, OIT and Duke Arts staff and faculty will show guests how to use the makerspace's 3D printers, laser cutter and other hand tools. There will also be augmented reality demonstrations that allow viewers to see the human anatomy and solar system.
Michael Faber, academic technologies manager for OIT, will assist guests in designing a wooden chandelier with the laser cutter. Visitors can decorate the individual pieces that will be attached over the course of the evening to make the chandelier.
"We want this space to highlight the intersection of technology, the humanities and the arts," Faber said. "Technology has always been a tool for a means to an end. I see technology as just another paintbrush or pencil."
Duke staff, faculty and students can access the makerspace in the Rubenstein Arts Center anytime. The lab is staffed from 2 to 8 p.m. Sunday-Friday during the academic year. Another makerspace, the Co-Lab Studio, is open from 11 a.m. to 8 p.m. Sunday-Friday on the first floor of the OIT-Telecommunications Building on West Campus.
Salvatella de Prada, who teaches "Graphic Design in Motion" and "Advanced Visual Practice" this fall, said the Ruby makerspace opens up new teaching opportunities.
"My students won't be limited to printing graphic designs on poster board," she said. "They can use wood or cardboard or even metal."
Got a story idea or news to share? Share it with Working@Duke.