Duke in Pics: From Box to Library Shelf
Follow new books from delivery to Duke's 7.2 million print volume collection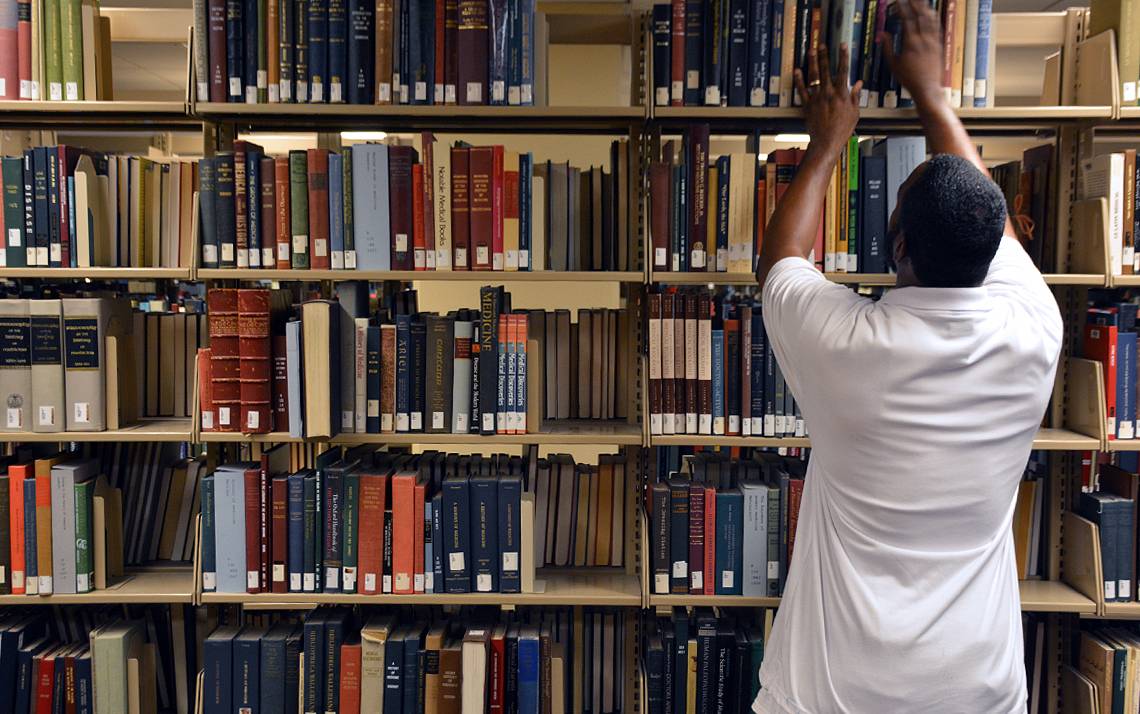 On a quiet summer day, Seth McCurdy stocks shelves on the third floor of Bostock Library.
McCurdy places a new edition of "Basic Family Therapy" in the History of Medicine section. This is the book's final destination after traveling through at least half a dozen workstations and multiple locations at Duke.
"We're building a diverse collection," said McCurdy, stacks maintenance supervisor at Perkins Library. "It takes a lot of collaboration and hours to build a collection as large as Duke's."
Duke University Libraries has about 7.2 million print volumes in its collection. About 830 items are checked out each day. And on any given day, about 300 books arrive for placement throughout the Duke Libraries system.
Here's a look at how some new books get organized.
Unpacking books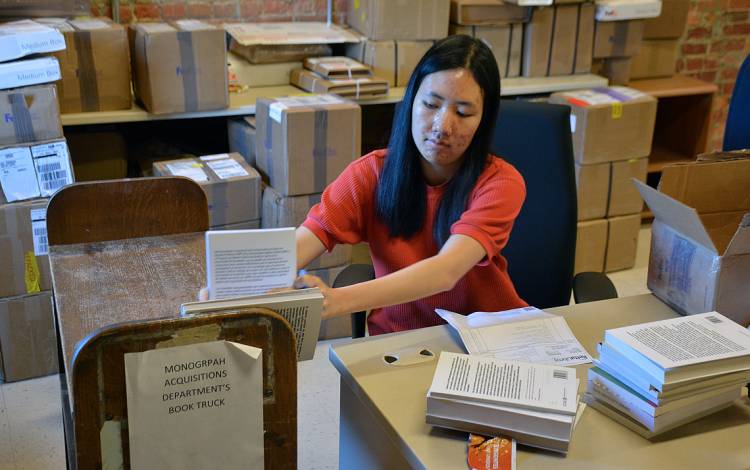 Melanie Lai Wai is one of the first people to handle books – ranging from agriculture to film to public health – arriving at the Duke Libraries' facility at Smith Warehouse. This is where all books bound for the libraries' five locations – Perkins, Bostock, Rubenstein, Lilly and Music – begin their journey.
Lai Wai, a graduate student in statistics and Duke Libraries student worker, unpacks books from boxes and double checks the inventory of each package.
"It's always good to do this carefully as it sets off the book's journey at Duke," she said.
Sorting through orders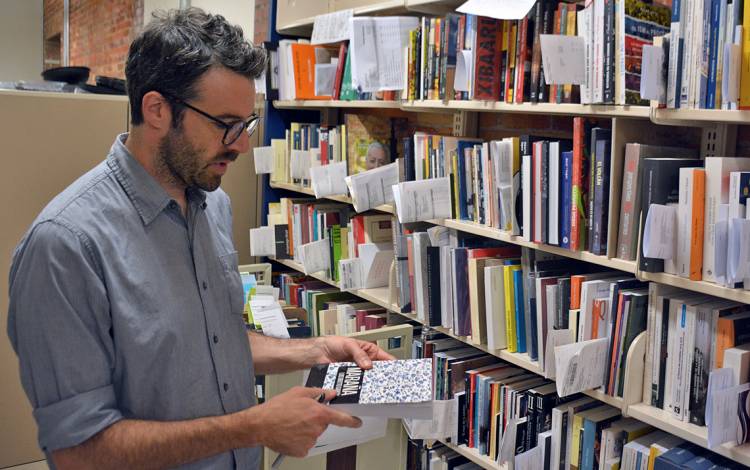 Stephen Conrad receives and process incoming books, including cataloging information into Duke's system so patrons can find volumes on Duke Libraries' website.
Conrad sorts books as "firm" or "approval." Firm occurs when a librarian specifically requests a book be ordered. Approval happens when a distributor sends Duke materials based on pre-selected criteria. Duke Libraries has approval plans with distributors who will select books for the library to have in its collection.
"It's helpful to remember that this shelf is never going to be empty," said Conrad, order and receipts specialist for Western Language Materials. "The books are never going to stop coming in."
Matching numbers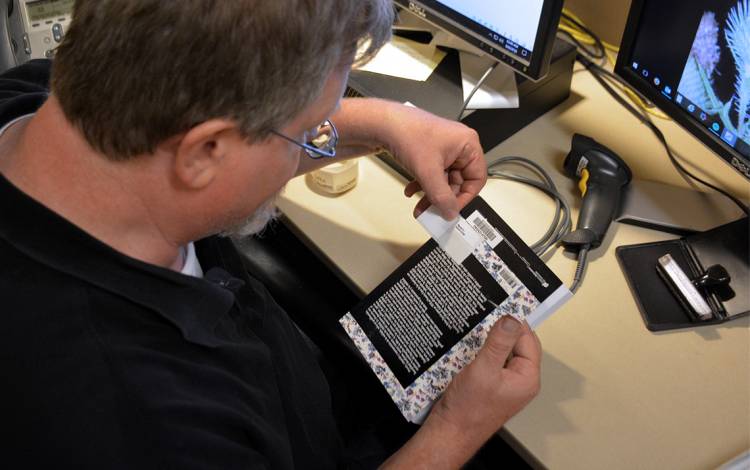 Dan Maxwell is responsible for using the book's barcode to make sure the correct call number label gets on the book. Librarians also use the barcode to mark the book as out or available.
Maxwell, a shelf preparation assistant in the Resource Description Department, processes about 1,400 books a month.
"It requires a heavy attention to detail," he said.
Identifying destinations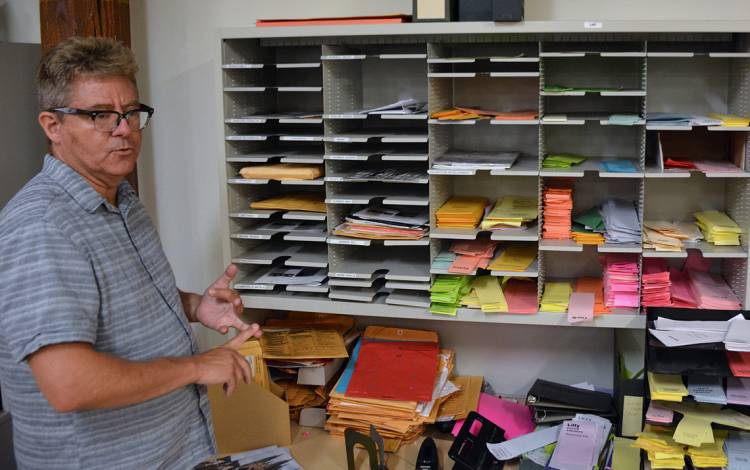 Bill Verner stands next to a cubby with identification flags that are inserted into books with specific routing instructions.
Blue flags means the book should be delivered to the Duke Marine Lab and purple identifies a book that needs to be delivered to Perkins Library's "News and Noteworthy" section. Verner said most books are housed in the Library Services Center, an off-site warehouse on Alston Avenue, until the book is requested.
"Books are in constant motion around Duke," said Verner, head of the Monograph Acquisitions Department. "It's our job to make sense of it."
Unloading the truck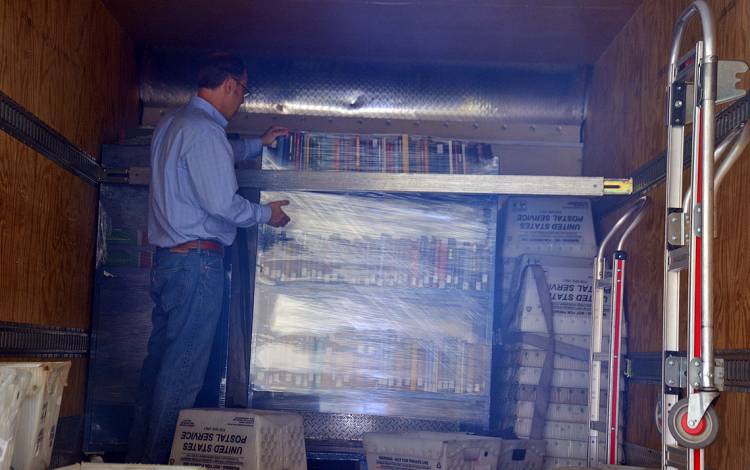 Once books are processed at Smith Warehouse, they are placed on book carts and wrapped tightly in plastic to be delivered across Duke.
Seth McCurdy, stacks maintenance supervisor, examines the new book arrivals on a truck at Perkins Library's loading dock. The library typically receives two shipments of new books a day with about 150 books in each shipment.
"We have a worldly collection of an infinite number of topics and languages," he said.
Alerting customers
Shawn Elder processes books once they make it to Perkins Library.
Scanning the barcode will alert customers when they search the collection database that the book is available to borrow. If someone specifically requested a book, they'll immediately be notified it's available for pick up.
"It's interesting to see all of the different books come through," Elder said. "It just makes you realize how much there is to read and learn."
Filling the shelves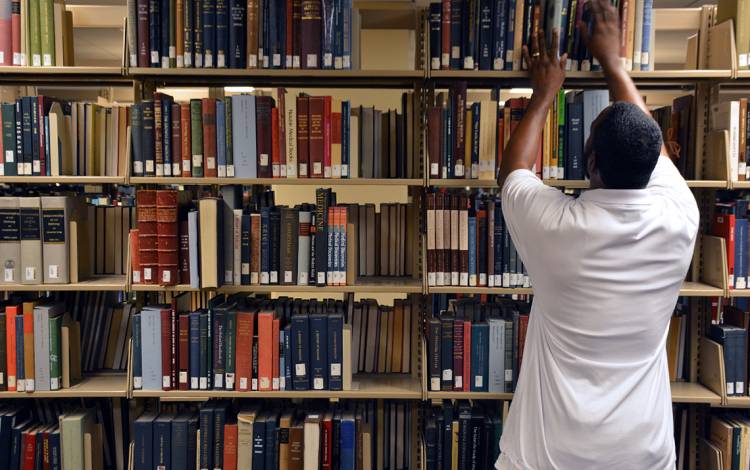 Joseph Bailey, library assistant for stacks maintenance and retrieval, places a copy of "A History of Medicine in 50 Objects" on a shelf in Bostock Library.
Bailey first organizes books by their call number order before shelving so he doesn't jump between different areas of the library when returning books.
"I want to make sure it's going to the same floor so we're not going back and forth across different sections," Bailey said.
Readying for check out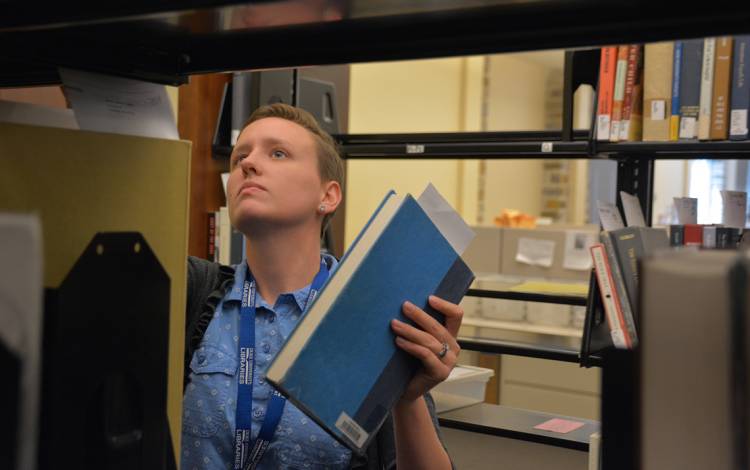 Kelli Stephenson, access and library services assistant, places a book on the holds shelf on the first floor of Perkins Library. When someone requests a book, staff from the Library Service Center will collect it and send it to the circulation desk for pick up.
Stephenson said the busiest times of year for check out and returns are the beginning and end of the academic calendar.
"As students and faculty return they're coming in to collect all the books they've reserved," she said. "At the end of the year, I've seen students completing their dissertations come with suitcases full of materials to return."
Got a story idea or news to share? Share it with Working@Duke.