A Contemporary Spin on a Cuban Revolutionary
A new Power Plant Gallery exhibition examines Jose Antonio Aponte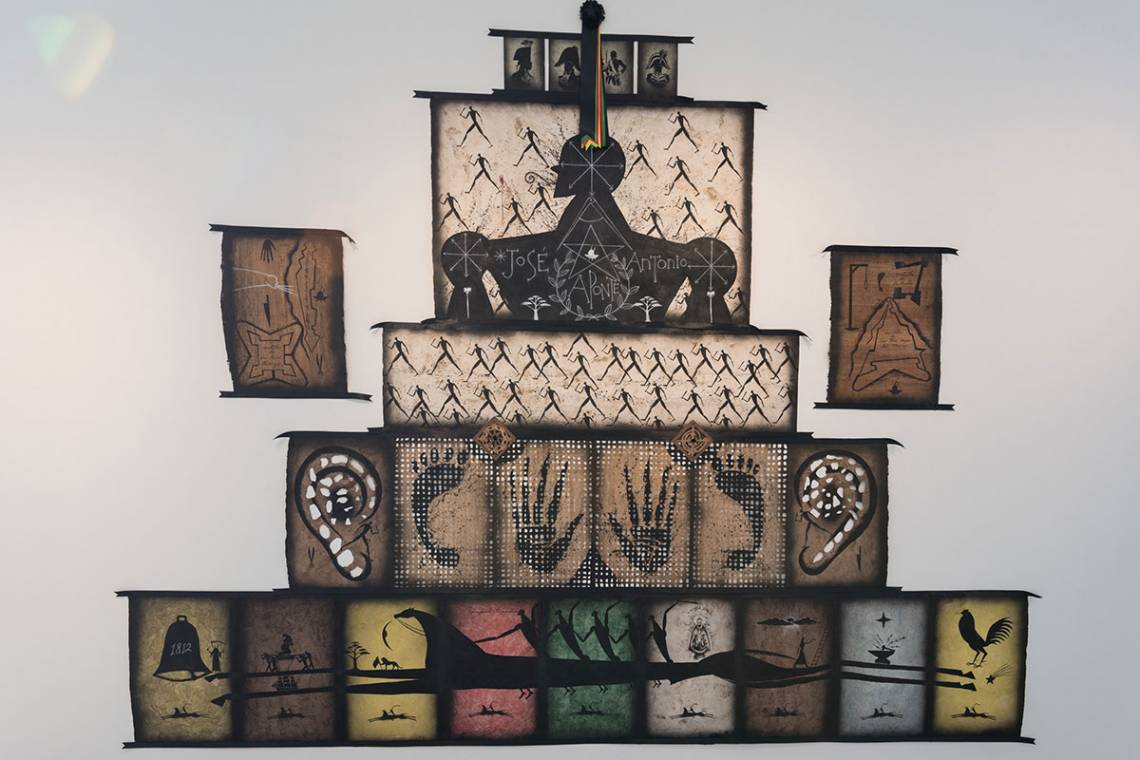 A new exhibition at Duke's Power Plant Gallery tells the story of Cuban revolutionary José Antonio Aponte, a free black carpenter, artist and soldier who led an antislavery movement in Cuba in the 1800s.
"Visionary Aponte: Art and Black Freedom" reimagines Aponte's historic "Book of Paintings" through the eyes of 15 contemporary artists. Aponte's book was a collection of 63 images – paintings, drawings and cutouts – that depicted blacks in positions of power of influence – like emperors and warriors.
For his anti-slavery views, Aponte was put on trial, convicted and executed in 1812. But his legacy in Cuba has lasted and this new exhibition examines that legacy. It debuted at the Little Haiti Cultural Center in Miami in December 2017 and has also been displayed at New York University's King Juan Carlos I Center. Its appearance at Duke is co-sponsored by the university's Forum for Scholars and Publics.
Power Plant Gallery director Caitlin Margaret Kelly spoke to Duke Today about the exhibition.
Q: Why should contemporary artists re-imagine historical figures in general and, in particular, why is Aponte a good subject for this exercise?
A: There is a complexity to the Visionary Aponte: Art & Black Freedom exhibition that is inherently appealing. The intersection of this particular part of Cuban history with our own political and social climate is important. As an artist, Aponte used images of black kings, emperors and other historical figures from the past to imagine a future for himself and those like him.
The artists in this exhibit, curated by Édouard Duval-Carrié and Ada Ferrer, continue that work by imagining Aponte's vision of the future, but also their own. The historical trial documents, based on Aponte's lost "book of paintings" is the starting point for an interweaving of past, present and future.
Through this exhibition Duke and Durham communities have a chance to experience those visions, but hopefully also create their own spaces for imaging futures. If nothing else, Aponte's interrogation and execution again demonstrate that art and imagining are powerful tools.
Q: This exhibition seems broad in scope, with artists examining Aponte using painting, drawing, sculpture, video, mixed media and textile. What is the benefit of this exercise done through so many artistic mediums?
A: Each artist works in their medium of choice, but it does not seem broad in scope at all when you consider each artist was working with the same materials for inspiration. What we have in the end is an incredible variety of works that remain remarkably connected through Aponte's story, and their own experiences in today's world.
Q: If this exhibit is a person's first introduction to Aponte, what theme, fact or lesson might resonate the most about his life?
A: In this context, as a contemporary art exhibit, it is important to remember that Aponte was executed largely based on the evidence of his "Book of Paintings." On a professional level, I hope this exhibition continues to reinforce the critical role of art and artists in the larger conversations and research that influences our policy, our world and our ideas for the future.
The exhibition runs through Nov. 17. More information is available here.