After Florence: Duke Faculty Contribution to Relief Planning
The recovery will take years. Here's what scholars say should be considered
Two weeks after the Hurricane Florence hit the North Carolina coast, large areas of the state are still underwater and the damage to infrastructure and environment is still being assessed. But it's clear that the work of recovery will take years.
The expertise of Duke faculty will contribute to that work.  In the days following the hurricane, Duke faculty were assisting with timely research, documentation and policy recommendations, a process that will continue.
Here is some of what faculty members had to say on the major issues:
Sea Rise
While hurricanes are natural events, much of the damage comes from human causes; specifically the continuing building of large scale, dense housing close to the coast. Orrin Pilkey has researched the changing coastlines since the 1980s, and his message was borne out by the damage from Hurricane Florence: It's time to move back from the sea.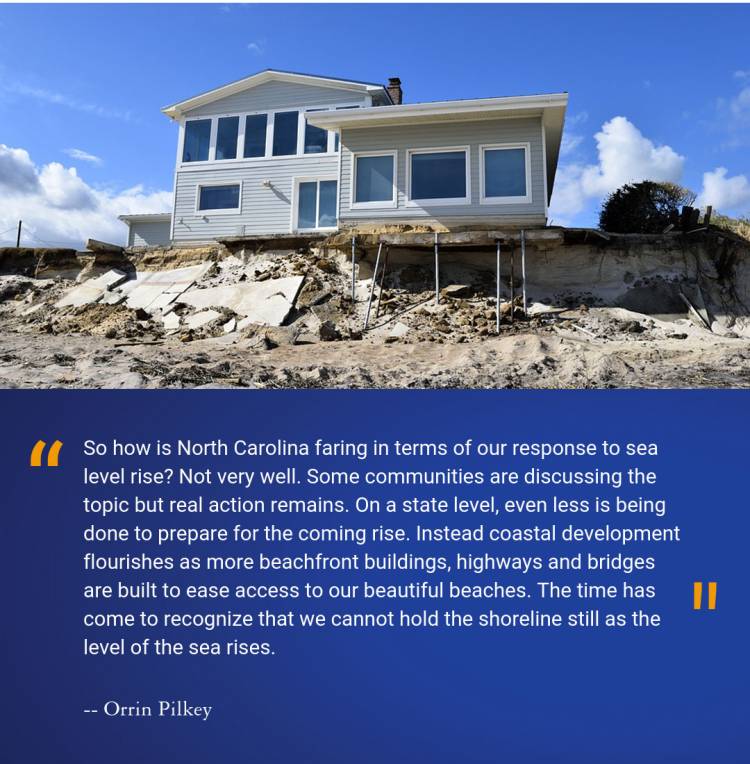 Environmental Damage
Two reports issued the week of the hurricane highlighted the risk from coal ash and pig waste during the hurricane.  In research led by Dr. Kim Lyerly, the papers documented the elevated health risks to neighbors of large hog farms and coal-fired power plants. With early reports indicating flooding from both types of facilities, Lyerly and co-author Julia Kravchenko spoke to The New York Times, WUNC and other news outlets.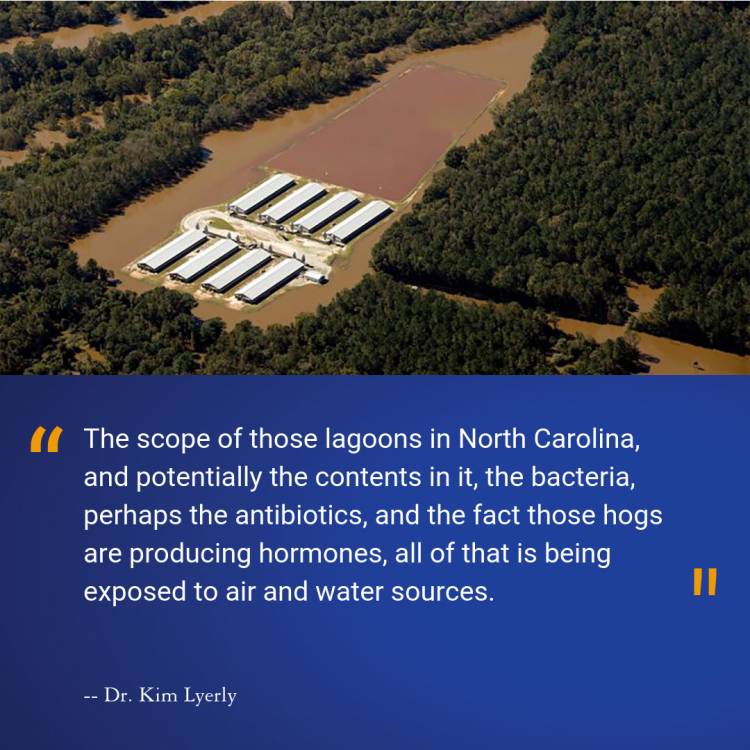 Nicholas School Professor Avner Vengosh has documented environmental issues related to coal ash, which carries arsenic, mercury, lead and selenium, all of which are considered toxic materials. For Bloomberg, Vengosh detailed the long-term dangers of the ash getting into water systems. Even small quantities can harm fish and aquatic life, he said, noting that the ash can be buried at the bottom of the river for a long period of time. "When the storm is over and everything goes back to normal, you still have a source of contamination at the bottom of the river," he said.
Law Professor Michelle Nowlin, director of the Environmental Law and Policy Clinic, noted that in the days following the hurricane, some hog farms in affected areas were returning to normal practices and spraying waste water on saturated fields used to grow hay for the pigs.  
"Once again, as if we needed a reminder, the hurricane exposes the insanity of even allowing this type of production and waste disposal in the Coastal Plain. But it's an opportunity to think about new technologies, mandated in accordance with the state's authority and what the industry can afford. They [the industry] is putting their costs on society. Can we afford the industry's imposition of these costs?"
-- Michelle Nowlin
Infrastructure
Martin Doyle, a Nicholas professor who research focuses on the health of rivers, says the state's infrastructure of dams is being "pushed to its limits" by hurricanes such as Florence and 2016's Matthew. He and co-author Lauren Patterson of the Nicholas Institute for Environmental Policy Solutions recommended several policy changes that will allow the Army Corps of Engineers to better protect the dams.
"Climate change matters and it will push the limits of our infrastructure. A warming climate allows more precipitation to be held in the atmosphere, increasing the potential for high intensity precipitation, and appears to create conditions that make 'stalling' hurricanes like Florence, and what Texas saw with Harvey, more likely."
Rebuilding
Nicholas School Professor Elizabeth Albright recently studied seven Colorado communities for three years following deadly floods there. Her findings – that communities that attempt to rebuild without change suffer in the long-term – will be valuable to North Carolina officials. Most significantly, she found a tension between the reasonable desire to return to normalcy quickly and the need to find long-term resilient solutions.
The state's Latino community
Population dislocation following the hurricane has special challenges for low-income and minority communities. A team of Sanford students, who studied how natural disasters affect census counting in Latino communities in Florida, were preparing recommendations when the hurricane hit. The students encourage Latino leaders to ensure they are included in discussions about hazard mitigation plans to ensure their voices are heard before the storm. 
"The big picture is that natural disasters happen and the more that communities and states can do to prepare before a natural disaster happens, the better off they will be in terms of their population and infrastructure," said group member Jennifer Hausman MPP'19.
Anesthesiologist Dr. John Jacob Freiberger had a specific call concerning the dangers of using of generators. Carbon monoxide deaths are routinely recorded following power outages, but Freiberger says the warnings are rarely written in Spanish to help make that community aware of the threat.  Fluent in Spanish, Frieberger recorded a short video message that was posted in Que Pasa, the Triangle's largest Spanish-language media source.
Children
For families facing evacuation and an uncertain return to home, explaining why to children is a challenging issue.  Psychiatry professor Allan Chrisman, an expert in disaster and trauma recovery says parents shouldn't "assume you know what your child is thinking about and what their concerns are."
"There's always a tendency for parents to over-explain or bring in information that is at a higher level than the child is at, so try to understand what exactly the child's questions are really about in terms of their own thinking and feelings."
Marine Lab Strong
Duke's research facility in Beaufort took a direct hit and sustained damage. Marine Lab officials immediately moved into recovery mode with assistance from Duke facilities, information technology and other units.  This work, and with cooperation with UNC officials whose center in Morehead City also was damaged, progress was quickly made, although more work remains. Marine Lab Director Andy Read said on Sept. 24 said normal class schedule will resume Monday, Oct. 1.  You can follow the repair work at the Marine Lab's website.
"Thanks to everyone for all your help in getting back on our feet," Read wrote the Duke community.