Nominate a Colleague for 2018 Honorary Football Captain
Suggest a star performer to be honorary captain during the Sept. 22 home game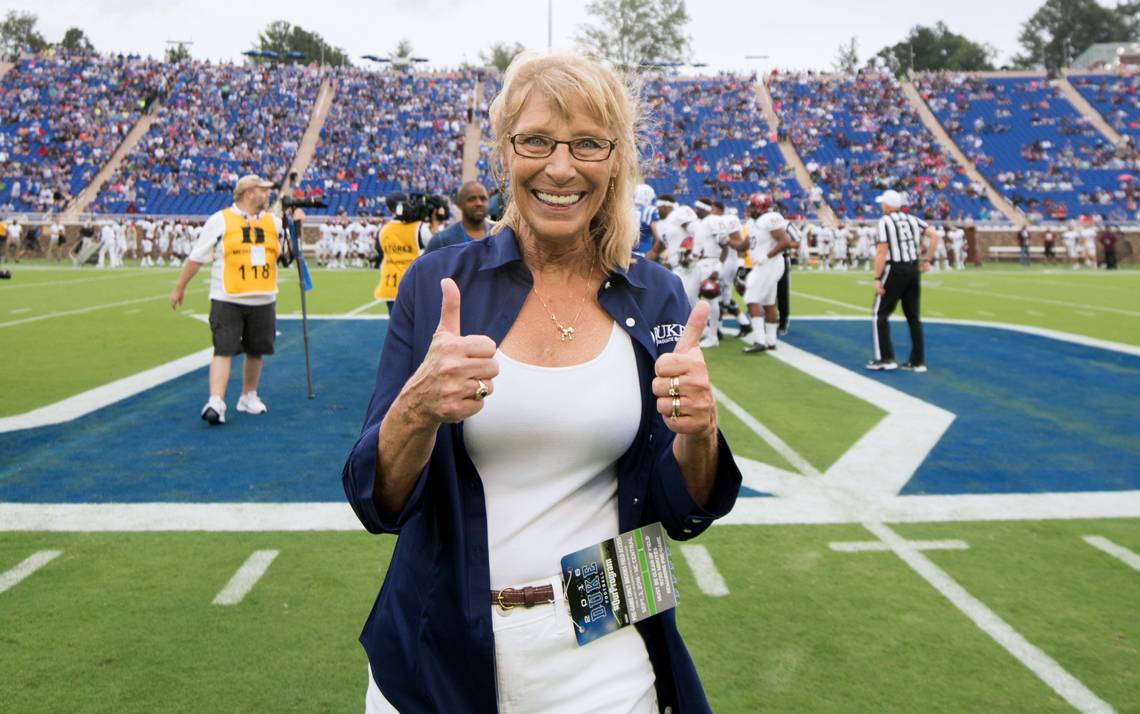 Working@Duke is accepting nominations for staff and faculty from the University and Health System to serve as the honorary employee captain for Duke's football game against North Carolina Central University on September 22.
The honor has been awarded annually since 2012 to a Duke employee who goes above and beyond in the workplace.
In 2016, Dink Suddaby, staff assistant with the Graduate Liberal Studies Program, was chosen as employee captain.
"Just soak it up," Suddaby said when asked what advice she'd give to the 2018 captain. "Take lots of pictures and live in that moment because it's awesome. And just be proud that you're representing more than 30,000 Duke employees."
Nominations must be submitted by 12 p.m. Aug. 13 and highlight why the staff or faculty member excels in the areas of Duke's Guiding Principles of trustworthiness, respect, diversity, learning and teamwork.
In their role as employee captain, the one faculty or staff member selected will experience Duke football from a player's perspective the week of the game by taking part in team activities, such as:
Attending the weekly press conference with head coach David Cutcliffe.
Running onto Brooks Field at Wallace Wade Stadium with the football team before kickoff against North Carolina Central University.
Participating in the pre-game coin toss with officials and team captains.
Watching the pregame warmups from the field and receiving tickets to the game.
Faculty and staff can nominate coworkers by filling out an online form by 12 p.m. on Aug. 13. Nominators are encouraged to share details about why their nominee's performance in the office, classroom or lab should be recognized on the field as an honorary captain.
This year's captain will be announced on the Working@Duke section of Duke Today the week of August 20.
The honorary captains:
2017: Adam Tomasiello, Undergraduate Admissions
2016: Dink Suddaby, Graduate Liberal Studies
2015: Keith Lawrence, News and Communications
2014: Anthony Galanos, Palliative Care
2013: John Caccavale, Economics
2012: Malinda Whitson, University Development