With High Energy and Music Duke Welcomes the Class of 2022
1,700 students settle into their new home
At Bell Tower Residence Hall, the morning started with the boom box playing the bouncy tune "Home" from Edward Sharpe and the Magnetic Zeros. What followed was a day of high energy and cheer, as Duke staff and students helped more than 1,700 members of the Class of 2022 get situated in their new homes.
The cars, vans and trailers started lining up around 8 a.m. Much of the morning ran as scheduled -- well-organized and swiftly-moving. President Vincent Price and Vice Provost for Undergraduate Education Gary Bennett arrived at 8:30 a.m. to assist the First-year Advisory Counselors in moving the students into their rooms.

As cars pulled up, students and staff greeted them, slapped a room number on their rear light and a brigade of upperclass students ran to the vehicle, grabbed boxes, lamps and other items and whisked them up to the room. At Giles, one unload took only 19 seconds.

Emotions were visible throughout the morning, particularly for parents.
Hope Wolfe of Bedford, New York, wiped away a tear as she paused on the landing outside the dorm with her daughter, incoming first-year student Devon Wolfe.
"It's emotional," Wolfe said. "I'm crying – but I'm happy."
It's the second time she has experienced move-in day at Duke. Her son Garrett is a Duke junior. "I cried when we dropped him off, too," she said with a smile. "This is a great place. We'll be back to visit a lot."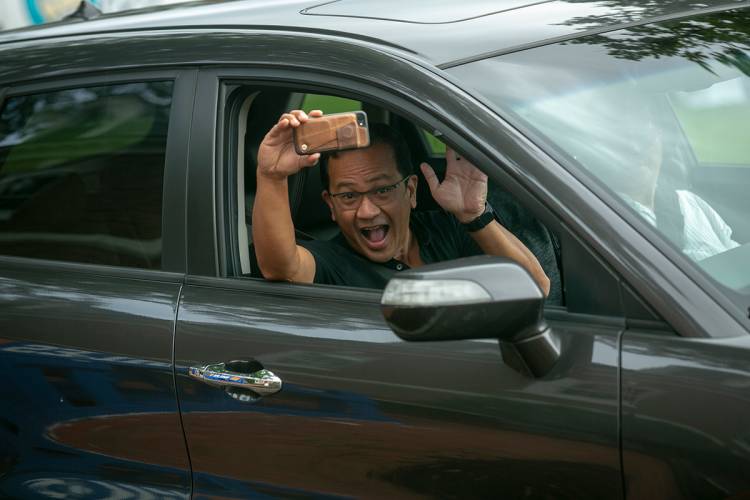 Freshman Jyotika Fernandes of Charleston, South Carolina, arrived on campus a week early for Project Build, a pre-orientation program that involves a week of service in Durham. Jyotika helped organize the library and spruce up the playground at Durham's George Watts Elementary School. She also volunteered at TROSA, a local substance abuse program, and at the Duke Campus Farm.
"I love this," she said, motioning to the line of cars arriving on East Campus to cheers from dancing student volunteers. "But I'm glad I came early. It was great to get a feeling for the campus without a lot of people around."
As Jyotika spoke, another station wagon pulled up to the curb and students in pink T-shirts swooped down from the sidewalk, emerging from the car with suitcases, boxes, a laundry basket and a refrigerator.
Jyotika's mother, Priyanka Fernandes, watched for a moment, then pulled out her video camera to capture the scene for viewers on the other side of the globe.
"I'm sending it to her grandparents in India," Priyanka said. "I'm going to give them a glimpse of how we do move-in day at Duke."

Other move-in traditions continued. Duke Stores set up shop offering Duke T-shirts and other swag, as well as microwaves and mini-refrigerators. Father Michael Martin of the Duke Catholic Center continued the center's custom of handing out bottled water, a grateful service on a morning where rain threatened and the humidity was high.
But for some, the energy surrounding move-in day was a less familiar experience. Gary Bennett, the new vice provost for undergraduate education, was immediately struck by the energy of the student workers and the excitement of the new students.
"This is the best thing about Duke," Bennett said. "They're transmitting the Duke culture to the next generation, literally on the first day."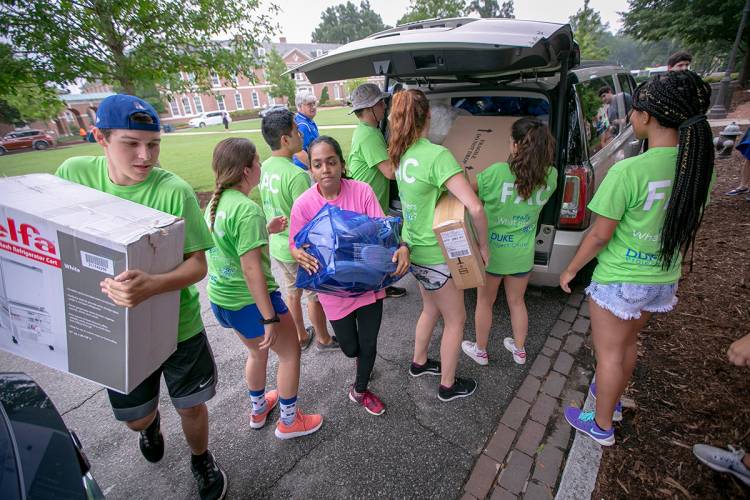 Duke also opened Trinity Residence Hall, a new 250-bed facility near Bell Tower Residence Hall. Trinity presented new challenges on move-in day because it's the first residence on East Campus not serviced directly by a road. Officials opened the wide pedestrian walkway that passes from Brodie Gymnasium to Broad Street and unloaded vehicles there.
Student Affairs officials said they take the event seriously and use it to send a message about Duke. Jordan Hale, director of New Student Programs, led the planning for move-in. "I just hope they feel excited and welcomed," Hale told a reporter from WTVD. "They feel like this a place where they know people care about them."
Photos by Jared Lazarus and Megan Mendenhall. Video by Julie Schoonmaker and Jonathan Lee. Alison Jones and Steve Hartsoe contributed to the story.